Even in an awards season packed with star-crossed lovers, you will be hard-pressed to find a more touching on-screen union than Hugh Grant and Meryl Streep in Florence Foster Jenkins.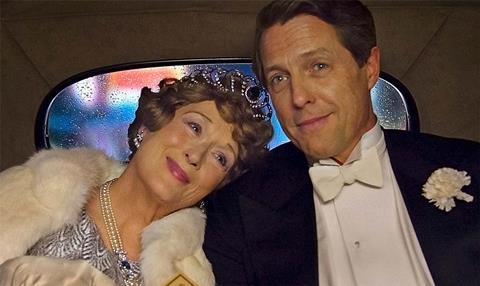 Hugh Grant's St Clair Bayfield, an underwhelming stage actor turned impresario, and Meryl Streep's Florence Foster Jenkins, the New York socialite and tone-deaf soprano with the hide of a rhino, is a pairing made in theatre heaven.
And, in the hands of director Stephen Frears, the relationship behind real-life Jenkins' trajectory from wartime wannabe warbler to Carnegie Hall performer is honest about its inadequacies and mutual dependency but all the more powerful for it.
Streep, a three-time Oscar winner and 19-time nominee, will inevitably be in lead actress contention again this season. Grant, a Golden Globe winner 21 years ago for Four Weddings And A Funeral, has earned some of the strongest notices of his considerable career for his supporting role.
Florence Foster Jenkins marks the first time he has worked with Streep and Frears. "It was largely as I expected," says Grant of starring alongside the decorated actress. "She was intense emotionally and brought a method actor approach to the work I've found with other New York actors."
"The first night I met Hugh was at a dinner," Streep says by phone from New York. "I'd never met him before and [executive producer] Cameron McCracken had piles of [the couple's] love letters, which he gave us to read."
Grant consumed the Bayfield correspondence. "All his diaries and letters were preserved in Lincoln Center in New York and I went to read them. I found him incredibly touching, really," recalls the actor. "In fact, really, inside — this is what the letters show you - he was a rather desperate, bit-part actor who'd never had any success, didn't have enormous talent.
"And as soon as [Jenkins] died, there are his letters - writing to the top actors and theatre directors of the time, begging for a part, saying, 'I don't know if you remember me but I was the third spear carrier in Chichester in 1924 and I just wondered if you had any work now," Grant continues.
The film shows how Jenkins believes in love and follows her heart's desire, yet she cannot quite shake a melancholic hue. "She had a lot of reasons to despair," says Streep. "I had to figure out how to approach her. It wasn't just singing off-key; it was trying to stay very close to the lines of the aria and how close she came to being almost, almost there that made the disaster funnier. You just wait for the punchline."
The right focus
One earlier iteration of the script had the film start with a trial scene - Bayfield arguing in court, as he did in real life, for a share of the estate after relatives stole Jenkins' will and she died intestate. But, it was agreed, this would have created a certain profile of Bayfield that would have done the real man an injustice. "Keeping out the trial scene," says Streep, "allowed us to discover who [the character played by] Hugh was."
The singing in Florence Foster Jenkins is an obvious highlight; Jenkins throttles the muse with brutish naivety while indulgent Bayfield looks on like a man being forced to drink vinegar.
"It's surprisingly easy to sing badly," says Streep. "The way in which she went along with it all had a lot to do with why she was so loved. If someone just sounds awful that's one thing, but the way she threw herself into these arias and toddled through them was endearing."
Produced by Qwerty Films' Michael Kuhn and Tracey Seaward, and fully financed and sold by Pathé International, Florence Foster Jenkins was released in the US by Paramount Pictures to a $27.4m gross, and by Pathé in the UK, where the film took $4m (£3.2m).