Studiocanal's CEO for Australia and New Zealand grew up watching British comedies and now asks her colleagues to predict how each film will perform, rewarding the closest.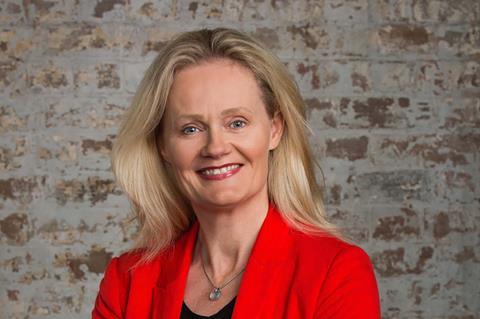 New Zealand-born, Sydney-based Elizabeth Trotman joined Studiocanal in 2016 from exhibitor Hoyts in Auckland. Her globetrotting career started in Hong Kong for The Walt Disney Company before she moved to London to work for Warner Bros and then to Sydney (for the first time) for the BBC. She now oversees an annual slate of around 12 titles.
What is your office like?
We love our office. It's in an old warehouse on the harbour in Pyrmont, an inner Sydney suburb.
What was your first job in the film industry?
I worked at a single-screen independent cinema in Auckland during my university days, then got my first job after graduating with The Walt Disney Company. I didn't know what film distribution was then.
Who do you look up to in the industry?
Leading female CEOs. Two fearless leaders in our industry are the deputy CEO of Canal+ Group Anna Marsh, who brings positivity, enthusiasm and passion into our business, and CEO and MD of EVT, Jane Hastings, who juggles the cinema, hotel and ski industries with aplomb. I wish there had been more female CEOs when I started out. Gender equality at that level is 100 years away in Australia. There are only 14 female CEOs among the top 100 companies. Incremental change is not sufficient; there needs to be stronger mandates.
What was your favourite film growing up?
I didn't get to watch a lot of films. My parents always encouraged us to read for entertainment. Our TV was locked away in the attic a lot of the time. When mum went out to play bridge, we would haul it into my sister's bedroom and when we heard the car return, we would pretend not to have been watching it, which was difficult because it often overheated.
I watched British comedy rather than movies: The Good Life, To The Manor Born, Blackadder and Yes Minister. The release of E.T. scarred me because my initials are ET so young schoolkids of course loved laughing at that.
What do you like best about your job?
The incredibly talented team I work with. Film distribution is a highly risky business, so it pays to be consultative, especially when it comes to forecasting gross box office. We encourage all 25 or so staff members to attend a screening of each of our films. We then share the box office results of comparative films and ask everyone what they think the film they've just seen will take. Everyone tends to focus on what they think their demographic will think of the film. The person with the closest estimate to the gross box office gets a bonus leave day. We've been reasonably successful in predicting over the last six years: we've been burnt badly maybe three out of 40 times.
Who is the most famous person in your contacts?
At one point it was Stanley Kubrick. Now it's Russell Crowe.
What's the biggest professional mistake you have made?
In film distribution it's easy to over­invest in P&A. There's certainly been a few films I would be happy to revisit and prune back. [Jonathan Levine's] Long Shot is an example: it was such a great film and for some reason it didn't find the audience it deserved.
With whom would you most like to take a meeting?
As a Kiwi, I have to say Peter Jackson and Jane Campion. I've never met either of them.
What excites you about the future of the business?
I'm interested to see how the competitive SVoD landscape continues to evolve, shape deal structures and affect demand for content. We have more than 3,000 films in our library including The Graduate, The Third Man and the Rambo, Twilight, Saw and John Wick films.
What is the biggest challenge facing the business?
Piracy. People mistakenly think we make a lot more money than we do.
What job would you do if you didn't work in film?
Potentially, banking. It's fascinating, professionally run and well resourced. I'd enjoy the macro-economic side.
What's the one TV series everyone should watch this year?
Is it possible to narrow it down to one? I'm enjoying Shantaram from the bestselling novel. My partner is Indian and his enriched commentary adds to my viewing experience.
What do you do to unwind?
Exercise, eat, drink, see friends and family. Visit Matapouri, one of the most beautiful beaches in New Zealand. I've just joined the Sydney Sporting Club, a lifestyle gym with a sauna and restaurant.
Who would play you in the biopic of your life?
I wouldn't presume my life is remotely interesting enough to attract Cate Blanchett, but it would be her.
What are you working on now?
We are gearing up to release Steven Spielberg's The Fabelmans. We are also excited about launching production in Australia. We have two films in final-stage development. Kangaroo is inspired by a real-life story and has Kate Woods attached to direct. Both are co-productions with independent producers.