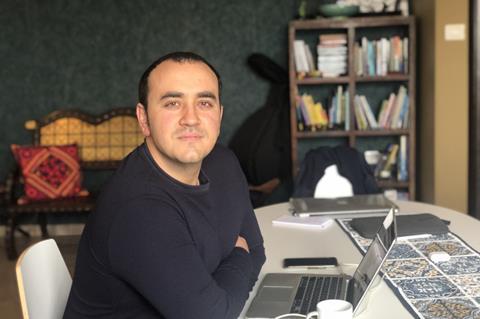 Muayad Alayan is one of the best known Palestinian directors of his generation.
His last feature The Reports On Sarah And Saleem won the audience award and a Tiger special mention at the International Rotterdam Film Festival in 2018 and also clinched best film in Durban and the grand jury prize in Seattle. His debut film Love, Theft And Other Entanglements also made waves internationally after premiering to critical acclaim in Berlin in 2015.
The filmmaker has been lockdown in Bethlehem in the West Bank due to the coronavirus pandemic since early March.
Confined to his home with his journalist wife, Alayan continues to work on pre-production for his upcoming film A House In Jerusalem. The fantasy drama revolves around a Jewish American family who unwittingly move into a haunted house in Jerusalem that was once the property of Palestinians.
Alayan co-wrote and is producing the feature with his brother and long-time collaborator Rami Alayan under the banner of their PalCine Productions banner.
What's the situation in Bethlehem? Are you in lockdown?
Bethlehem has been in lockdown for 23 days now. The first week, the city was locked and disconnected from all other cities but we were still able to move around within the city for necessities. These restrictions were very quickly tightened and the entire country is now in a curfew like lockdown. We're only allowed to go to the nearest pharmacy or grocery store.
Is it business as usual for you and your collaborators as you all work remotely from home?
I'm used to working on online and talking over the phone or on Skype with my partners in the US and Europe, such as my brother Rami Alayan, who is based in the Bay Area in the US, my European co-producers or my director of photography in Germany. It has been an opportunity, in some ways, to fully focus on goals and milestones that can be accomplished within this situation and with the communication and sharing means we have at hand.
How are you managing your routine?
I alternate work and calls across the day with different activities. I've been doing 30-minute workouts, cooking dishes I've never tried before, taking a 30-minute walk around the block and every other day I check out an Oud (lute) class on YouTube.
Do you have a workspace at home?
My wife is a journalist and she is working from home too. We both workstation on the kitchen table and then sometimes step outside to the balcony to work for a couple of hours. We finally got warmer weather in Palestine this week so this has been possible, thank God!
What systems are you using to communicate with your collaborators and other professionals?
WhatsApp, Skype, WeTransfer, email and phone. There has been a huge rise in communication within the industry since the start of the crisis as people discuss and brainstorm ideas and solutions. You can definitely feel the overload on networks and phones. Can you imagine what would happen if the internet went down?
How are you and your collaborators keeping up morale?
The fact that we're all going through this together and at the same time, wherever we are based around the world, is keeping us stronger. In Palestine, it's not uncommon to work under the pressure of unknowns or having to operate separately from other team members, so I think the rest of the world is operating on a system that is a bit familiar to us.
What advice would you give to people in the business who are worried about the future?
This too shall pass. Stay focused on what you are working on now, and most importantly take care of yourself, your family and loved ones. Remain thankful and hopeful. Independent filmmakers in particular can go through a lot of mental stress, perhaps more than any others in this industry. But when people are dying every day and thousands are losing loved ones you should more than ever count your blessings, and focus on what can be done.
What advice do you have for filmmakers who are now confined to their homes?
For filmmakers who were in the middle of production and had to pause or for those who were getting ready to premiere and release their films, we feel your pain. My only advice is to stay strong and keep your morale up.
For others at home. Set your tasks and milestones for the week, and each day, and make sure to take cooking, music and workout breaks. End the day catching up on films you've had on the waiting list for a while and make sure to get enough sleep!
What contingency plans are you making for the next few months?
Like all of us, I'm following the news day by day. I'm using this period to work on all that can be done in prep for my upcoming film A House in Jerusalem. I've also assigned a couple of days a week for writing future projects.
What are you watching and reading and listening to to get you through this time?
I've been watching films that I didn't have a chance to catch at festivals such as Talking About Trees, The Platform, Mudbound and Portrait Of A Lady On Fire. I also listen to a lot of music: Anouar Brahem, Munir Bashir, Asmahan, Oum kulthoom, Labess and Souad Massi. I like to look up tracks on YouTube and then you never know where that will take you.
What positive change might this bring to the industry?
It's hard to tell right now. I believe it's a strong reminder to everyone of the importance of audiovisual artists and creators, now that millions of people are stuck at home and spending hours watching films and audio visual content on their screens.
Once this is all over a lot of people will want to spend time outside far away from screens but there will also be a lot of people who miss being in a dark room watching a film with a crowd of strangers.
More interviews