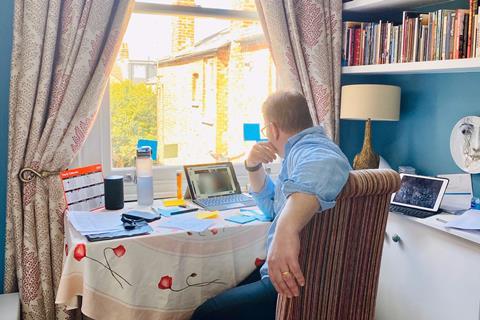 Roger Charteris is co-owner and CEO of London-based acting and talent agency The Artists Partnership and sister company, The Development Partnership.
In addition to acting talent, the company represents authors, playwrights, film and television writers and directors, theatre writers and directors, influencers and experts.
Is it business as usual for you and your team as you all work remotely from home?
No. I wish I could say it was but… as we know, film, TV and theatre production are [all] shut down so our actors and directors have had to stop too.
We are now focused on the contractual quagmires of force majeure hiatus and terminations. Beyond that, led by our team at The Development Partnership, we are focusing on the development of new ideas and content for our clients. Working remotely and what that looks like is a work in progress for myself and 38 staff across the group.
How are you maintaining an office routine?
As with everything, old routines are completely gone, all that remains are the long hours. It is, quite literally, a 16- to 18-hour day. I have daily staff calls and casting meetings with the full company and although we do these with 'video off', I do pop mine on from time to time, only to prove to my colleagues that I can in fact grow a beard.
Which systems are you using to talk to one another and clients?
Internally we are using Microsoft Teams. For all international and other conferencing calls I have become a dab hand at Zoom calls. It seems you can teach an old dog new tricks after all! With clients and other industry professionals it's WhatsApp and phone.
In what ways are you and your colleagues keeping up team morale?
Conversation. Conversation. Conversation. We check in on each other daily. We have set up an Artists Partnership Community Facebook page and WhatsApp group for clients and staff to post, chat and share anything and everything through this difficult time. We're also sending out a weekly newsletter to our clients which aims to be both light-hearted and informative.
What advice would you give people in the business who are worried about the future?
The only thing that is certain is that nothing is certain. So hold onto your hats for now and we'll navigate through this together and on the other side.
What contingency plans are you making for the next few months?
Sadly I think this is going to last a lot longer than the next few months. Naturally a lot of belt-tightening, but then travel, meals, theatre, cinemas – it's all been done for us really. We are also getting creative with our clients, so that when we get back to work, we're not only picking up from where we left off but we've generated ideas and energy for future work.
If you have young children how are you keeping them educated and entertained while you work?
We had our children ridiculously young, so I don't have that to cope with.
What advice do you have for home-working?
I keep to usual business hours; I try to spend at least 20 minutes on the exercise bike; I don't eat on Zoom calls. I started working at the dining room table in the sunshine, but was quickly banished to the spare bedroom. My wife is a writer and needs silence, while I talk on the phone 24/7 – very loudly, apparently. Shaving and shoes are out the window – slippers are de rigeur!
What are you listening to, watching and reading to get you through this time?
I'm watching: My hairy face on Zoom;
I'm reading: Scripts and more scripts whilst also looking at the government websites and the evolving information on the financial help schemes for the self- employed;
I'm listening: To the world's worst playlist – mine, apparently.