Chilean film-maker Pablo Larrain dwells on the mysteries of storytelling as he contemplates fall festival slots for his two latest films, Neruda and Jackie.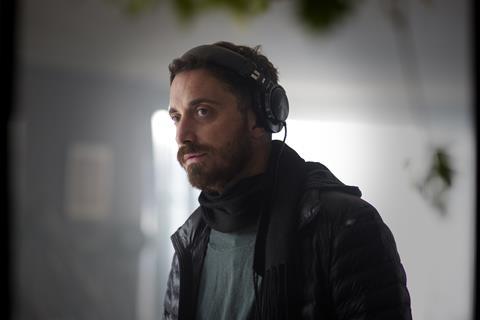 A version of this article first appeared in Screen's monthly magazine.
Pablo Larrain sounds almost giddy with anticipation when Screen International reaches him by phone in Santiago, where he is entrenched in post-production on Jackie with only a few weeks to go before the world premiere in Venice. "I'm so proud of the movie," says the Chilean auteur. "I'm looking at the effects we're starting to do. I think it's beautiful."
Beyond that Larrain declines to elaborate. It is not an arrogance thing: one gets the sense the director wants the audience to share in his journey of discovery and come to his films armed only with curiosity and an open mind. And so cinephiles must pick at morsels before the Lido feast: a foreboding first-look image of Natalie Portman as Jacqueline Bouvier Kennedy and a well-worn logline about how the film chronicles through her eyes the days immediately before and after the 1963 assassination of President John F Kennedy.
Those who have seen it cannot wait to share it. Cameron Bailey, artistic director at Toronto International Film Festival, where Larrain's seventh film will receive its international premiere, notes how the film-maker has unearthed a new perspective on events in the film and is "not telling us a story we already know".
This will come as little surprise to those who caught the Cannes world premiere in Directors' Fortnight of Neruda, which also travels to Toronto for its international premiere. Rather than serve up a by-the-numbers portrait, that film challenges biopic orthodoxy with a structurally transgressive focus on an episode in the life of Chile's celebrated poet Pablo Neruda. Larrain takes Neruda's postwar flight during an anti-communist crackdown as his cue to present a bold sketch of the artist within an intimate snapshot of mid-20th-century Chilean society.
"It's strange what cinema does in terms of the memory," says Larrain. "It takes a while to understand what you're grabbing from anything. Neruda is this kind of medicine that takes effect right away and on the other hand there is also a slow digestion. I've done seven movies and five of them are period movies. You try to think the way [the protagonists] thought. That's the first problem — seeing the world through the eyes they had back then. And then you have to build the imagination and it's very absurd."
While Neruda is a complex, important film for Latin America, absurdity courses through it. Nowhere is this more evident than in the notion of Oscar Peluchonneau, a fictional police inspector played by Larrain's No star Gael Garcia Bernal, whose pursuit of his quarry shows him to be a buffoon. Yet away from the procedural plod, Peluchonneau's existential quest for himself within the meta-narrative of the film is touching and betrays a rough-hewn poetry of its own.
"I love the way [Pablo] plays with the narrative within the narrative; it's such a multi-layered film," says Paul Davidson, executive vice-president of the film's US distributor The Orchard. Davidson describes Neruda as "an anti-biopic, the Inception of biopics" and will open the film in limited release on December 16 before expanding in the first few months of 2017.
Metaphysical approach
There is talk of an awards campaign, which seems like a fitting reward. Juan de Dios Larrain, the director's brother and producing partner, with whom he co-founded production company Fabula 12 years ago, says unlike Jackie, Neruda was a long road for the Larrains. "I brought the idea to Pablo about eight years ago," he says. "It took us four years to understand which part of Neruda's life Pablo would want to focus on. Then we brought on Guillermo [Calderon, screenwriter on Larrain's 2015 Berlin Silver Bear winner The Club] and we started discussing the point of view and the idea of this policeman came up."
Calderon initially delivered a 160-page script that eventually expanded to 190. The director was enamoured with it. "I told my brother I would rather shoot fast and include everything," says Larrain. "I couldn't get rid of anything. It was so precious.
"It's entirely Guillermo's writing; I can't take credit for it," he continues. "The main challenge when you deal with somebody like Neruda is how he talks. He would have handled our language in a way that very few people have. He ends up creating a cop in this metaphysical sense who's been written by Neruda, so Guillermo had to write something that Neruda would have done and you go, 'Woah!' It's like making a movie about the Beatles and you're going to write a new song."
Juan de Dios Larrain enlisted the support of Argentina's AZ Films, France's Funny Balloons and Spain's Setembro Cine. Participant Media was also on board via its Participant PanAmerica initiative, which had previously backed Larrain's 2013 foreign-language Oscar nominee No. The 56-day shoot kicked off in early summer 2015 and spanned Santiago, Lampa and Valparaiso in Chile, as well as Buenos Aires and Paris. Larrain filmed multiple takes of scenes in different locales to create options in the editing room, while a panoply of filming techniques included rear-projection in all its dated glory for chase sequences. "It shows we're using cinematic tools of the time that don't pretend to be realistic," says the film-maker.
History lessons
Fact and fiction dance together in Neruda. In one chilling example of the former, the dictator Augusto Pinochet is seen presiding over an internment camp, many years before the 1973 coup that would sweep him to power in Chile. This aspect of Pinochet's past was news to Larrain, who grew up under the dictator's regime in the 1970s and 1980s, and earned global acclaim with his trilogy of films set during his 17-year rule, comprising Tony Manero, Post Mortem and No. "It was an accident — I never knew that," he says. "When we did the research, someone from our team said, 'Did you know Pinochet was in charge of this camp?' We put it in. He used that same camp 30 years later."
Larrain's familiar subject of state repression is writ large in Neruda. "The war was ending and communism was in good shape in those days and fascism was defeated, but in [Chile] there was a strong connection to it. Our president outlawed communism because of [US president Harry S] Truman. Again, the US was sticking its nose in the history of Latin America. Later, the US would support the Pinochet coup and eventually ousted him. All these earthquakes were far from us but created a big wave that slowly got here."
Larrain warms to his theme: "In Latin America, there are a lot of things we don't share, but there are a lot of things we do and it's not just connected with our language. How do you preserve your own culture? That's the challenge. It's there in this movie. It's a fiction about not just your language but your ideas, your food — how do you preserve that instead of being so globalised and American?"
It will be intriguing to see how the brothers bring their Latin American sensibility to Jackie, which they produced in association with Darren Aronofsky and Scott Franklin's Protozoa Pictures and French powerhouse Wild Bunch's Los Angeles offshoot Insiders, now IMR International. For his part, Juan de Dios Larrain, who through Fabula has produced The 33, Gloria and Nasty Baby, and often agonises over how to get more Latin American films seen by neighbouring countries in the continent, knows his brother's English-language debut marks the next big step forFabula.
"We've worked with different types of directors — Pablo, Sebastian Lelio, Sebastian Silva — very different directors with different styles and diverse subjects," says the producer. "At some point we became a company that supported directors and we also take our own scripts and make our own stories."
Tony Manero in 2008 was the film that put the company on the map. "That was a big jump for us, and especially Pablo," says Juan. "After that we did two seasons of Profugos on HBO for Latin America. It was an action series and a big production. We learned a lot — it was like doing 10 or 15 movies in a row."
Joining Jackie
It was after The Club won the Berlin grand jury prize in February 2015 that Pablo Larrain met jury president Aronofsky at the closing ceremony party. He flew home to prepare Neruda and a week later the US film-maker sent him a script Larrain had read and liked in an earlier iteration some five years prior. Protozoa Pictures held the rights to Jackie and invited Larrain to Brooklyn to talk things over during the making of Neruda. "It was incredible," Larrain says. "This came out of the blue. I asked if Natalie could do this and Darren said he would set a meeting. Everything came together when I was cutting Neruda. I had never done anything like that — two movies back-to-back. I'm 39 years old and you don't say no to a thing like that."
Protozoa's Franklin tells Screen that Larrain asked the pair why they wanted to hire a Chilean director for a story that felt quintessentially American. "We wanted someone who didn't have too many preconceived ideas about the Kennedys, the assassination and Jackie," says Franklin. "We wanted to have someone come in with a fresh and open-minded take on this story and this woman's life. We don't play much with the politics in Jackie — it's an emotional and personal journey, and very different stylistically from any biopic you've ever seen. Pablo possesses incredible talent."
Jackie was financed by LD Entertainment and Bliss Media, with IMR International handling pre-sales.
A firm believer in the need to let directors pursue their vision when producing other people's films — as he and Juan are currently doing on Lelio's The Fantastic Woman (which stars Neruda's Luis Gnecco) — the Chilean cannot say enough nice things about Protozoa Pictures and Wild Bunch.
"Somehow we just found each other and they have been super supportive."
As for his own long-term partnership with his brother at Fabula, Larrain describes it as "a big pleasure." And as a fan of the mystery behind a process, he admits readily: "I have no idea about most of what Juan does."