Dutch director Paul Verhoeven describes how it feels to represent France for the foreign-language Oscar with his latest feature, Elle.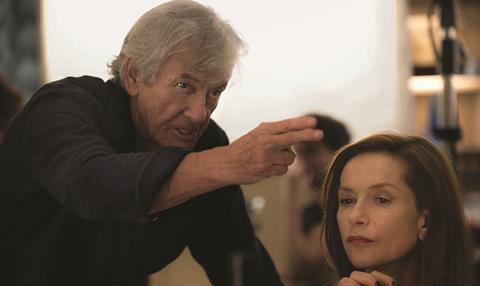 How does it feel as a Dutch director best known for Hollywood movies to be flying the flag for France in the foreign-language Oscar race? "It feels funny," reflects Paul Verhoeven. "It feels extraordinary."
The film in question is Elle, which premiered in Cannes and sees Isabelle Huppert give a bravura performance as a businesswoman who finds a way to get back at her aggressor after she is violently raped. Verhoeven is quick to point out that he and his editor Job ter Burg are Dutch, screenwriter David Birke is American and composer Anne Dudley is British. "Nevertheless, the French were willing to use it as their movie [for the foreign-language Oscar]," he says. "It is stunning that was possible. It tells you of a certain open-mindedness in France. I would say it is the counter of Brexit."
Back home in the Netherlands, the director expects there will be mixed feelings about his success with a French-made feature. "They [the Dutch] have always been extremely ambiguous in their appreciation for me. At the time I was working in Holland and making very successful movies, the more successful they were, the more they hated me.
"I really fled Holland in 1985 because the committees that give you money didn't want to give it to me any more because they thought I made 'entertainment movies', low level, disgusting, perverted and portraying Dutch society in the wrong way." Sometimes, Verhoeven concedes, the Dutch are "proud" of him now "when necessity dictates", but generally he feels he is still regarded with suspicion.
Over the years, Verhoeven's films have had their share of awards and Oscar nominations. They have also attracted plenty of brickbats. His much-maligned 1995 movie Showgirls won seven Razzies for the worst film of the year, and Verhoeven was in the audience to accept these dubious honours. Twenty years on, he is strangely philosophical about the experience. He had never heard of the Golden Raspberries, but was invited along to the ceremony by a TV personality friend.
"He said, 'You're nominated for many!' I said, 'OK, why not.' Of course, in the beginning it was really harsh because people were making fun of the movie in the most horrible way. I thought, 'My god, what did I do to myself?' But I stayed. What was so nice was that I had to walk forward seven times because I was the only representative of Showgirls."
At the beginning of the evening, Verhoeven recalls, he was an object of derision but, by the time he had come on stage to collect his seventh and final Razzie, the dynamic of the evening had changed completely. There was overwhelming sympathy for him and everyone was up on their feet, applauding.
Career best?
There is little chance that Elle will receive any such dubious plaudits. The film, adapted from Philippe Djian's 2012 novel Oh…, is being talked about as possibly Verhoeven's finest, a thriller that is also a beautifully observed comedy of manners. The film feels very French, and has layers of irony that will not be found in Basic Instinct; there are moments here that rekindle memories of Luis Buñuel's The Discreet Charm Of The Bourgeoisie. At the same time, the film probes at some very uncomfortable themes relating to sex, desire and violence.
Its main character, Michele Le­Blanc (Huppert), is very difficult to fathom. She is a formidable figure who relies on no-one and yet there is a suggestion she takes a certain pleasure in her own victimhood. Verhoeven himself refuses to psychoanalyse the character. "In all honesty, I just followed the book," he says of his approach to Michele.
Before production began, Verhoeven and Huppert spent considerable time discussing Michele's clothes, shoes and make-up. They worked on the dialogue. "It [the preparation] was very technical, very detailed but we never talked about the character - never," the director recalls. Huppert herself has acknowledged in interviews that she did not always understand the character's actions, but she still knew exactly how to play her. "She is as much a mystery at the beginning as at the end," Verhoeven suggests.
A Dutch journalist recently asked Verhoeven if author Djian based the character on someone he knew. Verhoeven could not answer, nor could his producer Said Ben Said. "The fact is that perhaps we don't know people anyhow and it is impossible to know them," says the film-maker.
Verhoeven cites the example of his own beloved wife, Martine, whom he has known since 1962. It was her influence that "pushed" him to leave the Netherlands for the US. "I know more or less how she will react on most occasions. I can trust her to be honest and sincere about things. Do I understand her? No. Can I feel how she feels? No. I know her by her actions. There is a beauty in not knowing. Perhaps there is an advantage in a marriage in not knowing."
Complete trust
During the shooting of Elle, Verhoeven trusted Huppert "fully". He relied on her to work out just how far to push the characterisation. "Ultimately, I let her go. A lot of the emotional scenes in the movie, the way she behaves after she kicks out the rapist… that was not in the script but she did it. I let it go because it was so authentic."
When Verhoeven first became involved with Elle, there were early plans to shoot it in the US as a mainstream thriller. On a superficial level, there are overlaps between the film and some of the director's Hollywood movies. "Of course, as I wanted to make it as an American movie, I believed that was possible, at the time. Now that I have done it with Isabelle Huppert in France, I think that [making it in the US] was an idiotic idea."
Indeed, Verhoeven laughs at the very notion that Elle could have been shot in Hollywood. "That would have meant getting more into the direction of Basic Instinct, but a lot of the things that are important in the movie would probably have been diminished. By bringing it more into a thriller direction, I think it would have lost everything. It would probably have been banal and transparent. The mystery would have gone."
Verhoeven has various projects on the boil, including one about the French Resistance in the Second World War at the time that Resistance icon Jean Moulin was captured. Again, Said Ben Said will be producing and David Birke will be writing. The film, which has the working title Lyon 1943, will portray a world of secrecy and betrayal, much as in Elle. It is clear that coming to France has re-energised the 78-year-old director and that he cannot wait to get back to work.