Romanian director Radu Munteans talks about his latest feature One Floor Below, which has just premiered in Cannes' Un Certain Regard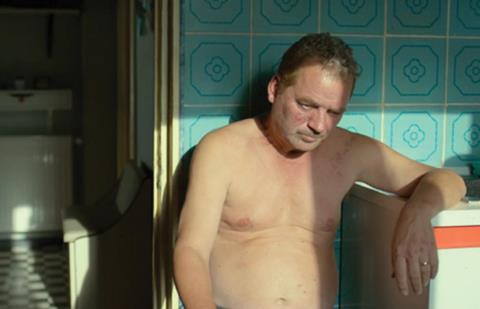 The film stars Teodor Corban as Patrascu, a middle-man navigating his country's vehicle registration bureaucracy who turns a blind eye to anything and everything - even a murder.
What was the inspiration for the film?
It's based on something that I read in the newspaper a long time ago and a real-life character. This Patrascu guy really exists. He's a middle-man between clients and state bureaucracy who does the vehicle registration paperwork.
I first came into contact with him when I needed car registration for my car and someone said use this guy. He's very professional. It's probably an Eastern European thing that you don't get but it takes us three or four days to register a car and if you don't know how to do it — it can take you a week. This guys is a life-saver. You pay him a small fee and he delivers everything you need.
I wanted to put this very in control guy, who is used to juggling three things at once, into a situation where he is out of control, out of his comfort zone.
How easy is it to finance and make a film in Romania?
This is my first co-production. It took me two-and-a-half years to pull together - my longest development period ever. My previous films made only with Romanian money, took me six months to put together. I always like to shoot fast after I've finished the script while it's still fresh and the idea is in my blood.
In two or three years you change. Your perspective changes. You become interested in other things, other stories. So it's only natural to want shoot quickly.
Despite the lack of finance, there's still a strong Romanian production scene. How come?
Maybe our films don't require such a lot of money. We do stories that can be shot in 25 days in a couple of apartments with a handful of actors. Nobody's getting rich making films in Romania. I doing ads in between times to make a living. I am shooting a lot of commercials and doing films in between. That's how I met the lead actor Teodor Corban. He was a 'beermeister' in two commercials I shot for a beer brand.
It wasn't just that. I loved him in 12.08 East of Bucharest and he is very intelligent and transparent actor - with minimum means he can deliver a lot.
How did he prepare for his role?
His character is based on a real-life figure. I got Teo to spend four days with him, observing the guy, and then we talked a lot about how I saw the character evolving in the film. He went with him, watching him registering cars and doing the paper-work.
What are you working on now?
I am working on a film about a family which adopts a little girl thinking they can't have children and then they do conceive six, seven years later, which unbalances the adopted girl. It's film about the way you react when you're not happy with the way your kid is growing-up and the implications of this if the child is adopted.