Bukky Bakray and Kosar Ali were just 15 and 14 respectively when they filmed Rocks in the summer of 2018, playing the title character and her best friend Sumaya.
Street cast by the formidable team of director Sarah Gavron with casting director Lucy Pardee, and writers Theresa Ikoko and Claire Wilson, Bakray and Ali made their feature debuts in the film with only school plays and the ambition to take drama as a GCSE to draw on.
Three years later and the young women are now in the final (Bakray) and penultimate (Ali) year of school, juggling A-levels with putting in the serious work of building sustainable acting careers. Both now have agents, and Ali has made TV movie PRU for the BBC, while Bakray is filming a four-part TV thriller series You Don't Know Me, also for the BBC, directed by Sarmad Masud (My Pure Land) and co-produced with Netflix.
"After Rocks, it has been a journey of learning and discovery," says Bakray, from the Birmingham set of the new production she is shooting until May. "I've been trying to train as much as I can. I read as much as I can and it has been about me doing everything I can to become a better person and performer."
Bakray and Ali — who are respectively nominated for best actress and best supporting actress at the Baftas — both credit the mentoring and support initiative Bridge with launching and nurturing the next step of their careers. It was set up by the Rocks creative team and the access and participation department at the Royal Academy of Dramatic Art for the first-time actors of the film. As well as providing opportunities to meet experienced actors and advice on agents and next projects, Bridge also runs workshops on topics from auditions and self-tape techniques to being able to speak with authentic US accents. Pre-pandemic, the Bridge team sent the young actors to see plays such as Three Sisters, The Barber Shop Chronicles, Pass Over starring Paapa Essiedu, and Cyrano de Bergerac with James McAvoy.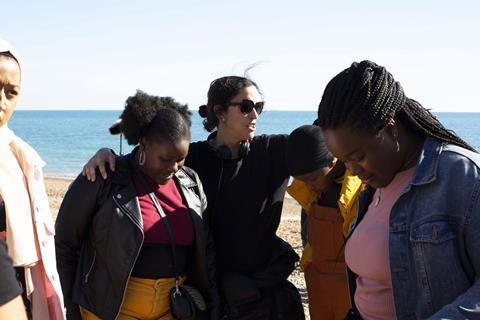 "I would love to do theatre one day," says Ali, from her home in east London. "I think [theatre] is the true essence of an actor, to be on stage and hold it down for that duration of time."
As for formal training, Ali is waiting a year or so to see what blooms from the offers that are now coming in, while Bakray says she has applied to drama schools.
"I want to grab any sort of formal learning I can and reap the benefits," she says. "I would love to do theatre. I love film but there is something that theatre does to me when I watch it."
Both women point to the career of Daniel Kaluuya as one they would like to emulate. "He absolutely embodies every role he does," says Ali. "He's incredible. His flexibility and range as an actor is insane."
Bakray also mentions LaKeith Stanfield, Robert Pattinson and Letitia Wright as actors she loves. "I love the independent films and true stories that LaKeith tells and his range when it comes to film is amazing," she says. "I love how Robert Pattinson always comes back to independent film like with Good Time. And I feel like Letitia Wright is so intentional with the projects she chooses and I really respect that. Living life according to your own ideas is something I want to grasp onto."
Bakray has watched plenty of Netflix and films such as Judas And The Black Messiah during the pandemic but says she misses the trips to the cinema she would make regularly with friends. She is also keen to write, and has penned a short piece to be directed by Ikoko for the Royal Court Theatre's Poet in da Corner series about the Nigerian diaspora.
Ali reveals she and Bakray are fiercely creative in other ways too. "I like to paint and watch anime," she says. "I do some acrylic painting and oil painting. I'm not as good as Bukky. She is incredible, she's an amazing painter but I like it just to chill."