On the set of Shaun The Sheep The Movie, Aardman Animations veterans are taking inspiration from silent comedy to guide the flock to the big screen. Wendy Mitchell reports.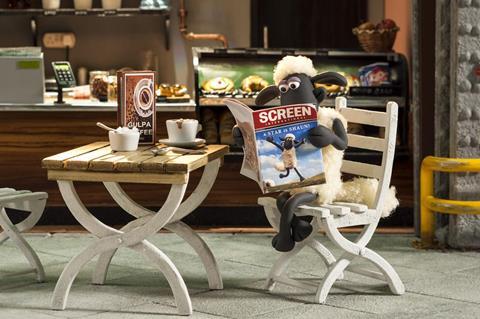 Shaun the Sheep's home is usually on bucolic Mossy Bottom Farm but when I meet Shaun for the first time, it's inside a large, unassuming industrial estate on the outskirts of Bristol: the home to the production side of Aardman Animations.
It's summer 2014 and I'm visiting the production of Shaun The Sheep The Movie. I do get to 'meet' Shaun; I have the surreal experience of holding one of a number of models (made of plasticine and silicone) used in shooting. There are 21 Shauns in this production (along with 110 sheep and 197 human models).
It is a character Aardman knows well; Shaun made his first appearance in the Oscar-winning Wallace and Gromit short film A Close Shave in 1995. He has gone on to star in his own TV series (140 episodes and counting, sold to 170 territories worldwide).
Aardman Animations is now partnering with StudioCanal on the production of the stop-motion animation feature, which tells the story of Shaun, Bitzer and the flock going into the big city to rescue the Farmer in an "epic adventure".
David Sproxton, executive chairman and co-founder of Aardman, says: "It's a massive great franchise for us… he's become a major feature film star."
'The DNA of Shaun is so strong, we're not changing anything we're just pressing in deeper'

Richard 'Golly' Starzak, Aardman
Shaun's first feature is another first for Aardman ― the first time the animation stalwart has pacted with StudioCanal for financing and production. Sproxton says: "One of the things we learned with our American deals [DreamWorks then Sony] is that we're European. Our sensibility plugs more easily into Europe and the rest of the world. StudioCanal are great. It was an obvious fit when we started working on this project. They understood our sensibilities better than some Americans."
The production has moved along more quickly than many animation shoots, as producer Julie Lockhart says: "We're doing this quite fast. Usually we'd work 18 months on the script and story but that only took 12 months. It helps that we knew the characters so well; it's a familiar world."

Strong, silent type
The story had to be honed carefully, and the feature film has no dialogue. As Sproxton says: "We love silent comedy; great cinema doesn't need dialogue. It plays to our own core strength, which is visual comedy."
Having Shaun's biggest fan on board helped. Richard 'Golly' Starzak (born Goleszowski) ― Aardman's first employee in the 1980s who created the Shaun TV series ― co-writes and co-directs the film with Mark Burton. Golly says: "The DNA of Shaun is so strong, we're not changing anything we're just pressing in deeper."
Yet he admits that "going dialogue free added a frisson of fear" when creating a 75-minute feature. They watched silent comedies for inspiration, with Golly noting, "Buster Keaton had a classic deadpan face, and Shaun has a deadpan face."
Burton points out that eschewing dialogue means perhaps being even clearer before production about the characters' emotions. "We can have very tense conversations about Shaun's emotional state. You have to take it seriously when you're dealing with characters. There's no dumbing down."
Golly adds: "It's the skill in storytelling. When you cut to an event you know what Shaun is thinking."
The film itself is not silent and Burton says they also watched Jacques Tati films and studied how he used sound effects as a character in the story.
The pair of directors complement each other well. Burton says: "We bring different skillsets to it. Golly's much the character writer and I'm more the story side."
They do live action rehearsals ― and videos ― of the scenes before animators shoot them, and Burton says: "Animators are great performers in themselves, it's like working with an actor."
The set floor itself is busy but eerily quiet as 16 animators go about their work, working on 30 different sets in all. Each animator can expect to shoot two to three seconds per day.
The Shaun-sized sets are charmingly obsessed with minutiae, with small but important details such as a coffee shop menu in the background of a window, or a tiny tag on a tiny camera in a lost property office.
The level of attention to detail and skill at Aardman still impresses Golly. "One of the themes of the film is to appreciate the ones you love. That sounds corny but it's true. I walk around the studio thinking, 'These people are bloody brilliant.'" Even while this film is heavy in production, Shaun's flock of fans will be excited to hear Golly say: "I've got a sequel idea in mind."
Shaun the Sheep the Movie
Production Aardman Animations
Finance and co-producer StudioCanal
Distribution StudioCanal (UK, France, Germany, Australia and New Zealand)
Writer/directors Richard 'Golly' Starzak, Mark Burton
Producers Julie Lockhart, Paul Kewley
Executive producers Peter Lord, David Sproxton, Nick Park
International sales StudioCanal
Release date February 2015