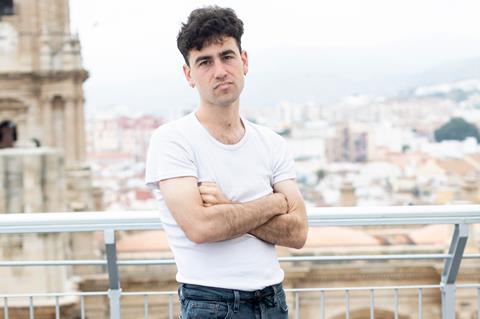 With three new features as a lead actor (The Cover, Mediterraneo: The Law Of The Sea and Centaur), Alex Monner has become a name to follow in the Spanish industry after a career beginning with a chance opportunity.
When he was 14, Monner went to one of many castings organised in schools in Barcelona for Pau Freixas' film Héroes (2010), a coming-of-age story set in the 1980s. "It was one of the best experiences I have ever had," he recalls, "spending two months in summer camp mode, working with friends. I learned my job working, never taking acting courses. Pau Freixas made me understand I had an actor within me, and gave me the confidence to work with that."
Monner worked with Freixas again in The Red Band Society, a Filmax and Catalan TVC series sold widely internationally and later remade in the US by Fox. Next came features such as Isaki Lacuesta and Isa Campo's The Next Skin, a drama co-starring Emma Suárez (Julieta) in which Monner played a boy with amnesia who may or may not be lying.
For Telecinco TV series Unauthorised Living (Vivir sin permiso), Monner played the conflicted son of a drug dealer, and he also appeared in late-1960s-set series The Invisible Line (La linea invisible), a 2020 Movistar+ original about the start of the assassinations carried out by Basque terrorist group ETA.
This year saw him in thriller Below Zero, announced as the most watched film on Netflix globally the week of its release in late January, and a tough shoot for the actor. "I made the most physically demanding scene of my career, in chains and under cold artificial rain, freezing actually," he recalls. "The film is not called Below Zero for nothing."
Busy Monner has since made three features: The Cover, about a group of wannabe singers earning a living in the tourist resort of Benidorm imitating famous music stars, released in Spain this July; action thriller Centaur, by Daniel Calparsoro, co-starring Carlos Bardem; and Mediterraneo: The Law Of The Sea, by Marcel Barrena, about the true story of the NGO Spanish ship Open Arms that went on a refugee rescue mission in the Mediterranean. Barrena plays a photojournalist, and he remembers fondly his stay in Greece for the shoot: "It got extended because of the travelling restrictions caused by the pandemic and in my spare time I got to make friends with some of the refugees, mostly from Syria and Afghanistan. It was a life experience I will never forget."
Contact: Esther Cabrero, Paper Street Actors Co