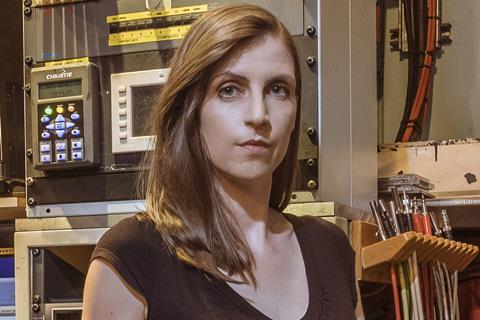 Writer-director Kat Wood has several screenplays in development with companies including Shooting Script Films, the Fyzz Facility and Electric Shadow, and is also eyeing up her debut feature as a director, Stine, a retelling of the Frankenstein story set in a near-future Newcastle.
Development of Stine is being backed by Creative England. This includes funding for a proof-of-concept short, which stars Tuppence Middleton, is produced by Maria Caurana Galizia and recently wrapped its shoot.
Previously a producer at BBC radio, Wood got her first taste of working in film by teaching a course run by the BBC and Bafta in which she guided a group of six-year-olds to make a short film in a day.
The eye-opening experience led Wood to write the script for short film Mr Bojagi, which she gave to director Marco van Belle, who was also working at the BBC at the time.
Needing a male lead to play the title character — a mysterious man with a mind-reading machine — the pair ambitiously sent the script to Brian Blessed, and he signed up to star alongside his wife Hildegard Neil.
"From then on, filmmaking seemed like a viable thing I could do," Wood recalls.
She then teamed with van Belle to write feature script The Burning Room, which was a finalist in two screenplay competitions (BlueCat Cordelia and Final Draft Big Break Contest) and attracted enough attention to land her a manager in the US, Jeffrey Belkin at Zero Gravity Management. Her first taste of feature production came when she was parachuted onto van Belle's directing debut Arthur & Merlin to do a late rewrite, where she learned the machinations of feature production.
"It made me feel like I could direct, so I started thinking about how I could step into that role," she says.
In 2015, Wood was the recipient of a John Brabourne award, which provided a grant of $6,500 (£5,000) to support the development of her career.
The following year, her pitch for Home was selected from 3,000 entries as a 2016 winner of the Jameson First Shot short film competition. Kevin Spacey and Dana Brunetti produced the film, which was written and directed by Wood and starred Maggie Gyllenhaal. The finished film has racked up more than 1 million views on YouTube.
Contact: jeff@zerogravitymanagement.com