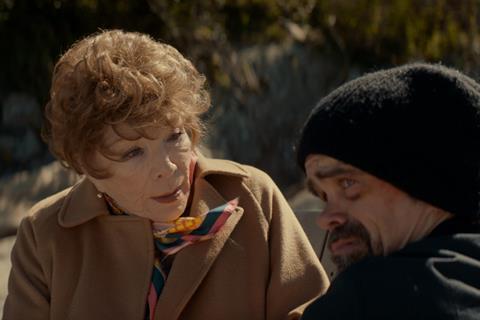 Tribeca Festival kicks off today (June 8) in New York and buyers, particularly North American ones, will be scouring the line-up at the mostly indoor festival, which relocated from its traditional spring berth in April to this June slot last year. It will run until June 19.
After a predictable shortage of available English-language films in Cannes it's a chance for US acquisitions teams to bolster their pipelines with indie content. The new date allows them the opportunity to enjoy post-Cannes summer screenings rather than racing to cover the selection in between SXSW and Cannes.
International buyers and press are not expected to attend the US-facing event in numbers, although there are hopes some of the selections will appeal to audiences outside the US. It will not have gone unnoticed too that the agencies' sales teams are turning up with fairly robust sales slates and seek to capitalise on the plethora of distribution options including streaming platforms.
Besides the film slate, Tribeca is presenting shorts, TV, live music, podcasts, gaming, AR/VR and talks. There will also be free outdoor screenings and an online edition, Tribeca At Home.
Among the titles already spoken for are Netflix's festival opener Halftime chronicling the career to date of New York-born Jennifer Lopez; Showtime's McEnroe about the life of tennis great and inveterate New Yorker John McEnroe; Amazon's father-daughter dramedy Don't Make Me Go starring John Cho and Mia Isaac; and the North American premiere of Berlinale selection Taurus starring Colson Baker aka Machine Gun Kelly.
Below are 10 Tribeca premieres which buyers are tracking.
Acidman
Dir: Alex Lehmann
Section: Spotlight Narrative
Synopsis: Thomas Haden Church and Dianna Agron star in the tale of a woman who tracks down her father after a decade apart, only to discover that his fixation with UFO's has intensified. It also frustrates her efforts to communicate some big news.
Sales: ICM Partners, CAA Media Finance (worldwide)
American Dreamer
Dir: Paul Dektor
Section: Spotlight Narrative
Synopsis: Peter Dinklage and Shirley MacLaine star in the tale of an entitled economics professor's plan to buy an ailing widow's mansion on the cheap. The cast includes Matt Dillon, Danny Glover and Kim Quinn.
Sales: UTA Independent Film Group (worldwide)
Blaze (Australia)
Dir: Del Kathryn Barton
Section: International Narrative Competition
Synopsis: The coming-of-age story using fantastical sequences stars Simon Barker as a single father who tries to care for his 12-year-old daughter after a trauma forces her off the rails. Julia Savage also stars.
Sales: mk2films (worldwide)
Corner Office
Dir: Joachim Back
Section: Spotlight Narrative
Synopsis: Jon Hamm, riding high on the global success of Top Gun: Maverick, stars in this office satire as a salary worker who upsets his lacklustre colleagues when he moves to a corner office in the hopes of getting ahead.
Sales: UTA Independent Film Group (worldwide)
The Drop
Dir: Sarah Adina Smith
Section: US Narrative Competition
Synopsis: Arguably the most anticipated film in buyers' eyes, the ensemble comedy charts the fallout at a destination wedding when one half of a happily married couple drops their friend's baby. Smith directed TIFF 2016 premiere Buster's Mal Heart and her latest cast includes Anna Konkle, Jermaine Fowler and Jillian Bell. Mark and Jay Duplass are executive producers.
Sales: ICM Partners, WME Independent (worldwide)
The Integrity Of Joseph Chambers
Dir: Robert Machoian
Section: US Narrative Competition
Synopsis: Machoian follows up his well-received Sundance 2020 entry The Killing Of Two Lovers with this tale about a married insurance salesman and father living in the country who decides to go deer hunting alone… only to experience something that will torment him. Clayne Crawford and Jordana Brewster from the Fast & Furious franchise star.
Sales: Visit Films (worldwide)
Next Exit
Dir: Mali Elfman
Section: US Narrative Competition
Synopsis: The directorial debut of Danny Elfman's daughter already marks Next Exit down as a curiosity worth checking out. The horror-comedy follows a couple travelling cross-country to end their lives through a new medical procedure which allows people to kill themselves peacefully. Along the way they are forced to reckon with their pasts. Katie Parker, Rahul Kohli, Rose McIver and Karen Gillan star.
Sales: XYZ Films (US); No Traffic For Ghosts (international)
Rudy! A Documusical
Dir: Jed Rothstein
Section: Spotlight Documentary
Synopsis: After Borat 2 and The Masked Singer the next step in how the world sees the discredited former New York mayor and Donald Trump attorney is a musical, of course. Rothstein used archive footage and songs to chart the controversial lawyer-politician's life.
Sales: UTA Independent Film Group, CAA Media Finance, WME Independent (worldwide)
Somewhere In Queens
Dir: Ray Romano
Section: Spotlight Narrative
Synopsis: US household favourite Romano stars in his directorial debut as a man who risks severing ties with his overbearing Italian-American family to help his son when the youngster's chance of a life-changing basketball scholarship is jeopardised. Laurie Metcalf, Jennifer Esposito and Tony Lo Bianco also star.
Sales: ICM Partners (worldwide)
Space Oddity
Dir: Kyra Sedgwick
Section: Spotlight Narrative
Synopsis: Sedgwick's feature directing debut stars Kyle Allen as a young man about to take the trip of a lifetime to Mars via a private colonisation programme. When he falls for a young woman (Alexandra Shipp) he faces a tough choice: face his past or escape into the galaxy.
Sales: CAA Media Finance (worldwide).