Dir/scr. Richard Curtis. UK, 2009. 134 mins.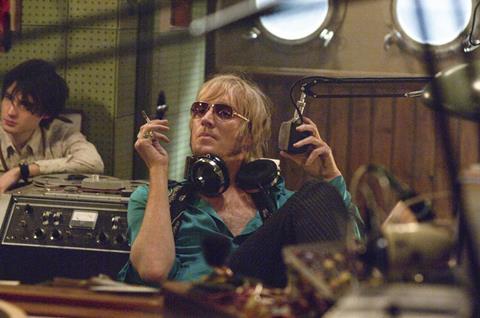 The Boat That Rocked , Richard Curtis' limp, unfunny riff on 1960s pirate radio in the UK, comes with the tagline: 'On Air, Offshore, Out of Control'. Certainly - bewilderingly - there's no sign of anyone in charge of this bloated Working Title vessel, which lurches and leaks its way through a series of flimsy setpieces before gracelessly coming to a watery grave. UK audiences, lured by a jaunty marketing campaign and some Brit casting starpower, may turn out for the opening weekend, but otherwise this Boat could go down as Curtis's personal Titanic.
The film's saving grace is its soundtrack, from long-time Curtis collaborator Nick Angel
The Boat That Rocked's problematic 134-minute running time turns what should have been a breezy comedy about radio broadcasters on a pirate ship into a draining experience and notices/word-of-mouth are unlikely to be forgiving. Curtis, in his second outing as a director and working from his own screenplay, hasn't learned to cut since Love Actually's 135 minutes and Working Title's Tim Bevan and Eric Fellner, both credited as producers with Hilary Bevan Jones, apparently went along for the voyage.
It's a peculiar decision, as the film is framed as a series of set pieces, any one of which could have been jettisoned - not to mention the exhaustive 'reaction' shots of the same anonymous people back on shore in 1960s Britain listening to their radios and dancing around them.
The Boat That Rocked , loosely inspired by the real-life Radio Caroline, is set on a vessel called Radio Rock, populated by fine actors - Philip Seymour Hoffman, Rhys Ifans, Bill Nighy - playing DJs with one-note characters (the stupid one, the sexy one, the fat one, etc).
The action starts with the arrival of recently-expelled, father-less teenage public schoolboy virgin Carl (Tom Sturridge, channelling Hugh Grant) on this pirate radio vessel in the North Sea. He's there to see his godfather Quentin (Nighy), who runs Radio Rock as a sort of marine boarding school for overgrown boy DJs, led by American sensation the Count (Hoffman). Other record-spinners include Dave (Nick Frost), Wee Small Hours Bob (Ralph Brown), Thick Kevin (Tom Brooke) and, later, sexy Gavin (Rhys Ifans), at odds with the Count for the boat's 'alpha DJ' position. Ben Barnes shows up in a very peculiar part as a heart-throb DJ who doesn't speak.
Much of the action is devoted to the loss of Carl's virginity, with a long, early sequence involving him switching places with Dave in the dark to try rid himself of this burden, which lets the air out of much of the film's initial buoyancy. This is followed by interludes in which one of the DJs gets married; they all go to London and prance around Trafalgar Square for a stag night; two of them climb the ship's mast; groupies turn up; and so on.
To deliver some dramatic tension, Kenneth Branagh is cast as the Government minister charged with shutting the pirates down. He delivers a pantomime performance: hard to avoid, when Curtis has written him a sidekick called Twatt (Davenport), and lines including 'I like you, Twatt'.
Curtis favourite Emma Thompson also turns up in a brief cameo as Carl's mother, and Gemma Arterton is forgettably brief as Carl's love interest.
What transpires on Curtis's Radio Rock feels historically bogus (would a DJ in 1966 really say 'this will make you moist"), if visually accurate. But what is most striking is the wasted opportunity here: surely life on the real Radio Caroline must have thrown up far more dramatic and comedic potential than Curtis is able to take on board here.
The film's saving grace is its soundtrack, from long-time Curtis collaborator Nick Angel. A stellar assortment of tracks from the late 60s - the Small Faces, The Who, Jimi Hendrix, etc - move the boat along when the action taking place inside it stalls.
Production companies
Working Title
Producers
Tim Bevan
Eric Fellner
Hilary Bevan Jones
Cinematography
Danny Cohen
Production designer
Mark Tildesley
Editor
Emma E Hickok
Costume designer
Joanna Johnston
Music supervisor
Nick Angel
Main cast:
Philip Seymour Hoffman
Tom Sturridge
Bill Nighy
Nick Frost
Tom Brooke
Kenneth Branagh
Gemma Arterton
Jack Davenport
Rhys Ifans
Emma Thompson
January Jones