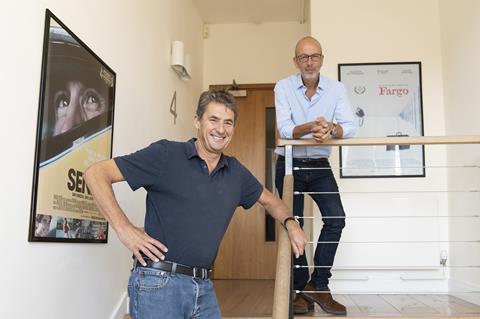 Need to know: Tim Bevan and Eric Fellner have co-chaired Working Title Films since 1992, forging a reputation as one of the UK's leading producers of quality British films that regularly become blockbuster international hits.
In 2016, the company became the first UK-based production outfit to pass $1bn at the UK box office after the success of Bridget Jones's Baby. On the world stage, Working Title's films have grossed more than $7.5bn and have won 14 Oscars. Alongside the Bridget Jones films, the company is also behind the Johnny English franchise, starring Rowan Atkinson; and a series of successful collaborations with Richard Curtis (including Love Actually and Four Weddings And A Funeral) and the Coen brothers. Darkest Hour, starring Gary Oldman as Winston Churchill, won two Oscars in 2018, while Edgar Wright's Baby Driver competed for three at the same ceremony. The Theory Of Everything and The Danish Girl were also Oscar winners.
In 2018, the company has had Entebbe, King Of Thieves and Johnny English Strikes Again in cinemas. Working Title signed a first-look production deal with Universal Pictures in 1999, which in 2015 was renewed through to 2020 — however, it has also worked with other partners, notably Studiocanal. The company's Los Angeles office is run by Alexandra Loewy. In 2013, Bevan and Fellner received the Producers Guild of America's honorary David O Selznick Award.
Key personnel: Tim Bevan, Eric Fellner, co-chairmen; Alexandra Loewy, president of Working Title US; Amelia Granger, head of film UK; Sarah-Jane Wright, head of production.
Incoming: Working Title's slate includes Mary Queen Of Scots, directed by Josie Rourke and starring Margot Robbie and Saoirse Ronan. Also in the works is Marjane Satrapi's Marie Curie biopic Radioactive with Shoebox for Studiocanal, and Joe Cornish's The Kid Who Would Be King, distributed by 20th Century Fox.
Earlier this year, the company produced Danny Boyle's untitled Richard Curtis comedy, starring Lily James, Himesh Patel and Kate McKinnon. Cats, Tom Hooper's feature adaptation of Andrew Lloyd Webber's long-running musical, is now in production, with a cast including Taylor Swift, Jennifer Hudson, Idris Elba, James Corden and Ian McKellen. Universal is releasing the film in December 2019. On the horizon is the opening of the London Screen Academy, a UK college for 16-19-year-olds, in which Working Title has been heavily involved alongside David Heyman, Barbara Broccoli, Michael G Wilson and Lisa Bryer. The school will offer training across the screen industries for students and will take its first enrolments from September 2019.
Tim Bevan says: "What's exciting about working in the UK right now is the vast army of talent both in front of and behind the camera. I'm a firm believer that if somebody is working from a cultural base they understand, they'll probably do their best work. You can make big films in the UK now, so why wouldn't you?"
Eric Fellner says: "Working Title has always been story up, not concept down. Because we're semi-independent, we're able to make a documentary like Senna, or a musical like Les Misérables. We can do anything in any genre at any price — that gives us incredible freedom, both creatively and on a business level."
Contact: +44 20 7307 3000