Dir: Saul Dibb. UK. 2008. 110mins.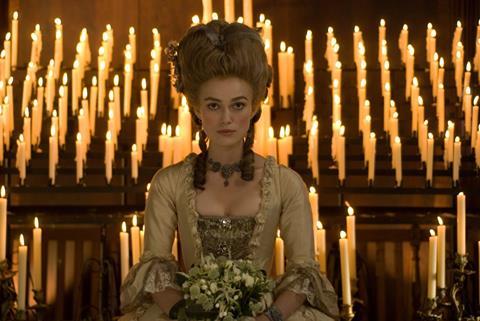 The spirit of the Gainsborough boddice-ripper lives on in The Duchess, a British period drama that features Keira Knightley's best performance since Pride And Prejudice. Director Saul Dibb approaches this racy 18th century tale of beastly husbands and broken hearts with intelligence and restraint, keeping the focus on timeless emotions rather than the obvious distractions of the still sumptuous period costumes and stately home locations. The result is an absorbing, accessible and ultimately moving account of a dazzling young woman at the mercy of the misfortunes of love and the inequalities of the age in which she lived.
Positive reviews and the contemporary resonances in this period story should ensure healthy upscale theatrical returns for The Duchess which could prove the most reliable test yet of Knightley's drawing power which has been decidedly erratic outside her signature roles. Domino (2005), The Jacket (2005) and Silk (2007) didn't exactly prove box-office gold but The Duchess should fare considerably better with an outside chance of awards consideration for Knightley, Ralph Fiennes and the craft contributions.
Based on the bestselling historical biography by Amanda Foreman, The Duchess tells the story of Georgiana Spencer. She was a distant ancestor of Diana Spencer and it is all too easy to see the parallels in the life of a young woman who marries a cold, distant older man only to discover her sole purpose in life is to produce an heir. The absence of affection and the presence of a third party in the marriage only renders the similarities more striking.
Director Saul Dibb is best known for his feature debut Bullet Boy (2004). On the surface, The Duchess is a bold move beyond his comfort zone but one can appreciate the thematic consistency in the story of another young person trying to break free from a society determined to control her life and limit her options. Georgiana is a beautiful, charismatic woman thrilled that her mother Lady Spencer (Rampling) has arranged an advantageous marriage to the Duke Of Devonshire (Fiennes). ' I've only met him twice, ' she marvels.
Her romantic notions are soon dashed by a man who shows more interest in his dogs than he does in his wife. She endures numerous humiliations, including accepting his illegitimate daughter into their home, and his displeasure only intensifies as she gives birth to two daughters. She makes friends with Lady Bess Foster (Atwell) who subsequently becomes Devonshire's mistress and finds a lover in the dashing Charles Grey (Cooper), an ambitious politician and future Prime Minister. In trying to attain a measure of personal happiness she discovers that there are one set of rules for men and very different definition of what is acceptable for a lady of high rank.
Dibb has already proved himself an able director of actors and there is a fine array of performances here, including Rampling's steely, eternally practical mother and Fiennes who captures many facets of Devonshire beyond his cruelty. Fiennes makes him witty, saturnine, surprisingly tolerant at times and well-rounded. He almost steals the show from Knightley and gives a performance that proves why Georgiana may eventually have grown to respect the man she once resented with such fury.
Production companies
Pathe
BBC Films
Qwerty Films
Magnolia Mae Productions
International sales
Pathe International
(44) 20 7462 4427
Producers
Gabrielle Tana
Michael Kuhn
Executive Prods
Francois Ivernel
Cameron McCracken
Christine Langan
David M Thompson
Carolyn Marks-Blackwood
Amanda Foreman
Screen play
Jeffrey Hatcher
Anders Thomas Jensen
Saul Dibb
based on the novel by Amanda Foreman
Cinematography
Gyula Pados
Production design
Michael Carlin
Editor
Masahiro Hirakubo
Music
Rachel Portman
Main cast
Keira Knightley
Ralph Fiennes
Charlotte Rampling
Dominic Cooper
Hayley Atwell