Having collaborated with David Fincher — and each other — on previous projects such as The Girl With The Dragon Tattoo and Gone Girl, costume designer Trish Summerville and production designer Donald Graham Burt were both aware of the director's long-gestating project Mank before it ever got the greenlight.
Fincher had wanted to make this 1930s Los Angeles-set period piece about screenwriter Herman J Mankiewicz and his troubled writing of Citizen Kane for director Orson Welles ever since his journalist father Jack penned a screenplay in the late 1990s; Fincher Sr died in 2003 with the script still in a drawer. When Net­flix approached Fincher about making a film following their collaboration on crime series Mindhunter, the director immediately suggested Mank and brought Summerville and Burt onboard.
"It was a project that I really wanted to be a part of," says Summerville. "Being black and white, being a period setting, being with David, it's the kind of film that's a once-in-a-lifetime chance." Burt, too, felt an instant connection. "It's a period Los Angeles film-industry movie, and I immediately fell in love with it."
Fincher's film was to be an authentic emulation of a 1930s movie, featuring real-life locations and characters including Mankiewicz (Gary Oldman), Welles (Tom Burke), media titan William Randolph Hearst (Charles Dance), MGM boss Louis B Mayer (Arliss Howard), producer Irving Thalberg (Ferdinand Kingsley) and Hearst's girlfriend, actress Marion Davies (Amanda Seyfried). That meant research — and lots of it.
"I did a massive amount of image research, much of which was at the Academy [of Motion Picture Arts and Sciences]," says Burt. "In their library I found a goldmine of black-and-white period photo­graphs, particularly of Hearst Castle, San Simeon [a significant location in the film].
"I watched a lot of films from the era — not so much for the look, but for locations — to see what things such as street lamps and stop signs were like in LA at that time. Sunset Boulevard was one, because we had some scenes set on the Paramount lot and that film has quite a bit that's filmed at the studio."
When it came to tracking down those iconic Los Angeles locations, Burt and his team found that "Los Angeles hasn't always been respectful with preservation". It was tough, he says, to find usable exteriors, although some did still exist. "There are some iconic buildings that we used for street scenes, like the exterior of the Park Plaza Hotel and Glendale train station. We just had to be a little more studied in how we showed them. You can't show what's directly across the street, or you have to paint it out [digitally]. Or you have to say that Starbucks started in 1928!"
Summerville also benefited from having access to Burt's "extensive research" and was able to find images of Mankiewicz at work in writers' rooms, as well as more personal photographs. "There are images of him with his family, of him convalescing [following a car accident, during which time he wrote the screenplay for Citizen Kane]," she says. "It allowed us to see the progression of the man."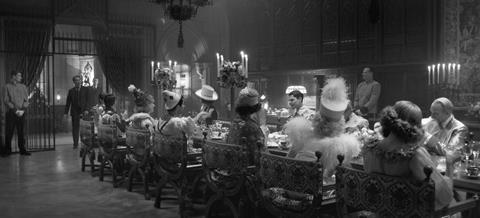 Summerville also looked at magazines and catalogues from stores such as JCPenney — it was important, she says, that her designs not only reflect the glamour of Holly­wood, but the everyday lives of people living through the Great Depression and its aftermath.
"We wanted to show that authenticity in the clothing, the fact you see a huge scale of economic status," she says. "For example, for the unemployed prop guys picketing outside MGM, it was important that we didn't make their clothing dirty, but just suggested these were items they'd had for many years. That they were trying to be as presentable as they could."
"There's that fine line between the romance and the reality of it," agrees Burt. "We wanted the writers' room at Paramount to feel like a bullpen, the engine room of the studio with all the guys working, gambling, smoking. That was all based on original letters and documents from studio workers talking about the betting, the drinking. That nuanced behaviour is very real."
The design of the MGM, RKO and Paramount offices was also carefully constructed to show their differing fortunes, with MGM being the most stylish. "MGM was the Rolls-Royce of studios at the time. It had the big stars, it was making the money," notes Burt. "We took a little bit of a licence, because we styled MGM around the Thalberg building, which they began to build just before Thalberg passed away [in 1936]. But we placed him within those offices ahead of time, to show the difference in opulence between Paramount and MGM."
King of the castle
Another location in which opulence was a keyword was Hearst's sprawling castle estate San Simeon. With filming not allowed in the actual building, the team recreated several key rooms on soundstages — including a parlour that hosts Louis B Mayer's birthday bash and a dining hall where a drunk Mankiewicz crashes an ostentatious fancy-dress party.
Knowing the goal was emulation, rather than faithful recreation, Burt chose not to visit the estate as it is today, relying on black-and-white archive photography. "I wanted to take the essence of what it is, and apply that physically to our sets in order to tell our story," he says. "It was a combination of architectural details in selective areas, as well as certain pieces of set dressing — the tapestries in the dining room, for instance."
Throughout the making of the film Burt and Summerville relied heavily on the various black-and-white filters available on their iPhone cameras, as well as close collaboration with each other, Fincher and cinematographer Erik Messerschmidt, to determine which fabrics, colours and textures would translate best in monochrome. "We were selective about how we dressed the rooms," notes Burt. "In the research photos, the place was jammed with things — statues in front of paintings, bird cages. You felt a bit seasick. So we tried to show more discretion, and yet bring in that vulgarity of wealth."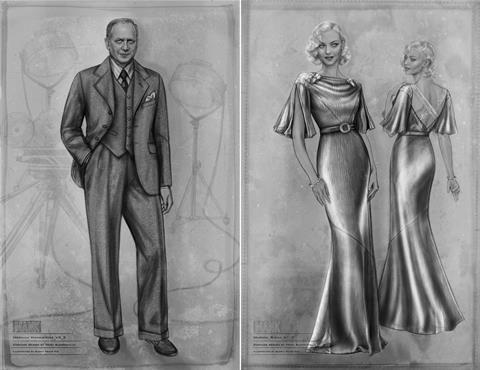 The pivotal dinner party scene in which a drunk Mankiewicz confronts Hearst in front of his dinner guests was a particular challenge of design — Oldman circles the long table as he speaks, which is lit by candle­light and all of the guests wear ostentatious circus costumes (based on research photos).
"Trish was the art director of that scene, in my mind," says Burt. "She added so much to the set. I looked at photographs when it was dressed, and then at others taken from the same angle with the actors in their costumes. She had taken it to another level. It was like her costumes were part of the set, like another layer of wallpaper or a texture that really made a difference."
Summerville says she took inspiration directly from the set design. "The Hearst mansion was very dark, very saturated, lots of tapestries and dark woods," she notes. "That helped me figure out I could bring some light into the room with the clothing. I kept Marion's clothing light throughout the whole film. She's always the candy in the room."
Summerville wanted her designs to reflect the characters of the people wearing the clothes. As an example, she points to the wardrobe of Mankiewicz's British secretary Rita Alexander (Lily Collins), whose outfits evolve from the "prim and proper" tailoring of a professional woman to a more relaxed and sporty look as she gets used to the desert heat and develops an affection for the writer's eccentricities.
Similarly, the outfits for Davies reflect both the glamour of her position as a leading lady, and the strength of character that allowed her to hold her own with the men in her orbit. A key example is the stunning backless gown Seyfried wears during Louis B Mayer's party scene, when she takes a turn around the gardens with Mankiewicz. "I had to take into account what the set was going to be like, and the level of glamour she had," notes Summerville. "I wanted it to catch the moonlight, but I couldn't have it glow in the dark or blow out under the lights. So it's a kind of antique gold fabric.
"[There was] a lot of movement and ease in the sleeves," she continues. "Amanda had to be able to sit down, stand up, walk around, jump up on the fountain, and yet still look stunning. But I wanted it to be bias cut to show how small Marion was, and how she could stand on her own [in that room]."
Similarly, Summerville's designs for Oldman's Mankiewicz spoke to the fact he was fairly low on the rungs of Hollywood, at direct odds with the high style of individuals such as Mayer, Thalberg and Hearst. "With his income, and his gambling and alcoholism, he doesn't spend a lot of money on his clothes," she notes. "We figured he probably had his suits for a long period of time. So we tried to show that he did look a bit dishevelled; we wore in his colours, made his clothes a bit soft, almost schlubby."
Yet, even with these regular clothes, concessions had to be made for the demands of the shoot. "There's a scene with Gary where he pulls into Los Angeles Union Station on the back of a car, and he rolls off the back, jumps down and falls into the luggage cart," Summerville notes. "And we had to make sure his heels wouldn't damage this priceless vintage car. So we worked out how we could pad out the bottom of his shoes in a way that the camera wouldn't see. And make sure his trousers had enough room so that he could do that manoeuvre!"