Director Thomas Vinterberg has struck a chord with awards voters with his story of middle-aged men and their relationship with alcohol.
When Screen spoke to Vinterberg in September 2020, before the Toronto world premiere of Another Round, he was apprehensive about how the pandemic world would react. "I don't know whether this film is going to be a reve­lation for people, or slightly irrelevant," he said back then.
Six months on, it is clear how much the world has embraced the film, including festivals (Cannes label 2020, Toronto, San Sebastian, London and more), audiences (it was the biggest hit of the 2020 Danish box office) and his industry peers who have recognised Another Round with four Bafta nominations – for actor, director, original screenplay and film not in the English language – and two Oscar nominations, for international feature and director.
Another Round centres on four Danish high-school teachers who test a theory that they will work and live better by maintaining a constant level of alcohol in their bloodstream. The initial results are positive, with classes improving. However, as they continue the experiment, the situation becomes more extreme.
"We also wanted to make a movie about thinking on life, not just being alive but living," says Vinterberg. "I hope it has become a celebration of life. I lost my daughter while making this film [19-year-old Ida died in a car accident in Belgium during the first week of the shoot]. It was nightmarish, it will always be.
"The only reason I could continue making this movie was because a couple of months prior to her death, she sent me a letter talking about how much she loved this project. And she was a pretty tough judge. The only possibility of continuing with this movie was by making it more than just a funny alcoholic story, it had to be about being alive."
The somewhat surprising best director nominations mean a lot to Vinterberg, especially because Another Round is a film he so closely associates with Ida. "With this particular movie, it means a lot to me," he says of the nominations. "I am so proud, and also surprised. But I realise that people see a movie about a lot more than just drinking. That was the most important thing for me and my collaborators – to elevate this project from just being a project about drinking."
A seven-year journey
Vinterberg and his friend and co-writer Tobias Lindholm (a director in his own right, with credits including 2012's A Hijacking) had the initial idea that became Another Round back in 2013. The pair brainstormed ideas for a few years "about a movie that celebrates alcohol, to some extent". Then they heard about Norwegian psychiatrist Finn Skarderud's theory that humans have a 0.5% alcohol deficit in their blood. That became the spark for the story of high-school teachers embarking on their experiment.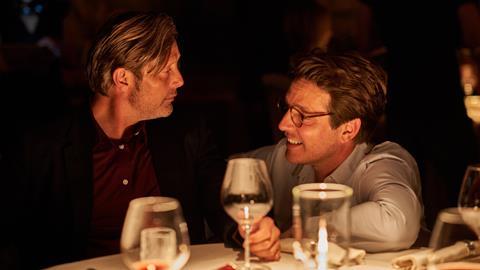 The process between Vinterberg and Lindholm is that "we map out the movie on whiteboards, we discuss, we write outlines. When we start writing our lines, we start separating a little bit. Then when we start writing the script, we're sending things back and forth.
"We consider ourselves like a [tandem] bicycle," he continues, "in the sense that one is riding in the front writing 10 pages without looking back, throwing it backwards and then the other one is catching it and rewriting it. We go back and forth like that."
At the end of the process, Vinterberg made one final pass of the script on his own.
Another Round reunites the duo with The Hunt star Mads Mikkelsen, alongside Thomas Bo Larsen, Lars Ranthe and Magnus Millang. Mikkelsen has attracted career-best praise for his role, and all four men jointly won the best actor prize from San Sebastian's 2020 jury, headed by Luca Guadagnino.
The recognition for his collaborative cast was gratifying for the director. Starting with The Celebration (Festen, 1998), Vinterberg says he always writes for specific actors, and Another Round was developed with these four actors in mind. "We have written this script for them, and they know that. So it's not like they just come in and say the lines, these lines are written in admiration and inspiration for them as both persons and professionals." So if they have a suggestion to make, "it's normally very valid. They have intelligent thoughts about how these characters would react."
There were more worried minds when it came to the film's playful ending, which features Mikkelsen in a dance sequence. It was a risky way to end the film, and the actor took some convincing (he is a trained dancer but has not performed publicly in years and thought the scene could become too "personal").
For Vinterberg, it was the only way he could envision ending the film. "I've had a thing throughout my career, when I get an idea and people say, 'No, no, this is crazy,' then that's when I know I should jump off the cliff. I was nervous about [this scene], but I was in love with it. It was the same feeling when we did Dogme back in the day."
For the record, Mikkelsen now says, "He was absolutely right. It's a beautiful, beautiful ending. I'm not sure I would have done it with another director."
Vinterberg was thinking of his daughter on that day's shooting. "The scene was, in all its sadness and cele­bration, a mirror of my life. To that extent, it was a little bit difficult for me and my wife to sit there, because there was someone we knew who would have wanted to see this."
Vinterberg is busy writing his new project, his first trip into episodic tele­vision: Families Like Ours, produced by Zentropa for TV2 Danmark and in development since mid-2019. Sisse Graum Jorgensen, whose credits include Vinterberg's The Hunt, The Commune and Another Round, produces alongside Kasper Dissing, who also produced Another Round. Vinterberg will direct all six episodes of the drama, and co-write the series with Bo Hr Hansen, who penned with Vinterberg The Biggest Heroes (1996) and his film school graduation short Last Round, which was nominated for a Student Academy Award.
The series is unlikely to shoot until mid-2022 since, as Vinterberg says with a laugh, "There is still a lot of writing to do." The drama is set in a near-future Denmark when the country is gradually evacuated due to environmental disaster. Zentropa describes the set-up as: "Those who can afford it travel to good countries. Those who are less well-off have to leave on a government-funded programme headed for more challenging places. Families, friends and loved ones will be separated."
"I've been wanting to do a TV series since The Celebration," explains the prolific writer/director. "Being around the same characters for a longer stretch is something I enjoy. It's a bit like when I wrote for theatre — you can allow yourself time to write further into the depth of things. The episodic format requires some different rhythms, which I'm trying to pick up."
But there are a few pressing distractions from his screenwriting. Vinterberg hopes to attend the Academy Awards ceremony in Los Angeles but only if travel restrictions allow the trip. "There are a lot of rules. We are having conversations with the embassies, because I do want to go, of course."