Director and producer Erik Hemmendorff discuss Cannes Competition title The Square.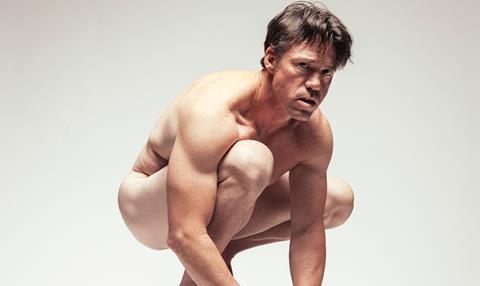 It was the memory of his father's boyhood stories that helped to spark the ideas behind Ruben Ostlund's new film The Square. "When he was six years old, he would be sent out in the street in Stockholm to play and his mom would put a tag on him with his name and address," Ostlund recalls. "You would trust in these other adults to take care of your child if anything happened. That's a huge attitude shift in how we look at the public now. There is a paranoia."
Ostlund's producer Erik Hemmendorff, with whom he founded Plattform Produktion in 2002, says the pair began to explore these ideas about trust and responsibility with Ostlund's 2011 feature Play.
"The idea that adults were there to help you — that's not there any more," Hemmendorff suggests. "This is something we confronted when we were making Play. Ruben interviewed these young kids who meet each other in public spaces, and there were so seldom any grownups intervening."
The Square is not about children, but very much about modern society. "The foreign way of looking [in] at Scandinavia is [that it is] this social democracy, an idyllic society," Ostlund explains. "But there is a change going on here and I was interested in that."
Ostlund's last three features have increasingly identified him as one of the most talented and provocative auteurs in cinema today. Ahead of its premiere in Competition at Cannes, The Square has already racked up impressive sales for Ostlund's longtime sales partner, Philippe Bober's Coproduction Office. Deals done prior to Cannes include to the US (Magnolia), UK (Curzon Artificial Eye), France (BAC), Germany (Alamode), Czech Republic/Slovakia (Film Europe), Hungary (Cirko) and Switzerland (Xenix).
The Square's main plot is about an art museum dealing with the fallout from a controversial viral video to promote an exhibit called 'The Square'.
"I needed a place for the film to verbalise the topic and that became the art world," Ostlund explains. "It's an attractive environment, it's like taking an existential question to a ski resort," he says with a smile, referencing his last feature, Force Majeure.
The project began three years ago as an actual art installation, a white marked box in a public space into which anyone could step if they needed help or sanctuary. Working with Swedish film producer Kalle Boman, Ostlund wanted a platform with which to tackle big ideas with public participation. "'The Square' is where we have this big trust in the State and take care of each other," Ostlund says of the altruistic ambitions of the white marked box. "[It is] a sanctuary of trust and caring, within its boundaries we all share equal rights and obligations. It is about some of the most important questions of our time."
The installation, initially designed to be temporary, was instead created as a permanent piece of work in Varnamo in southern Sweden in early 2015. New versions of 'The Square' are planned for Grimstad, Norway, and then in Gothenburg and Stockholm in Sweden.
The film explores how audiences and the media respond to the artwork. It has a satirical slant, especially in its portrayal of the media, which "goes straight into the trap" set by the museum and its PR agency: they suspect the press will not care about the exhibit unless they have something provocative to write about.
"I really think we're [living] in a media circus," says Ostlund of the way in which news is disseminated and consumed today. "If you're a politician, people have to know you exist — for that to happen you need to have controversy."
International cast
Ostlund was speaking to Screen International in August 2016 during a lunch break while the film was shooting in the director's hometown of Gothenburg. It was day 42 of a 78-day shoot, and the schedule would be devoted to a scene in which the museum curator, played by Denmark's Claes Bang, hosts a crisis press conference. The film boasts Ostlund's most international cast to date and includes Elisabeth Moss, playing a journalist who covers the Nordic countries for a UK magazine, and Dominic West, who is an artist.
Stretching a budget of $5.5m (¤5m) — Ostlund's largest so far — over 78 days is ambitious. "Everybody said it was impossible," Hemmendorff says. "But if you plan the production, it's really doable. We understand how to use the money we have in the right places."
The team is also well positioned before the first day of shooting, with six months of prep and location scouting in the bag. The script itself keeps evolving. "Ruben writes all the time, he writes even until the start of shooting and even a little during shooting, so we never lock the script beforehand," Hemmendorff says.
The "luxury" of a long shoot is non-negotiable for Ostlund. He generally films one scene per day — up to 50 takes — and can take up to four days to shoot a big or complicated scene. "I like to investigate the scene in a real-time aspect," he explains. It also gives him extra time to work with his regular DoP Fredrik Wenzel, to make sure camera angles are just as he wants. Each scene is "a visual expression, so I need time to get it right", Ostlund says.
"It's very important to have as much time as possible," Hemmendorff adds. "It's a lot about how he works with the photographer, they put in something and they take it away. They ask the actors to start rehearsing, we might do takes before the light is perfect. Ruben likes the idea that you push the scene for a long time — up, up, up — and then down, and you lose something, and then you start again, push push push. Then you have maybe three or four takes in the end where you've done something so many times, the things that are organic stay, and the things that didn't work go away."
Ostlund likes to work scene by scene in post-production with editor Jacob Secher Schulsinger, to ensure each scene is nearly perfect with sound and image, rather than picture-locking the whole film and then doing more post.
It has taken five months to edit The Square, which was so close to the wire for Cannes that festival director Thierry Frémaux only watched it after the festival's first press conference. "This is the fastest we've ever edited something," says Hemmendorff.
One of the most complex scenes in The Square features a performance artist who interrupts an awards ceremony at a museum gala dinner. It required special time and attention including one full day of rehearsal and three days of shooting. Ostlund discovered the actor who plays the performance artist, Terry Notary, on YouTube. Notary is usually a motion-capture artist and movement coach whose credits include Kong: Skull Island and Dawn Of The Planet Of The Apes.
The scene's uncomfortable realism is enforced by the fact 90% of the people in the scene are gallerists or art investors who frequently attend these kinds of galas. The resulting seven-minute scene is uncomfortable viewing. It could well be one of the most unforgettable scenes that unfolds at this year's Cannes Film Festival. As the director says proudly: "You know I love awkward situations."