Samm Haillay and Ben Young tell Wendy Mitchell about Third Films' unusual approach to characters and production, and the outfit's two films in Venice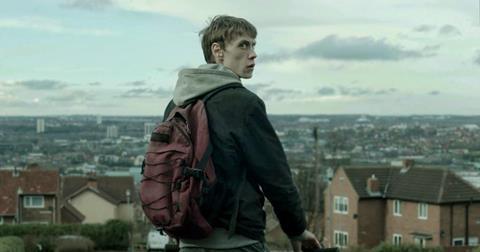 How does a tiny UK production company land two films in Venice in one year? By doing things differently, says Third Films producer Samm Haillay.
Haillay, who founded the Newcastle-based company with artist-director Duane Hopkins in 2001, says: "We do strive to have a slightly different approach. If you want to make a different end product, your process has to be different… We're on the lookout for interesting, engaged film-makers who want to do films in a slightly unusual way."
He continues: "In a way, being outside of London has helped us to retain some kind of investigation of how we do things, of finding our own path."
That includes getting big value on screen from challenging budgets, as with the two Venice films - Hopkins' Bypass and Joseph Bull and Luke Seomore's Blood Cells. Neither fit a typical formula of finance or production, as Haillay explains: "We don't do what industry norms dictate; it's not just, 'You've got a 20-week edit and that's it.'"
It is an approach that has been rewarded - the company was one of 20 to get a BFI Vision Award in May 2013, with $85,000 (£50,000) to support growth. The team includes Andrew McVicar as a pivotal creative producer (he is also a writer-director).
All of the current work builds on Hopkins' debut feature, Better Things, landing a slot in Critics' Week at Cannes in 2008.
"Alongside looking to develop a new project for Duane, we wanted to try to build the company into something that wasn't just a vehicle for his work… to look for other film-makers who we feel can work in the same sort of place we do."
The work is cultural film-making that does not easily tick genre boxes.
Hopkins' second feature, Bypass, is one such genre meld, a ticking-clock morality tale about a young man (George MacKay) driven to extremes because of poverty. The $1.7m (£1m) production, a UK-Sweden co-production with Ruben Ostlund's Plattform Produktion, shot for an envious nine weeks.
"People's jaws drop when I say we shot for nine weeks for a million quid. They ask, 'How did you do that?' By not shooting in London!" says Haillay of the film, which shot across north-east England.
Back to college
Blood Cells was a different kind of challenge. Haillay and Hopkins had met Bull and Seomore after their documentary Isolation screened in Edinburgh in 2009; Haillay thought their next project would be a good fit for Third collaborator Ben Young who, like Haillay, is a lecturer at Teesside University. Young came on board as one of the producers of Blood Cells in addition to writing the project with Bull and Seomore.
The film is a hypnotic road movie starring Barry Ward (Jimmy's Hall) as a man travelling across the UK to see his estranged brother, a decade after their family farm was devastated by foot-and-mouth disease.
"It does examine the inner lives of people who popular culture doesn't tend to engage with in substantive ways," says Young.
"There's an unapologetic embrace of landscape, emotion and transcendence that you don't find in a lot of British cinema, and yet the film has its feet firmly on the ground in that clear and credible way that British film-makers do better than almost anyone else."
With a budget of only $210,000 (£125,000), the team took a very lean crew on a four-week shoot - half in London and half on the road in the likes of Essex, Morecambe, rural Lancashire, Birmingham, north Wales and all the motorways in between.
Venice's Biennale College was a key piece of the puzzle in getting the film made - it was one of 12 titles shortlisted for the second edition of the College, and one of three finalists to receive funding.
"It got the film made but it's not just a production grant," says Young. "We knew it wasn't just a lab with some vague notions. This is brass tacks and real in a very professional way, and there were amazing mentors… We all said it was the best creative experience of our lives."
Up next
The company has two more films in post, Light Years by feature debutante Esther May Campbell, about an eight-year-old girl searching for her mother (played by musician Beth Orton). The Match Factory, which represents Bypass, will also handle sales on Light Years.
Third is also involved in Mark Cousins' "love letter to DH Lawrence", 6 Desires: DH Lawrence And Sardinia. Plus, Hopkins is co-writing his next film with McVicar, among other projects in development.
"We're doing things our way and on our terms, and people seem to want to know more. We're blown away that people are interesting in what we're doing," Haillay sums up.
"It's about the work we put in and the viewpoint we have on the world around us."
Venice titles
Bypass
Dir: Duane Hopkins (Venice Days)
George MacKay stars in this character-driven thriller set against the economic downturn in contemporary Britain.
Partners include the BFI, Film Agency Wales, Torino FilmLab, Film i Vast, Swedish Film Institute, SVT and international sales company The Match Factory.
Blood Cells
Dirs: Joseph Bull and Luke Seomore (Biennale College)
Barry Ward stars as a long-exiled man on a road trip across the UK to visit his estranged brother. Partners include Biennale College and Picturehouse.