ADFF to present 197 films from 61 countries.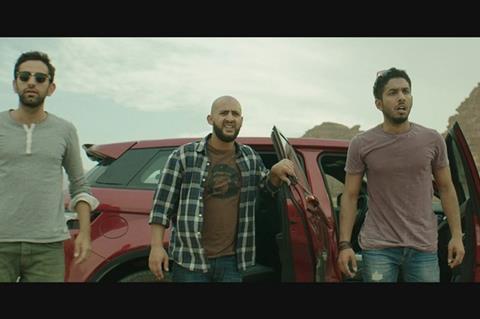 The 2014 Abu Dhabi Film Festival (ADFF), backed by twofour54, will present nine feature world premieres, eight of them from the Arab world. The short film sections will host 48 world premieres.
The festival will open with Ali Mostafa's From A to B [pictured], and festival director Ali Al-Jabri said: "It is the first time in the festival's history that we opening with an Emirati film and we ares very proud about this landmark event."
The festival runs October 23 to November 1 and presents 197 films from 61 countries.
For the second year, the festival host the Child Protection Award organised with the Child Protection Centre of the Ministry of Interior, to spotlight films that raise awareness about abused or neglected children. Films competing for that prize include Zerensenay Mehari's Difret, Albert Shin's In Her Place, and Cyprien Vial's Young Tiger.
The Showcase section includes films such as '71, A Pigeon Sat on a Branch Reflecting on Existence, Winter Sleep, Big Hero 6 (the festival's closing film), Miss Julie, Trash, The Homesman and In Order of Disappearance.
Non-competitive special programmes are dedicated to The Arab Diaspora, Francois Truffaut, and restored classics.
Al-Jabri said: "I am excited about the broad variety in terms of topics and genres we can present in the festival. We have impor- tant films here, films of pure entertainment and joy, films that raise relevant social questions and some that stretch the boundaries of the art of cinema itself."
Narrative Feature Competition
99 HOMES directed by Ramin Bahrani (US)
A SECOND CHANCE directed by Susanne Bier (Denmark)
BLACK COAL, THIN ICE (Bai ri yan huo) directed by Diao Yinan (China-Hong Kong)
EL OTT directed by Ibrahim El-Batout (Egypt-UAE) [WP]
FEVERS (Fièvres directed by Hicham Ayouch (Morocco, France, UAE)
HILL OF FREEDOM (Jayuui Eondeok) directed by Hong Sang-soo (South Korea)
HUNGRY HEARTS directed by Saverio Costanzo (Italy)
LA SAPIENZA directed by Eugène Green (France-Italy)
LEVIATHAN directed by Andrey Zvyagintsev (Russia)
MEMORIES ON STONE (Bîranînêm li ser kevirî) directed by Shawkat Amin Korki (Iraq-Germany)
NOBI (FIRES ON THE PLAIN) directed by Shin'ya Tsukamoto (Japan)
RETURN TO ITHACA (Retour à Ithaque) directed by Laurent Cantet (France)
THE RIOT CLUB directed by Lone Scherfig (UK)
TALES (Ghasse-ha) directed by Rakhshan Bani-Etemad (Iran)
TEST (Ispytanie) directed by Alexander Kott (Russia)
TIMBUKTU directed by Abderrahmane Sissako (Mauritania, France, Qatar)
THE VALLEY (Al wadi) directed by Ghassan Salhab (Lebanon, France, Germany, UAE, Qatar)
New Horizons Competition [first and second films]
CAMP X-RAY directed by Peter Sattler (US)
CORN ISLAND (Simindis Kundzuli) directed by George Ovashvili (Georgia, Germany, France, Czech Republic, Kazakhstan)
DIFRET directed by Zeresenay Mehari (Ethiopia)
THE DROP directed by Michaël R. Roskam (US)
ENTANGLED (Hankijeung) directed by Lee Don-Ku (South Korea)
EXIT directed by Chienn Hsiang (Taiwan-Hong Kong)
FROM A TO B directed by Ali Mostafa (UAE) [WP, opening film]
IN HER PLACE directed by Albert Shin (Canada, South Korea)
LABOUR OF LOVE (Asha jaoar majhe) directed by Adityavikram Sengupta (India)
THE LAST HAMMER BLOW (Le dernier coup de marteau) directed by Alix Delaporte (France)
MAGICAL GIRL directed by Carlos Vermut (Spain)
THE MAN FROM ORAN (El Wahrani / L'Oranais) directed by Lyès Salem (Algeria, France)
NO ONE'S CHILD (Ničije dete) directed by Vuk Ršumović (Serbia, Croatia)
SIVAS directed by Kaan Müjdeci (Turkey, Qatar)
STATIONS OF THE CROSS (Kreuzweg) directed by Dietrich Brüggemann (Germany, France)
THE SILENCE OF THE SHEPHERD directed by Raad Mushatat (Iraq) [WP]
THEEB directed by Naji Abu Nowar (Jordan, UAE, Qatar, UK)
WHIPLASH directed by Damien Chazelle (US)
THE WONDERS (Le Meraviglie) directed by Alice Rohrwacher (Italy, Switzerland, Germany)
Documentary Feature Competition
20,000 DAYS ON EARTH directed by Jane Pollard, Iain Forsyth (UK)
CAIN'S CHILDREN (Káin gyermekei) directed by Marcell Gerő (France, Hungary)
DIOR AND I directed by Frédéric Tcheng (France)
ECHO OF THE MOUNTAIN (Eco de la montaña) directed by Nicolás Echevarría (Mexico)
IRAQI ODYSSEY (Alodyssa Aliraqiya) directed by Samir (Iraq, Switzerland, Germany, UAE)
THE LOOK OF SILENCE directed by Joshua Oppenheimer (Denmark, Finland, Indonesia, Norway)
MARMATO directed by Mark Grieco (Colombia, USA)
NATIONAL DIPLOMA (Examen d'état) directed by Dieudo Hamadi (Congo-France)
NEXT GOAL WINS directed by Mike Brett, Steve Jamison (UK)
PIRATES OF SALÉ directed by Merieme Addou, Rosa Rogers (Morocco, UK, France, UAE) [WP]
POINT AND SHOOT directed by Marshall Curry (US)
QUEENS OF SYRIA directed by Yasmin Fedda (Lebanon, Jordan, UK, UAE) [WP]
RETURN TO HOMS directed by Talal Derki (Syria, Germany)
SOUNDS OF THE SEA directed by Nujoom Al Ghanem (UAE) [WP]
UM GHAYEB (MOTHER OF THE UNBORN) (Um ghayeb) directed by Nadine Salib (Egypt-UAE) [WP]
VIRUNGA directed by Orlando Von Einsiedel (UK, Congo)
THE WANTED 18 directed by Amer Shomali, Paul Cowan (Palestine, Canada, France, UAE)