Titles in competition include animation Phantom Boy [pictured], Ethiopian drama Lamb, Brazilian Oscar submission The Second Mother and Jafar Panahi's Berlinale winner Taxi Tehran.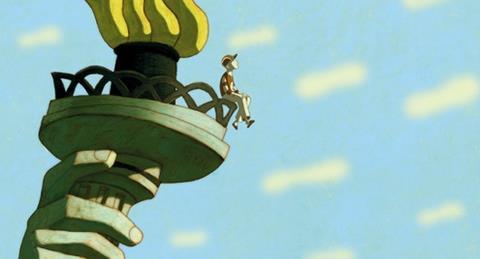 The Doha Film Institute has announced the competition line-up for the third edition of the Ajyal Youth Film Festival (Nov 29 - Dec 5), comprising feature films from 20 countries as well as a series of short film programmes.
The jury will be made up of more than 500 young people, aged 8-21, who will watch a programme of films under three competitive sections - Mohaq, Hilal, and Bader - followed by discussions and events including panels, workshops and Q&A sessions with filmmakers.
Each of the three Ajyal Juries will award a Best Film prize to their favourite short and feature-length films, for a total of six awards. The directors of the winning films are awarded funding toward their next film.
The jury includes 24 international jurors who will travel to Doha for the event from 12 countries including Australia, Bahrain, Bosnia and Herzegovina, Iraq, Italy, Kuwait, Lebanon, Oman, Serbia, Turkey and the United Arab Emirates.
Mohaq means 'New Moon' in Arabic, and these are Ajyal's youngest jurors, aged 8-12. These jurors will watch one programme of short films and four feature-length films, marking the first year that competitive feature films are included in this category. They are:
Celestial Camel (Russia) by Yury Feting, about a young sheepherder living in the desolate Kalmyk Steppe, who sets off on an epic journey after his father is forced to sell the family's beloved camel calf;


The Greatest House in the World (Guatemala, Mexico) by Ana V. Bojórquez and Lucía Carreras - a film about the circle of life told through the story of a young girl in the isolated highlands of Guatemala;


Paper Planes (Australia) by Robert Connolly - a tale of friendship, creativity and the bonds of family, which centres on an 11-year-old boy with an exceptional talent for creating paper airplanes;


Phantom Boy by Jean-Loup Felicioli, Alain Gagnol (France, Belgium) an animated film about an 11-year-old boy whose illness allows him to have out-of-body experiences and mysterious powers.
Ajyal's jurors aged 13-17 are the Hilal jury - the term means 'Crescent Moon' in Arabic. Five feature films and a programme of shorts make up this jury's film selection. The feature films competing in this section are:
Lamb (France, Ethiopia, Germany, Norway, Qatar) by Yared Zeleke, a portrait of a young Ethiopian boy trying to find his way in the world;


Landfill Harmonic (US) by Brad Allgood and Graham Townsley, a documentary that tracks the rise of a Paraguayan youth orchestra who live next to one of South America's largest landfills and make their instruments from recycled materials;


Mina Walking (Canada, Afghanistan) by Yosef Baraki, a tale of a 12-year-old girl in war-torn Afghanistan struggling to make ends meet for her family;


Scarecrow (The Philippines) by Zig Madamba Dulay, which explores the complicated relationship of social injustice and familial expectations through the story of a young mother in a rural town;


Wolf Totem (China, France) by Jean-Jacques Annaud. Set against the backdrop of the Chinese Cultural Revolution 1967, it is the story of a two young Chinese students who are sent on a research assignment with the nomadic herdsmen of Inner Mongolia and become fascinated by the wolves that roam the plains.
The most mature of Ajyal's juries, Bader (Arabic for 'Full Moon') jurors are aged 18-21 and will select their favourite films from five features and two programmes of short films. The feature films vying for top honours in this section are:
An (Japan, France, Germany) by Naomi Kawase, a drama about a lonely baker whose life is reinvigorated when he hires an elderly woman with a special culinary skill;


The Second Mother (Brazil) by Anna Muylaert, an exploration of the bond between mothers and their children told through the story of a housekeeper in Sao Paulo;


Taxi Tehran (Iran) by Jafar Panahi in which the celebrated Iranian director places himself in the driver's seat of a cab, taking fares to their destinations in a portrait of contemporary Iran;


Very Big Shot (Lebanon, Qatar), a dark comedy by Mir-Jean Bou Chaaya that skewers political corruption and the media circus that goes with it;


Walls (Spain) - a documentary by Pablo Iraburu and Migueltxo Molina that follows several subjects on both sides of three contemporary international borders, demonstrating that the people on each side of the barriers are not as different as they may believe.
In addition to the three competitive sections, the Festival's youngest audiences under the age of 8 will also vote for their favourite film with the help of their parents who will determine the Parents' Choice Award in the Bariq programme, which includes a collection of eight short films as well as an outdoor cine-concert on the Katara esplanade by the Festival Tout-Petits Cinéma from Paris, with four films accompanied by live music by pianist Anthony Boulc'h and saxophonist Fanch Minous.
Special screenings, closing night
It has also been announced that the festival will close with the world premiere of animated feature Bilal on December 5 at Katara.
Directed by Ayman Jamal and Khurram Alavi, Bilal was partly made with funding from the Doha Film Institute and produced by Dubai-based Barajoun Studios.
The adventure is inspired by the real-life story of Bilal Bin Rabah and the cast and crew of the film will be in attendance for the premiere including Andre Robinson (Despicable Me 2) and Adewale Akinnuoye Agbaje (Lost, The Bourne Identity) who voice the young and adult Bilal respectively.
In addition, the Ajyal Family Weekend will feature the regional premiere of The Good Dinosaur,the new film from Pixar Animation Studios and the team behind Finding Nemo and Inside Out, on Dec 4.
Marking the UN International Day of Persons with Disabilities, Ajyal 2015 will present in a regional first - an inclusive cinema experience specially 'transadapted' to suit audiences with different abilities, a special screening of Al Rayyan Productions animated short Hero and the Message.
Guests will be able to view the film through sound alone, with special subtitles for people who have difficulty understanding speech.
This inclusive version of the film has been developed with the support of the Ministry of Youth and Sports, and is the result of a collaboration between the Doha Film Institute and the Translation and Interpreting Institute at Hamad Bin Khalifa University who are spearheading the development of transadapted content in the Gulf region.
Earlier announced titles within the Special Screenings programme include Nanni Moretti's Mia Madre and Tigers by Danis Tanovic, screening on Nov 30 and the festival's opening night gala The Idol by Hany Abu-Assad, which will have its regional premiere at Ajyal.
Abu-Assad and Arab Idol champion Mohammed Assaf, whose life story the film is based on, will attend the opening night in Doha on Nov 29 and will also participate in a special 'In Conversation' session on Nov 30.