Action thriller, starring Oscar-winner Brie Larson and Cillian Murphy, to receive European premiere at LFF.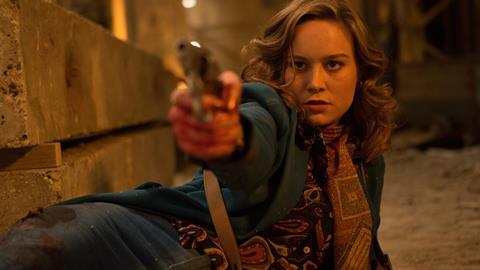 Ben Wheatley's Free Fire has been announced as the closing night gala of the 60th BFI London Film Festival (Oct 5-16).
The action thriller, executive produced by Martin Scorsese, will receive its European premiere on Oct 16 at Odeon Leicester Square, attended by cast and filmmakers.
Set in 1978 Boston, the film takes place in a deserted warehouse where a botched gun deal between two gangs turns into a bloody fight for survival.
Brie Larson, who won the best actress Oscar for Room earlier this year, stars as the broker while the gang members are played by Cillian Murphy, Michael Smiley, Sharlto Copley and Armie Hammer. The ensemble cast also includes Jack Reynor, Babou Ceesay, Enzo Cilenti, Sam Riley and Noah Taylor.
Free Fire is Wheatley's first film set in the US and third to screen at the LFF, following his JG Ballard adaptation High-Rise in 2015 and killer comedy drama Sightseers in 2012.
The British filmmaker said: "I'm very proud to be showing Free Fire at the BFI London Film Festival. To be the closing film is a great honour. LFF have been fantastic in supporting the films I've made (me and an army of 100s) and I can't wait to show Free Fire to the festival audience."
Making the announcement, LFF director Clare Stewart described Wheatley as "one of the UK's most dazzling cinematic talents" and the film as a "ballsy actioner".
"Dripping with blood, sweat and irony, Free Fire's bravura filmmaking pays knowing tribute to the films of Sam Peckinpah and features a terrific cast who clearly relish bringing Wheatley and co-writer Amy Jump's vivid characters to the screen," she added.
Free Fire is made by Rook Films Production, produced by Andrew Starke and presented by Film4 and the BFI.
Executive producers are Martin Scorsese and Emma Tillinger Koskoff, Reno Antoniades, David Kosse and Sam Lavender, Ben Roberts and Lizzie Francke, Danny Perkins and Dan MacRae.
The film's world premiere destination has yet to be announced but it is likely to be Toronto International Film Festival (Sept 8-18). Studiocanal will release Free Fire in the UK and Ireland in 2017.
A24 will release in the US. Protagonist Pictures handles international rights.
As previously announced, Amma Asante's A United Kingdom will open the festival on Oct 5. The full LFF programme will be revealed on Sept 1.