Festival's new $20,000 international competition prize goes to Albert Serra for The Death Of Louis XIV; One Week And A Day wins best Israeli feature.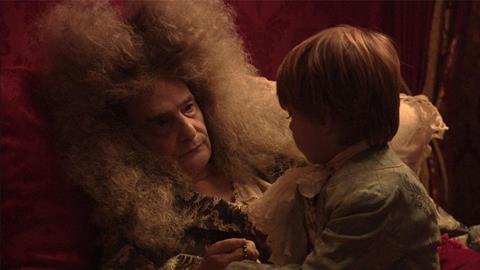 The 33rd Jerusalem Film Festival, which wraps on Sunday, has awarded its top prizes to The Death Of Louis XIV by Albert Serra (best international film), One Week And A Day by Asaph Polonsky (best Israeli feature), and Dimona Twist by Michal Aviad (best Israeli documentary).
The international jury was comprised of Cornerstone Films' Alison Thompson, Icelandic director Grímur Hákonarson, and Israeli director Talya Lavie, who praised Serra "for creating a bold and distinctive chamber piece in a beautifully detailed world. For its stunning set design and cinematography that captures its period brilliantly. For creating an intimate and moving look at the sunset of a great figure in history."
An honourable mention went to Tobias Lindholm's A War.
The Death Of Louis XIV wins the $20,000 cash prize for the festival's new international competition, supported by the Wilf Family Foundation. JFF artistic director Elad Samorzik said: "Along with making sure these essential films get seen here, we want to open up a larger space for these works and filmmakers in terms of distribution and overall exposure in Israel. It's been a great launch for the section and we are looking forward to another rich line-up next year."
Polonsky's One Week And A Day, which wins $32,000 for best Israeli feature, also won best first film and best script, as well as the Fipresci award for best Israeli debut.
The Israeli competition jury comprised of Andreas Sinanos, Azize Tan, Boyd van Hoeij, Esther Hoffenberg and Asi Levi praised Polonsky "for a constant and impressive command of tone and his fine work with a small cast – this young director displays a surprising maturity."
The festival noted its growing industry attendees this year, including Sony Pictures Classics EVP Dylan Leiner, Celluloid Dreams president Hengameh Panahi, Protagonist Pictures Head of Sales Vanessa Saal, Rémi Burah, Chief Operating Officer of ARTE France Cinéma, Venice Days head Giorgio Gosetti and Cornerstone Films' Alison Thompson.
Special guests included Quentin Tarantino, Laurie Anderson and Whit Stillman.
Full list of awards:
Wilf Family Foundation Award for Best International Film
The Death of Louis XIV by Albert Serra
Honorable Mention – A War by Tobias Lindholm
FIPRESCI Award for Best International First Film
Album by Mehmet Can Mertoğlu
FIPRESCI Award for Best Israeli Debut
One Week And A Day by Asaph Polonsky
In the Spirit of Freedom Competition in Memory of Wim van Leer
The Cummings Award for Best Feature Film - The Chosen Ones by David Pablos
The Ostrovsky Award for Best Documentary Film - Hooligan Sparrow by Nanfu Wang
Honorable Mention – Exile by Rithy Panh
Israeli Film Competition
The Haggiag Award for Best Israeli Feature Film (120,000 ILS) - One Week And A Day, directed by Asaph Polonsky and produced by Saar Yogev and Naomi Levari
The Van Leer Award for Best Documentary Film (35,000 ILS) - Dimona Twist, directed by Michal Aviad, produced by Ayelet Kait and Amir Harel
The Anat Pirchi Award for Best First Film - One Week And A Day, directed by Asaph Polonsky and produced by Saar Yogev and Naomi Levari
The Van Leer Award for Best Director of a Documentary - Maya Zinshtein for Forever Pure
The Anat Pirchi Award for Best Script - One Week And A Day, written by Asaph Polonsky
The Haggiag Award for Best Actress - Shiree Nadav-Naor for her performance in Beyond The Mountains And Hills
The Haggiag Award for Best Actor - Moris Cohen for his performance in Our Father
The Van Leer Award for Best Cinematography - Yaron Scharf for Harmonia
The Haggiag Award for Best Editing - Justine Wright and Noam Amit for editing Forever Pure
The Haggiag Award for Best Music - Ruth Dolores Weiss for We Had A Forest
The Audience Favorite Award - Saving Neta directed by Nir Bergman, produced by Chilik Michaeli, Tami Leon, Avraham Pirchi
The Israeli Short Film Competition
The Van Leer award for Best Short Film - Facing The Wall by Alamork Davidian
The Van Leer Award for Best Director of a Short Film - Moshe Rosenthal for Leave Of Absence
The Van Leer award for Best Short Documentary - The Mute's House by Tamar Kay
The Van Leer Award for Best Short Animation Film – Head by Stav Levi
The Experimental Cinema and Video Art Competition
The Lia Van Leer Award, donated by Rivka Saker – Ishmael by Nira Pereg
The Ostrovsky Family Foundation Award – Naamah: A Tribute To Nahum Benari by Hila Ben Ari
Honorable Mention – The Wedding by Elham Rokni
The Jewish Experience Awards
The Avner Shalev – Yad Vashem Chairman's Award for Holocaust-Related Films - No Home Movie by Chantal Akerman
The Leah Van Leer Award for Films about Jewish Heritage - Harmonia by Ori Sivan
Honorable Mention – Forever Pure by Maya Zinshtein