The Dubai International Film Festival has unveiled the first seven selections for its Muhr feature film competition, which will in total include 18 films from across the Arab world.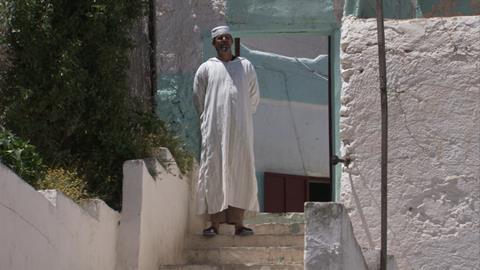 The selections include Moroccan filmmaker Hisham Lasri's Starve Your Dog, which marks his third time in competition in Dubai; the film has premiered in Toronto. The Casablanca-set story is about a journalist trying to make a comeback when he lands an interview with the minister of a despotic former regime.
Two other Toronto titles selected are: Mai Masri with her fictional directorial debut 3000 Nights, also supported by Enjaaz. The story follows a woman in an Israeli prison who discovers she is pregnant after being wrongly sentenced. And Lebanese director Danielle Arbid's Parisienne, about a young girl who escapes the Lebanese Civil War in the 1990s to live in Paris.
Iraq-born Halkwat Mustafa comes to the competition with the world premiere of El Clasico, which is supported by DIFF's post-production fund Enjaaz and is about two young brothers in northern Iraq woh want to meet Cristiano Ronaldo.
Lebanese filmmaker Noura Kevorkian returns to DIFF (after previously showing veils Uncovered) with 23 Kilometres, also supported by Enjaaz. The story is about an Armenian man with Parkinson's who is on a road trip in Lebanon.
Salem Brahimi's Let Them Come is about how Algeria's political turmoil impacts two siblings.
Algerian filmmaker Abdallah Badis brings the world premiere of The Foreign Son [pictured], about a middle aged man who returns to Algeria to reconnect with his estranged family.
The final film confirmed so far is another Enjaaz supported feature, Hakim Belabbes' Weight Of The Shadow, about an elderly couple coming to terms with their son's abduction decades earlier. Belabbes previously won best screenwriter at DIFF for Boiling Dreams in 2011.
DIFF's Artistic Director, Masoud Amralla Al Ali, said: "Since its inception, showcasing regional talent has been at the heart of the Dubai International Film Festival, and the Muhr Feature category gives the perfect platform to share with the world the unique talents and brilliant cultural flavours that our regional filmmakers bring to the industry. We have selected some of the most gifted directors and filmmakers for this year's competition and I'm sure audiences will enjoy all they have to offer."
Antoine Khalife, Director of the Arab Programme, added: "The Muhr Feature competition has been running since 2006 and with each passing year the competition grows fiercer, with directors never failing to impress and delve into the region's rich traditions and history. We are excited for this year's lineup of gifted filmmakers whose creations promise to leave a lasting impression on audiences."
The 12th Dubai International Film Festival runs Dec 9-16.