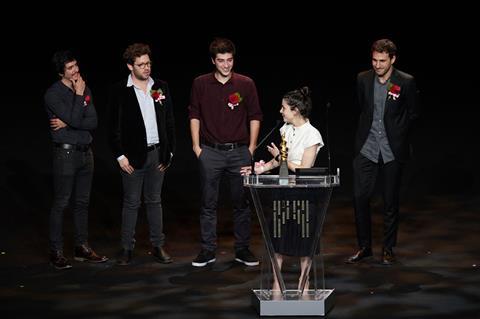 Natalia Garagiola's Hunting Season claimed the lucrative best film award at the second International Film Festival & Awards Macao (IFFAM). Garagiola and producers Santiago Gallelli, Matias Roveda, Benjamin Domenech and Gonzalo Tobal received a cash prize of $60,000 as part of the honours.
The Argentine father-son drama previously won the Critics' Week prize in Venice; Alpha Violet handles international sales.
Jury President Laurent Cantet said: "The jury was impressed by Hunting Season's fluid style and construction and by the precision of its directing. The film deals with subjects both difficult and delicate: mourning for a mother's death, the reconciliation between estranged fathers and sons, the loneliness of young men. For all these reasons, but also for the quality of its acting, the jury has awarded Hunting Season the prize for Best Film of the Festival."
The other jurors were Joan Chen, Jessica Hausner, Lawrence Osborne and Royston Tan, judging a selection of first and second features.
Other juried awards presented at the closing night of IFFAM were the jury prize to Wrath Of Silence directed by Xin Yukun; best director to Xavier Legrand for Custody; best actor to Song Yang for Wrath Of Silence; best actress to Jessie Buckley for Beast; best new young actor to Thomas Gioria for Custody; best screenplay to Samuel Moaz for Foxtrot; and the award for technical contribution to cinematographer Benjamin Kracun for Beast.
The Netpac award for best Asian film across the selection was presented to Vivian Qu's Chinese drama Angels Wear White. That jury was comprised of Clare Stewart, Hassan Muthalib and Johnny Ma.
Udo Kier was recognised with the Career Achievement Award. The audience choice award went to Janus Metz's Borg McEnroe.
The festival presented 48 screenings in total, kicking off with Paddington 2 on opening night. Sold-out screenings included Journey's End, Angels Wear White, Call Me By Your Name, The Last Recipe, A Day and Reign Of Assassins.
IFFAM artistic director Mike Goodridge, in his first year at the festival, said: "We couldn't be happier with the response of Macao audiences to our programme and I thank all the filmmakers who came here to present their films. It's been a great week and a wonderful celebration of the big-screen experience."
This year's Industry Hub welcomed more than 250 delegates. As previously reported, the project market winners were Jacqueline Castel's Mihara, Liew Seng Tat and Pete Teo's The Girl With No Head and Liam O'Donnell's The Last Savage.
Festival Ambassadors Jeremy Renner, Miriam Yeung, Donnie Yen, Shekhar Kapur, Choi Dong-hun and Doh Kyung-soo were also in attendance this week, as was actress in focus Michelle Yeoh.