Other winners include documentary Welcome To Leith.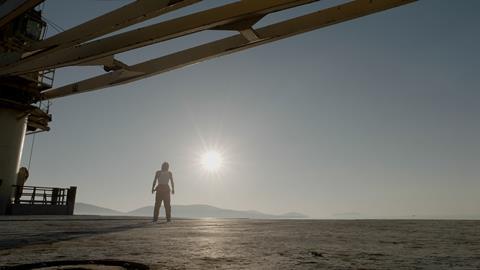 Tolga Karaçelik's Turkish drama Ivy has won the best feature award at the East End Film Festival (July 1-12) in London.
It marks Karaçelik's second film, after 2010 feature Tollbooth, and was shot by Nuri Bilge Ceylan's DOP, Gökhan Tiryaki.
Set onboard a hulking cargo ship moored off the coast of Egypt, the film follows a skeleton crew of misfit sailors, forced to stay onboard after their paymasters go bust. But it isn't long before power structures dissolve, leading to tension, threats of violence, and strange apparitions.
Ivy will receive its UK premiere at London's Rio Cinema tomorrow (July 11).
It was chosen by a jury comprising EEFF's 2015 Director-in-Residence Noaz Deshe (White Shadow); writer Irvine Welsh (Trainspotting); director Amma Asante (Belle); artist Viv Albertine; and director Ross Clarke (Dermaphoria).
Karaçelik will be invited back to the festival in 2016 as Director-in-Residence.
Jury member Welsh said of Ivy: "A literal ship of fools piece, this psychological thriller had strong characterization and plot. Brilliantly directed and performed, it takes you into a convincing, claustrophobic world and holds your attention."
Documentary winner
Welcome To Leith was named best documentary by a jury comprising comedian Kate Smurthwaite, filmmaker Orlando von Einsiedel, filmmaker Xiaolu Guo and Channel 4 exec Rita Daniels.
It chronicles the attempted takeover of Leith, North Dakota, by white supremacist Craig Cobb.
Jury member Smurthwaite said of the film: "Yes, yes, yes, this is what I wanted to see. Professionally done. Not just vaguely about racists in America, but what happens when a racist tries to take over a small town, and how they fight back. Clever, fascinating, gripping. Can't wait to see it again."
EEFF's Accession Award focuses on a different cinematic skill set each year and this year was the turn of Soundtrack/Sound Design and was judged by English singer/songwriter Frank Turner.
Composer Graham Hadfield won for his work on Containment, the debut feature by director Neil Mcenery-West about neighbours who find they have been sealed inside their apartments for unknown reasons.
The recipient of Best UK short was Don't Blame Us Cos We're Famous!, Amelia Hashemi's film about "the time when you admire your father for the hero he isn't".
The Short Film Audience Award winner will be announced during EEFF's closing night gala on July 12.