EXCLUSIVE: A sizeable group from the country had planned to attend the festival this year to celebrate signing a film co-operation agreement.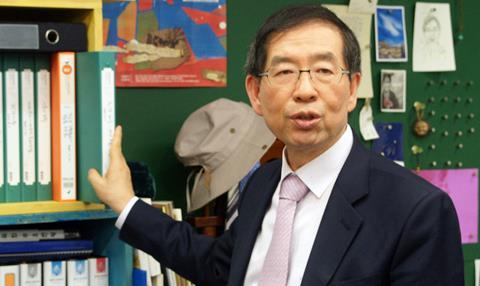 A South Korean delegation led by Seoul mayor Won-soon Park [pictured] has cancelled a planned visit to this week's Tallinn Black Nights Film Festival due to ongoing political unrest in Korea.
A letter sent to the festival by the Seoul Metropolitan Government describes a "political scandal that has plagued the nation" and explains that the "country and its people are at a loss and deeply troubled" by recent political events.
The decision to cancel the trip was taken by the mayor "to calm our citizens, to keep himself closely informed of the ongoing situation and to ensure business continuity as usual in a turbulent time", the letter explains.
South Korea has faced a turbulent year with incumbent president Geun-hye Park embroiled in a scandal involving allegations of corruption which have prompted protests and widespread calls for her resignation.
The South Korean delegation, understood to be close to 60-strong, had planned to be in Tallinn for a concert and dinner at the city's Seaplane Harbour venue to celebrate the signing of a film co-operation agreement between the Estonian and South Korean capitals.
Black Nights festival director Tiina Lokk confirmed to Screen that the agreement has not been cancelled, but is on hold.
"The festival is obviously sad because of the delegation's cancellation but always welcomes Won-soon Park in the future and we hope the situation in Korea will find a democratic and peaceful solution," she said.
"We are still glad to announce that the official guest list has reached a record number this year as nearly a thousand international film and industry guests will attend the festival," she added.