Ivan Ostrochovský's boxer drama Koza has been named Best Film at the 20th Vilnius International Film Festival.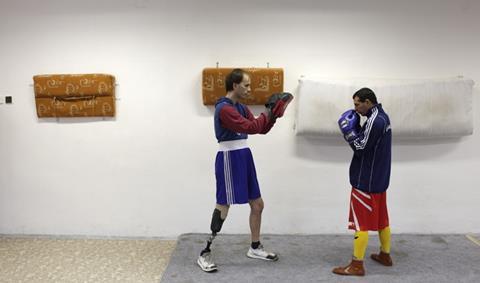 The film, which had its world premiere in the Berlinale's Panorama section in February, won the ¨New Europe - New Names¨ competition at the festival, which ran from March 19 to April 2.
The film, about a former Olympic boxer who goes on a punishing 'tour' to raise some fast cash, also took home the CICAE Art Cinema Award.
Koza, which won the works in progress prize at last year's Karlovy Vary, is handled internationally by fledgling sales company Pluto Film.
The ¨New Europe - New Names¨ jury, which included Chilean director Cristián Jiménez, Israeli actress Hadas Yaron, and Romanian actor Vlad Ivanov, gave its award for Best Director to Ukraine's Myroslav Slaboshpytskiy for The Tribe and its acting honours to Hungary's Márton Kristóf (Afterlife) and Bulgaria's Margita Gosheva (The Lesson).
Meanwhile, the Baltic Gaze competition jury - including the Golden Apricot IFF's artistic director Susanna Harutyunyan and A'Est du Nouveau's Markéta Hodouskova - named German actor-director Sebastian Schipper's Victoria as Best Film and Copenhagen-based Joshua Oppenheimer as Best Director for his documentary The Look Of Silence.
The acting trophies went to Janusz Gajos (Body) and Bianca Kronlöf (Underdog) as well as a Special Mention for Signe Baumane's Rocks In My Pockets.
Xavier Dolan's Mommy, the 20th edition's opening film, won the Audience Award.
Industry gathers at Meeting Point Vilnius
Producers from the Baltic states, Armenia, Georgia and Ukraine presented 16 feature film and documentary projects at the sixth edition of the festival's parallel industry programme, the Meeting Point Vilnius (MPV).
Latvian producer Kristians Alhimionoks, one of Screen's Future Leaders at the 2014 Cannes Film Festival, revealed to ScreenDaily that the UK-based sales agent Kaleidoscope Film Distribution will handle international sales for Latvian director Aigars Grauba's English-language medieval drama The King's Ring which will be shooting from August 2015.
Alhimionoks said that the cast will include UK and American actors and the production will be made in co-production with the Kaunas Film Studio, 100 kilometres west of Vilnius.
As Darius Baltusis of the Kaunas Film Office told Screen Daily, Lithuania's second largest city has recently hosted such visiting productions as an Italian adaptation of Anna Karenina, the Spanish feature Another Frontier, Sweden's Gentlemen & Gangsters, and the German documentary Mercedes - Die Geschichte der Silberpfeile.
Grauba's past films included 2012's Dream Team 1935 about the Latvian basketball team's triumph at the European Championships in 1935 and the 2007 action drama Die letzte Front - Defenders Of Riga, set in 1919 during Latvia's battle for independence.
Other projects featured included Georgian producer-director Rusudan Pirveli's second feature Sleeping Lessons, which had been presented at Locarno's Open Doors in 2013, Armenian documentary film-maker Harutyun Khachatryan's Deadlock, Latvian writer-director Renars Vimba's Mellow Mud, and Mikko Kuparinen's Lithuanian-Finnish production 2 Nights Till Morning, starring French Canadian actress Marie-Josee Croze and Finland's Mikko Nousiainen, which was also shown as one of MPV's industry screenings.
Film-makers Michel Hazanavicius and Joshua Oppenheimer spoke about the sources of inspiration for their work during MPV's three-day programme of presentations, discussions and closed screenings.
This year's edition attracted festival programmers from such festivals as Berlin, Rotterdam, Odessa, Cottbus, San Sebastian, Cluj, Göteborg, Lübeck, Warsaw and Wroclaw as well as producers Raymond van der Kaaij, Olena Yershova, Avraham Pirchi, Simone Baumann, Jörg Bundschuh and sales agents from M-Appeal, WIDE Management and Alpha Violet, among others.
OTHER NEWS
Goat sales agent picks up two more German films
Patricie Pouzarova of Berlin-based sales company Pluto Film confirmed to ScreenDaily after the triumph of Goat (Koza) on Thursday evening that two more German films have been added to the sales line-up: Marc Brummund's award-winning Freistatt and Sebastian Ko's Wir Monster.
Both films had their world premieres at the Max Ophüls Prize Film Festival in Saarbrücken in January, and Pluto's other new acquisition in February, Gerd Schneider's Verfehlung, also premiered there.
German wins seven NIKAs
The late Alexey German's last feature film Hard To Be A God trounced Andrey Zvyagintsev's Leviathan to take home seven prizes from its 10 nominations at Russia's NIKA national film awards this week.
The film, which was completed by his film director son Alexey German Jr., received the honours for Best Feature Film, Best Director, Best Cinematography and Best Actor as well as the trophies in the categories of sound design, production design, and costume design.
Leviathan won two awards - for Best Actress and Best Supporting Actor - after having been nominated in 11 categories.
Moreover, the Locarno prize-winner The Fool by Yuri Bykov received the NIKAs for Best Screenplay and Best Supporting Actress, while the award for the best film from CIS and the Baltic states went to the Ukrainian Cannes success The Tribe by Myroslav Slaboshpytskiy.
In addition, Ivan I. Tverdovsky was named Discovery of the Year for his feature debut Corrections Class which had won awards at such festivals as Karlovy Vary, Cottbus and Marrakech last year.
Body opens goEast in Wiesbaden
Malgorzata Szumowska's Berlinale 2014 competition film Body will open this year's goEast - Festival of Central and Eastern European Cinema (April 22-28, 2015).
The competition programme of ten feature films and six documentaries from 16 countries will include such international festival successes as Ivan Ostrochovský's boxer drama Koza, Vuk Ršumovic's debut No One's Child, the Bulgarian directing duo Kristina Grozeva and Petar Valchanov's The Lesson, Alexey Fedorchenko's Angels of Revolution, Gábor Hörcher's Drifter and Želimir Žilnik's Destination_Serbistan.
In addition, Alexey German Jr.'s Silver Bear-winning Under Electric Clouds will be shown in the Competition section ¨out of competition¨.
Antipode adds new title
Russian sales agent Antipode Sales & Distribution has picked up its third title from outside of the former USSR for international sales.
Anton Mazurov's company will handle distribution rights for In Your Arms by Samanou A. Sahlstrøm, which won the FIPRESCI Prize and the Dragon Award for Best Nordic Film at this year's Göteborg Film Festival.
Antipode had previously added the Swedish film Stranded In Canton, which will have its US premiere at the Tribeca Film Festival this month, and the Berlinale Forum title Brazilian Dream to its line-up.