David Gordon Green returns to his alma mater to present Manglehorn; local newcomers impress with Homeless feature.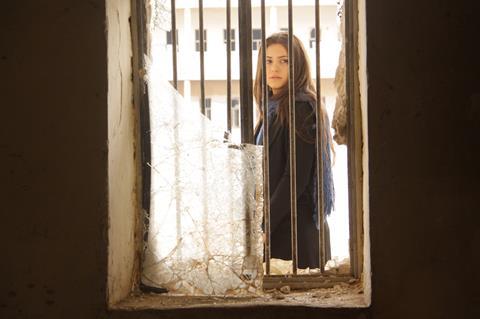 Scroll down for full list of winners
RiverRun International Film Festival in Winston-Salem, North Carolina, wrapped last night with Shawkat Amin Korki's Memories on Stone winning best narrative feature and Hao Zhou's The Chinese Mayor winning best documentary feature.
In the audience awards, best of the fest went to honoree Stanley Nelson's The Black Panthers: Vanguard Of The Revolution; best narrative feature went to Anywhere Else by Ester Amrami; best documentary feature went to Marc Silver's 3 ½ Minutes and best indie was Proud Citizen by Thomas Southerland.
The festival presented 165 films in total in its 17th annual edition; more filmmakers than ever before attended the event.
"Films showcased at our festival this year reflected diverse stories from around the world, immense talent from directors, many trained in Winston-Salem, and a host of passionate projects that are jewels of the independent filmmaking community," said Andrew Rodgers, RiverRun Executive Director.
RiverRun's programme this year included a spotlight on Black American Cinema from 1971-1991. Robert Townsend was in town to give a talk and present his classic 1987 Hollywood Shuffle. Charles Burnett also attended to present his 1979 Killer Of Sheep.
The Masters Award was presented to Stanley Nelson, who screened his powerful new film The Black Panthers: Vanguard of the Revolution.
Heidi Ewing and Rachel Grady, the directing-producing team behind films such as Jesus Camp, Freakonomics and Detropia, were in town to give a masterclass and receive the emerging master award.
Jurors across the competitions included producer Karen Chien, filmmaker AJ Schnack, editor Nicolas Chaudeurge, critic Godfrey Cheshire, WNET's Julie Anderson, programmer Andrea Passafiume, filmmaker Daniel Carbonne, and Dogwoof's Oli Harbottle.
At the Pitch Fest for local students, Kathryn Jeffords & Kayla Hammer of Elon University won first prize (with a cash award) for their pitch for Bout Queens, about two roller derby athletes.
'Homeless' shows local talent
As usual, the festival had a mix of festival highlights from around the globe as well as works with special local significance – local hero David Gordon Green, who graduated from the North Carolina School of the Arts, returned to the school on closing night for a sold-out screening of his latest film Manglehorn starring Al Pacino. UNCSA fellow alumnus Summer Shelton was on hand to present Jim Strouse's Sundance charmer People Places Things, which she executive produced.
And one impressive low-budget feature, Homeless, was made by local filmmakers and shot on the very streets of downtown Winston-Salem where the festival is held. The film was made for just $12,000 and was impressively impactful despite the technical limitations of a budget like that. The storytelling was much more subtle than you'd expect from a first feature shot partially in a local shelter.
Director Clay Riley Hassler met a homeless teenage boy at his church whose true-life story inspired the partly fictionalised story (which he co-wrote with Anna Fields) of a teenage boy staying in homeless shelter who tries, sometimes in vain, to better his life. "It's about the cyclical nature of homelessness," said Hassler at the film's Q&A.
The local Samaritans Ministries shelter let the production shoot there with its residents, which give the film a dose of realism; cast and crew even ate at the soup kitchen during shooting days.
Newcomer Michael McDowell, just 15 when the film was shot, gives a remarkably sensitive and compelling performance. Hassler called his performance "fearless." McDowell himself said, "it brought a bigger awareness to me of how many people are suffering and are trapped in this world everyday…everyone's attitude needs to change to a general awareness of a person beside you.
Homeless has already screened at Florida, Sarasota, and Nashville film festivals and deserves to be seen more widely on the festival circuit. Director Hassler and producer Tif Hassler are already working on a new script and they have also been working on a documentary feature (to launch in 2106) shot with inner-city single parents in St Louis that also looks at the protests in nearby Ferguson.
RiverRun winners 2015
Audience Awards
Audience Award Best of Fest: The Black Panthers: Vanguard of the Revolution, directed by Stanley Nelson
The Kilpatrick Townsend & Stockton LLP Audience Award for Best Narrative Feature: Anywhere Else, directed by Ester Amrami
Audience Award for Best Documentary Feature: 3 ½ Minutes, directed by Marc Silver
The Altered States Audience Award for Best Indie: Proud Citizen, directed by Thomas Southerland
Narrative Competition
Best Narrative Feature Award: Memories on Stone, directed by Shawkat Amin Korki
The Peter Brunette Award for Best Director: Naomi Kawase, Still the Water
Best Actor: Hussein Hassan, Memories on Stone
Best Actress: Julieta Diaz, Refugiado
Best Cinematography – Narrative Feature: Yutaka Yamazuki, Still the Water
Best Screenplay: The Second Mother, directed by Anna Muylaert
Special Jury Prize for Editing: Ebrahim Saeedi, Memories on Stone
Honorable Mention for Cinematography: Sara Mishara, Felix and Meira
Honorable Mention for Actress: Hadas Yaron, Felix and Meira
Honorable Mention for Actor: James "Primo" Grant, Five Star
Documentary Competition
Best Documentary Feature: The Chinese Mayor, directed by Hao Zhou
Best Director – Documentary Feature: Joshua Oppenheimer, The Look of Silence
Special Jury Prize: Welcome to Leith, directed by Michael Beach Nichols and Christopher Walker
Shorts Competition (the festival is now has Oscar qualifying status)
Best Documentary Short: Cailleach, directed by Rosie Reed Hillman
Honorable Mention, Documentary Short: Notes from Liberia, directed by Ryo Murakami and Judd Ehrlich
Best Narrative Short: The Kármán Line, directed by Oscar Sharp
Special Jury Prize: Ártún, directed by Gudmundur Arnar Gudmundsson
Best Student Short: Rota, directed by Jean-Jacques Martinod
Best Animated Short: Bear Story, directed by Gabriel Osorio Vargas
Best Student Animated Short: The Present, directed by Jacob Frey
Pitch Fest
First Place: Bout Queens, directed by Kathryn Jeffords and Kayla Hammer of Elon University
Runner Up: Looking for Trouble, directed by Bryan Campbell and Caroline Cuny of Wake Forest University