Festival director Torsten Neumann speaks to Martin Blaney about this year's Oldenburg film festival, an event dubbed 'the German Sundance'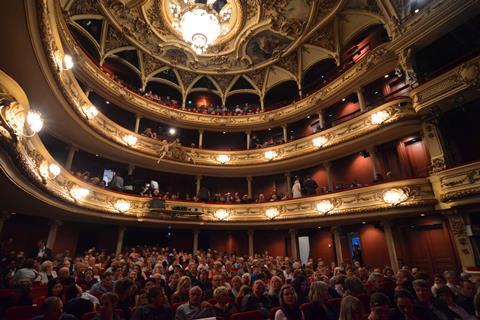 "It might seem daring and cheeky to position the festival straight after Venice and Toronto," says festival director Torsten Neumann ahead of the 22nd Oldenburg International Film Festival (September 16-20).
"But this timing has proven to be to our advantage. We've always wanted to show films that were real discoveries, rather than just serve as a platform for the advance screening of autumn releases in German cinemas."
Neumann, who co-founded the festival in 1994 with Thorsten Ritter (now an executive at Beta Cinema), explains that Oldenburg — a city in Lower Saxony in northwest Germany — was never set up to compete for local films with other German festivals such as Hof, Munich or Saarbrücken. Instead, the aim was for a more international profile. "In the early years, the focus was certainly on US independent cinema because we were particularly fond of these kinds of film," he says. "But there have been some years when the European indies were more to the fore."
The 2015 edition looks like another strong year for US indie cinema. Veteran film-maker George Armitage — writer-director of Hit Man (1972) and Miami Blues (1990), and director of Grosse Pointe Blank (1997) — is the subject of the festival's retrospective, and Sean Baker will screen his much buzzed-about Sundance film Tangerine, which he shot using an iPhone. Baker is an Oldenburg regular, having visited the festival in 2012 with Starlet.
"We found it easier to build up a network in the US indie scene because the Americans are often more open to new things and helping something to happen," Neumann explains. "The Europeans tend sometimes to be more conservative and would look for a bigger festival for their films."
Flattering comparison
Hearing Oldenburg described as the 'German Sundance' was, he admits, "a wonderful compliment, but also a recognition of what we have been aiming to achieve during these two decades. Over the course of these years, we've managed to create a unique and intimate atmosphere that is cherished by the guests, where you can really sense the love for cinema. That's why many of them are keen to return with new films."
Film-makers and actors who have regularly made the annual September trip to
Oldenburg have included Michael and
Mark Polish, Christopher Coppola, Deborah Kara Unger, Seymour Cassel, Peter Lohmeyer and Thomas Stiller, to name a few. The festival even has its own Walk of Fame — sponsored by local bank OLB since 2007 — where honorees include Matthew Modine, Mira
Sorvino, Stacy Keach and Cassel.
"Matthew was here on three occasions when we showed his shorts after their premieres in Sundance and then with his feature debut [If… Dog… Rabbit]," Neumann says. "And now his son Boman will be here this year with his short [Merry Xmas]."
But Neumann doesn't want Oldenburg to be just an audience festival. He also wants to attract the industry. To that end, in 2014 the festival organised a co-production meeting between German and Norwegian producers titled Linking The North, in co-operation with the local regional fund in Lower Saxony, nordmedia and Norway's Film 3.
A second edition will be held on September 19 for producers from both countries to hold pre-arranged meetings to discuss between eight and 10 projects planned for theatrical release or as TV series. The event will wrap with a round-table discussion, presenting case studies of successful Germany-Norway co-productions. Reinhardt Beetz and Christian Kaps of Hamburg-based Gebrüder Beetz Filmproduktion will, for example, give an insight into their co-production with Norway's Fabelaktiv of the third season of children's TV series TRIO.
Another new industry highlight will see the jury of the European Film Academy's European Discovery 2015-Prix Fipresci convening in Oldenburg and announcing the five nominations at the closing ceremony.
"It's a great sign of recognition for us," says Neumann. "It shows the EFA regards Oldenburg as being the right place for its jury as the European festival of discoveries."