Disco Boy wins Arte International Prize.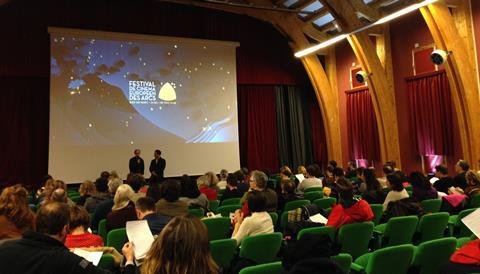 Greek drama Son Of Sofia (O Gios Tis Sofias) has won the top prize at Les Arcs European Film Festival's fifth Work in Progress event.
The film, about an 11-year-old boy who travels from Russia to Athens during the 2004 Olympic Games to live with his mother and an elderly Greek man, won the Digimage prize of €4,000 worth of services from post-production lab Monal Group.
The Greece-Bulgaria-France co-production marks the second feature of Elina Psykou, whose The Eternal Return of Antonis Paraskevas was selected for the Berlinale in 2013 and won a hat-trick of awards at Thessaloniki, including the FIPRESCI Prize.
For her new feature, Psykou has re-teamed with Athens-based production firm Heretic, which also made Ektoras Lygizos' Boy Eating the Bird's Food (2012).
Budgeted at €985,000 ($1.1m), partners on Son Of Sofia include Chouchkov Brothers (Bulgaria) and KinoElektron (France).
The cast includes Viktor Khomut, Valery Tcheplanowa and Thanasis Papageorgiou.
Presenting the film at Les Arcs, Heretic producer Giorgos Karnavas said the first cut of the film will be available by the end of February.
The winning film was chosen by a jury comprising Karlovy Vary artistic director Karel Och, Locarno artistic director Carlo Chatrian and Haugesund managing director Gyda Velvin Myklebust.
Arte prize
The Arte International Prize, worth €4,000 and awarded to a project at the Arc 1950 Coproduction Village, went to Giacomo Abbruzzese's Disco Boy.
The €3.8m ($4.2m) film centres on a soldier in the Foreign Legion who abandons a life of war to become a dancer in the nightclubs of Paris.
The film is produced by Juliette Sol's Stromboli Films, the Paris-based firm behind Michel Franco's Cannes award-winner Chronic, and has Dugong Films on board as Italian partner.
Italian director Abbruzzese, who has previously made shorts, received support from Cannes in 2013 from the Cinefondation Residence to develop Disco Boy.
Les Arcs received 190 applications for its seventh Coproduction Village, selecting 25 projects from 13 countries.
Previous projects to feature at the Coproduction Village include Lazlo Nemes' Son Of Saul, Alice Rohrwacher's The Wonders, Grimur Hakonarson's Rams and Runar Runarsson's Sparrows.