World premieres from Goupil, Li, De La Cruz, Yeo, Yoshida and more.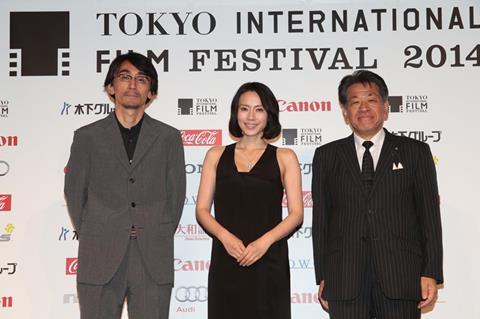 Scroll down for Competition line-up
The 27th Tokyo International Film Festival (TIFF) (Oct 23-31) has announced the rest of its line-up with a Competition selection that includes world premieres such as Romain Goupil's French film The Days Come and Li Ruijun's Chinese film River Road.
The other world premieres in Competition will be: Filipino maverick Khavn De La Cruz's Ruined Heart - Another Love Story Between A Criminal & A Whore; Malaysian producer of Cannes title Tiger Factory, Edmund Yeo's feature directorial debut River Of Exploding Durians, and the previously announced single Japanese film in Competition, Pale Moon, directed by Daihachi Yoshida.
Claudio Noce's Italian film Ice Forest will make an international premiere in Competition.
TIFF Programming director Yoshi Yatabe explained the selection was made on three criteria: "an unswerving focus on depicting humanity", "diversity" and "auteurism".
He said, "To sum up a common trait of the highly diverse lineup of 15 films on view: they could all be called portrayals of 'people with their backs to the wall.' Nobody can remain unmoved by the tides of a society in constant flux."
Competition line-up
1001 Grams, dir. Bent Hamer (Norway-Germany-France)
The Connection, dir. Cédric Jimenez (France-Belgium)
The Days Come, dir. Romain Goupil (France)
Heaven Knows What, dir. Josh Safdie, Benny Safdie (US-France)
Ice Forest, dir. Claudio Noce (Italy)
The Lesson, dir. Kristina Grozeva, Petar Valchanov (Bulgaria-Greece)
Los Hongos, dir. Oscar Ruiz Navia (Colombia-France-Germany-Argentina)
Melbourne, dir. Nima Javidi (Iran)
The Mighty Angel, dir. Wojtek Smarzowski (Poland)
Nabat, dir. Elchin Musaoglu (Azerbaijian)
Pale Moon, dir. Daihachi Yoshida (Japan)
River Of Exploding Durians, dir. Edmund Yeo (Malaysia)
River Road, dir. Li Ruijun (China)
Ruined Heart - Another Love Story Between A Criminal & A Whore, dir. Khavn De La Cruz (Philippines-Germany)
Test, dir. Alexander Kott (Russia)
Asian Future line-up
The fest's Asian Future competition for up-and-coming Asian directors with first or second feature films has nine world premieres and one international premiere.
Above The Clouds, dir. Pepe Diokno (Philippines-France)
As The Swallows Got Thirsty, dir. Muhammet Cakiral (Turkey)
As You Were, dir. Liao Jiekai (Singapore)
Borderless, dir. Amirhossein Asgari (Iran)
In The Absence Of The Sun, dir. Lucky Kuswandi (Indonesia)
Kyoto Elegy, dir. Kiki Sugino (Japan)
The Last Reel, dir. Sotho Kulikar (Cambodia)
Made In China, dir. Kim Dong-Hoo (Korea)
North By Northeast, dir. Zhang Bingjian (China)
Nova, dir. Nik Amir Mustapha (Malaysia)
Other sections
TIFF's Japanese Cinema Splash of "exceptionally unique, creative and challenging films" showcases eight world premieres this year, including Ryotaro Nakagawa's August In Tokyo and Shuichi Okita's Ecotherapy Getaway Holiday.
The previously announced first Crosscut Asia collaboration between Japan Foundation Asia Center and TIFF is a Thai Focus. The eight-film selection announced today includes the international premiere of Kittikorn Liawsirikul's Sun & Sunrise and Japanese premieres of well-travelled films such as Lee Chatametikool's Concrete Clouds and Nonzee Nimibutr's Timeline.
TIFF is launching the Samurai Award with Takeshi Kitano and Tim Burton to be the first recipients. They are both expected to be on hand to receive the award in Tokyo.
The fest will also host public events in the Roppongi Hills Arena such as the 'World Cosplay Summit in TIFF', concerts and Tokyo Cinema Cuisine food trucks.