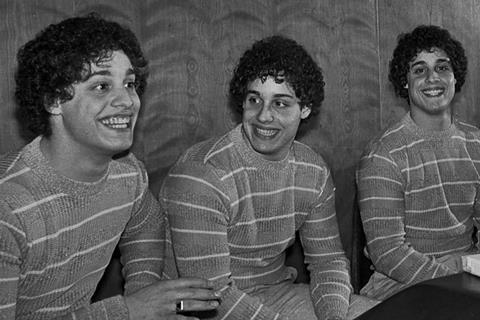 Major award contenders Won't You Be My Neighbor?, Three Identical Strangers and Free Solo are among the thirty-one films on the shortlist for this year's International Documentary Association (IDA) feature award.
The IDA has unveiled the shortlists for its feature and short categories for the first time this year. Up to ten nominees in each category will be selected from the shortlists and nominees will be announced – along with nominees for the Association's Special Awards and Creative Recognition Awards - on October 24. The awards will be presented at a ceremony in Los Angeles on December 8.
This year, the IDA received a record of more than 700 submissions across five categories (features, shorts, series, student films and audio documentary). One hundred and sixteen international submissions were received from across 39 countries.
2018 IDA Awards Features Shortlist
A Woman Captured (Syndicado Film Sales. Director: Bernadett Tuza-Ritter. Producers: Julianna Ugrin and Viki Réka Kiss)
América (Dogwoof. Directors/Producers: Erick Stoll and Chase Whiteside)
Bathtubs Over Broadway (Director/Producer: Dava Whisenant. Producers: Amanda Spain and Susan Littenberg)
Bisbee '17 (4th Row films. Directors: Robert Greene. Producers: Douglas Tirola, Susan Bedusa and Bennett Elliott)
Central Airport THF (Director: Karim Aïnouz. Producers: Felix von Boehm, Charlotte Uzu and Diane Maia)
Charm City (PBS Distribution. Director/Producer: Marilyn Ness. Producer: Katy Chevigny)
Crime + Punishment (Hulu. Director/Producer: Stephen Maing. Producers: Ross Tuttle and Eric Daniel Metzgar)
Dark Money (PBS Distribution. Director/Producer: Kimberly Reed. Producer: Katy Chevigny)
Distant Constellation (Grasshopper Film. Director: Shevaun Mizrahi. Producers: Deniz Buga and Shelly Grizim)
Fahrenheit 11/9 (Briarcliff Entertainment / Midwestern Films. Director/Producer: Michael Moore. Producers: Carl Deal and Meghan O'Hara)
Free Solo (National Geographic. Directors/Producers: Elizabeth Chai Vasarhelyi and Jimmy Chin. Producers: Evan Hayes and Shannon Dill)
Global Family (Rushlake Media GmbH. Director: Andreas Köhler. Director/Producer: Melanie Andernach)
Hale County This Morning, This Evening (Cinema Guild. Director/Producer: RaMell Ross. Producers: Joslyn Barnes and Su Kim)
Lots of Kids, a Monkey and a Castle (Dogwoof. Director/Producer: Gustavo Salmerón)
MATANGI / MAYA / M.I.A. (Abramorama. Director/Producer: Steve Loveridge. Producers: Lori Cheatle, Paul Mezey and Andrew Goldman)
Minding the Gap (Hulu. Director/Producer: Bing Liu. Producer: Diane Quon)
Of Fathers and Sons (Kino Lorber. Director: Talal Derki. Producers: Ansgar Frerich, Eva Kemme, Tobias Siebert and Hans Robert Eisenhauer)
Over the Limit (Film Movement. Director: Marta Prus. Producers: Maciej Kubicki and Anna Kępińska)
Shirkers (Netflix. Director/Producer: Sandi Tan. Producers: Jessica Levin and Maya Rudolph)
Sky and Ground (World Channel (PBS). Directors/Producers: Talya Tibbon and Joshua Bennett. Producers: Maro Chermayeff and Jeff Dupre)
Taste of Cement (Syndicado Film Sales. Director: Ziad Kalthoum. Producers: Ansgar Frerich, Eva Kemme, Tobias Siebert and Mohammad Ali Atassi)
The Distant Barking of Dogs (Cinephil. Director: Simon Lereng Wilmont. Producer: Monica Hellstrøm)
The Judge (Ro*co Films/PBS Independent Lens. Director/Producer: Erika Cohn)
The King (Oscilloscope Laboratories. Director/Producer: Eugene Jarecki. Producers: Georgina Hill, Christopher Frierson, David Kuhn and Christopher St. John)
The Other Side of Everything (Icarus Films. Director/Producer: Mila Turajlic. Producer: Carine Chichkowsky)
The Silence of Others (Cinephil / POV. Directors/Producers: Almudena Carracedo and Robert Bahar)
The Stranger (Director: Nicole Nielsen Horanyi. Producer: Helle Faber)
Three Identical Strangers (NEON / CNN FILMS. Director: Tim Wardle. Producers: Becky Read and Grace Hughes-Hallett)
United Skates (HBO. Directors/Producers: Dyana Winkler and Tina Brown)
Wild Relatives (Director/Producer: Jumana Manna)
Won't You Be My Neighbor? (Focus Features. Director/Producer: Morgan Neville. Producers: Caryn Capotosto and Nicholas Ma)