Australian director Tony McNamara speaks to Nadia Tseng about his upcoming film, Ashby, set to premiere at Tribeca on April 19.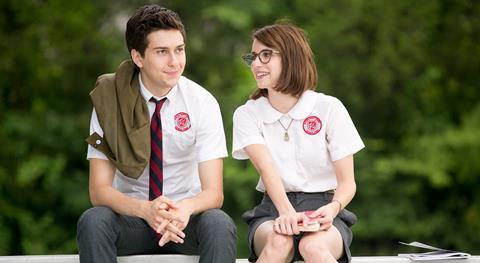 Ashby explores the unlikely friendship between a relocated teenager played by Nat Wolff and his older neighbour, played by Mickey Rourke, who eventually reveals himself to be a former CIA assassin.
Also featuring Emma Roberts and Sarah Silverman, Ashby is a Langley Park Pictures, Head Gear Films and Tagline Pictures production. Kevin McCormick, Rory Koslow, Josh Kesselman, Phil Hunt and Compton Ross produced. CAA and UTA represent US rights and Bankside Films handles international sales.
When and where did you shoot the film and how long did filming take in total?
We shot it in North Carolina, in Charlotte, in May and June of last year with a 22- or 23- day shoot. Yeah, it was a fast and furious one but it was good.
You have an extensive background in theatre. What has it been like for you transitioning from the stage to the screen?
Well, it was fun. I've written maybe 10 plays and I've done a bunch of TV so I've had that stepping stone with TV, but it was good. It was great to tell a story of 90 minutes and it was great to go a lot of places and have action. So there were a lot of elements I didn't really use on stage, so that was a great freedom and a really fun thing to do.
So you talk about your TV experience and you have directed and written The Rage In Placid Lake almost 10 years ago. How did your experience on these projects prepare you for Ashby?
Rage was a feature I made straight out of film school. [Since then] I had done really a lot of TV and had been a showrunner and that was really good preparation because I was used to production and [got to know] the production design animal… so that sort of prepared me well in the sense that I knew what production was and I knew how to be flexible when things happened.
The Rage In Placid Lake explores the lives of teenagers who are neglected by their parents, and Ashby centers on a similar theme. Why are you drawn to characters like these?
The world we live in is a busy world for adults and kids and with social media in the modern world parents and kids are sort of drawn [out] externally in a way that maybe they weren't before.
[Before] you were much more an interior unit and I guess now it's likely for parents to lose sight of their kids because they're maybe trying to create they're own lives, and I guess in Ashby, [June, played by Sarah Silverman] is a really sympathetic character and that was Sarah's story. She tried to restart her romantic life and is sort of, accidentally, neglecting her son because of it even though she loves him but she's also trying to create this life for herself, and he's trying to create his life for himself, and I guess that's one of the themes of the movie.
All of the characters are quite alone at the start of the movie and they are all trying hard to find something that will give them an answer to this loneliness, whether its romantic love or friendship or any of those things.
So speaking of Sarah, what was it like working with actors like Mickey Rourke, Nat Wolff, Emma Roberts and Sarah Silverman who all have so much experience in front of the camera?
It was fabulous, really. They're all sort of really different people, but that's what you want as a director. But they're also really professional people who know their craft and really loved the project, so everyone was committed to it. They were all great people to work with and they tried really hard to make a good movie, but I was lucky that they had really good chemistry together on screen.
Well going off that I understand that Nat and Emma have known each other from when they were younger. Did that really enhance that on-screen chemistry?
Nat and Emma have known each other, I think, since they were about nine, or something, so they knew each other very well and are good friends. So the only trick with that was the three of us were very aware of while they had to have good chemistry they had to sort of act like it was fresh enough as if they had never met and there was this awkwardness. They're so natural together and they're very casual, and they kind of make fun of each other a lot, so we were very watchful of that so that it could still look like a fresh relationship. They were great together.
What did it mean to you that Rourke was so interested in your script?
It was out of the blue. I think his agent read it and sent it to Mickey, then I got this call and Mickey had loved it, so we met and he just really responded to the script. There were a lot of scenes that just made sense that'd he'd like and he thought it was really funny and he responded to it and wanted to do it. So we talked about the script and the character and it meant a lot because I was a huge fan of his because of all the great films he's done… He was a figure in my childhood that I really respected and loved his acting and he's a great actor because [he's] surprising and you never quite know what he's going to do, and I wanted that in the character.
I understand Harold And Maude, directed by Hal Ashby, was a huge inspiration not only for the relationship between Ed and Ashby but even for the title of the film and Rourke's character. Can you tell me a bit more about how Hal Ashby has effected your directorial and writing motivations?
I really like Hal Ashby. I think his movies are great and I really like his blend of off-centre comedy and [how] he manages to get a lot of emotion out of it. I really loved Harold And Maude. I watched it a few years ago and I really like the coming-of-age factor and the facing-your-death factor and I thought that was interesting. I guess the biggest influences would be those two things. The biggest thing thematically was that I really liked the way he could blend strong emotion with this sometimes really strange comedy, which I kind of like.
Did you always know that you wanted to use the song 'Where I'm Goin'' from Nat Wolff and his brother's band for the film?
No, I hadn't planned on it. I didn't know at the time that Nat had a band. Then he came and I realised he was a great musician and it really came about because I was cutting the film occasionally and he was saying how they had some new songs. My music advisor Libby and I were looking at songs and then we were just talking and he was sending them to me, sort of like maybe they could be in the film but mostly just asking me as a friend. One of them in particular Libby and I played and we were like, 'This is such a great song for the end credits.' So that's how that came about so it was sort of luck but it seemed to fit really well with the spirit of the movie.