Fox Star Studios is scaling up with in-house productions and a remake of a Hollywood film. Liz Shackleton spoke to CEO Vijay Singh.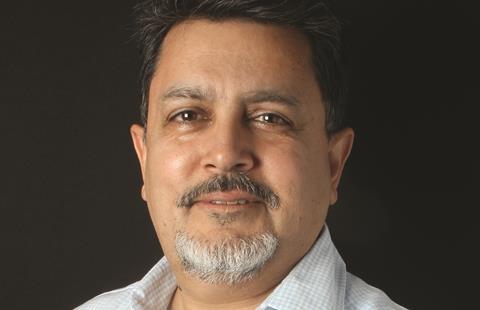 Now in its fifth year of operation, Fox Star Studios has proved that it's possible for a US studio to enter the Indian market and achieve a consistent track record in local-language production.
The joint venture between 20th Century Fox and broadcaster Star, both owned by Rupert Murdoch's 21st Century Fox, has delivered a string of hits over the past 18 months, most recently Vishesh Bhatt's thriller sequel Murder 3 and Subhash Kapoor's Jolly LLB, a legal world satire that flourished without a big-name cast.
Last year the company had hits with Rohit Shetty's Bol Bachchan and two films co-produced with the Bhatt brothers' Vishesh Films – Jannat 2 and Raaz 3.
The studio is also enjoying success through releasing Hollywood productions – with a gross of $18m, Life Of Pi is now the second biggest US release in India behind Avatar, also a Fox release.
"What we've learned from Jolly LLB is that the market is changing," says Fox Star Studios CEO Vijay Singh, who has steered the studio since its 2008 launch, working with Fox International Productions chief Sanford Panitch. "Audiences are more receptive and seeking differentiated content – and it's up to us as a studio to anticipate these trends and deliver product in tune with the changing consumer."
But he adds that the Indian audience still also demands big stars and upcoming Fox Star productions include Tigmanshu Dhulia's thriller Bullett Raja (set for November release), and Sajid Khan's comedy Humshakals (June 2014), both starring Saif Ali Khan.
They will be followed in October 2014 by one of Bollywood's most hotly-anticipated releases – Bang Bang, loosely based on Fox's Knight And Day and starring Hrithik Roshan and Katrina Kaif. The studio is also financing Anurag Kashyap's period drama Bombay Velvet, starring Ranbir Kapoor.
Singh explains that both Jolly LLB and Bang Bang, although at opposite ends of the budget spectrum, represent the latest step in Fox Star's local production strategy as both are fully-fledged in-house productions.
When the studio launched five years ago, it first built a pan-Indian distribution infrastructure through releasing Hollywood pictures; then acquired and distributed Karan Johar's My Name Is Khan, which grossed $45m worldwide, to prove to the local industry that a US studio could add value both in India and overseas.
"Having done that we knew we couldn't build a sustainable business only through acquisitions – we had to get into production," says Singh.
The studio started with co-productions, where it identified producers with strong projects and access to talent, and fully financed productions while splitting profits with the producer. "We identified like-minded producers with whom we could have a sensible conversation about risk and reward," says Singh, adding that a cable & satellite output deal with Star helps to derisk Fox Star productions.
After learning through co-productions such as Dum Maaro Dum and Force, the next step was to scale up and become a more dominant player by building creative teams and generating and managing its own productions. "We wanted to find subject matter that we believe in, and become involved right from the script stage to putting together the director and cast, and then producing the film," explains Singh.
Jolly LLB is the first result of this move and enabled the studio's development and production teams to cut their teeth on a lower budget film, that nonetheless required careful positioning and marketing. Produced and marketed for less than $2m, Jolly LLB was released on around 700 screens and grossed $8m.
"If we'd released it four years ago, it would have struggled, and wouldn't have been released on 700 screens because the infrastructure wouldn't have existed," Singh explains.
The studio's next in-house production is big-budget tentpole Bang Bang, directed by Siddharth Anand (Anjaana Anjaani), which has been filming in Thailand and Greece among other locations. Fox Star took the basic concept of Twentieth Century Fox's Knight And Day, starring Tom Cruise and Cameron Diaz, and adapted the concept for the local market.
Fox Star worked on the script for two years with writers such as Sujoy Ghosh, who wrote and directed Kahaani, and Suresh Nair, who worked on Kahaani and D-Day. "We've been able to put together a project of the scale that four years back we would have drooled for," says Singh.
While moving more towards its own productions, Fox Star will continue to do co-productions. In addition to Kashyap's Bombay Velvet, co-produced with Phantom Films, the studio is also working on three further projects with Vishesh Films.
It will also continue to produce across all genres and budget ranges to tap into the on-going fragmentation of the Indian audience. Following their collaboration on family film Stanley Ka Dabba, Fox Star is working with Amole Gupte on another family entertainment project featuring child actors, Hawaa Hawaai starring upcomer Saqib Saleem, scheduled for release next April.
The studio has also made a splash in Tamil-language production through a partnership with AR Murugadoss which has yielded three hits – Engaeyum Eppothum, Vathikuchi and most recently Raja Rani released this September. It also recently signed a two-picture deal with Tamil producer CV Kumar's Thirukumaran Entertainment.
"It's been a fascinating two years working with the Tamil film industry," says Singh. "The quality of the Tamil writers is terrific, which gives us opportunities to do [Hindi] remakes, and the other thing they do really well is launch a lot of new stars."
Singh adds that Bollywood has a lot to learn from the Tamil industry, which works on very tight budgets and produces films that are deeply rooted in their local culture: "Bollywood lost that about five years back in my opinion, by looking towards Hollywood for inspiration, and one reason we're having a resurgence is that we've started going back to our local roots in the Hindi heartland."
Outside of India, Fox Star's international team works with 20th Century Fox International's distribution offices in the US, UK and United Arab Emirates (UAE) and has been working to increase exports to non-traditional territories; Stanley Ka Dabba was recently released in Japan by local distributor Medallion Media.
While the UK market for Hindi films has plateaued, Singh says the North American market is encouraging: "The profile of Indian expats is very young and tech-oriented but still very rooted in India. The new cinema coming out of India works well in the US and blockbusters work too."
Back at home, Singh believes the domestic Indian market will continue to grow due to the country's young population, growing multiplex culture and, despite current economic hiccups, increasing wealth: "Even though we have a billion people, the biggest hits are still only seen theatrically by around 35-40 million people. The same film showing on Star reaches an audience of 150-200 million. The future lies in getting those 200 million people into theatres."
And he adds that Hollywood should also be able to take a bigger slice of this expanding pie. He explains that around 50 million people in India have a disposable income and go to see movies on a regular basis – of which only around 10 million will regularly turn up to see Hollywood films.
"The growth for Hollywood will come when those 10 million goes up to 50 million," say Singh. "More importantly there's a quiet seeding programme that's happening with young kids who are growing up with Hollywood content that is being dubbed and shown on TV. Ten years from now, when these kids are adults, we'll have a large body of people who will be ready to move into the theatre to see Hollywood films."
Vijay Singh
Gained an MBA from Jamnalal Bajaj Institute of Management Studies in 1977.
Worked at Tata Administrative Services, Walt Disney Consumer Products and the Unilever group.
Set up Sony Music Entertainment India in 1996.
Moved to London to take up the post of managing director, developing markets for the Tetley group.
Joined Star India as president, strategy and corporate development in 2007.
Appointed CEO of Fox Star Studios India in 2008.