Festival reveals guests headed to Karlovy Vary next month.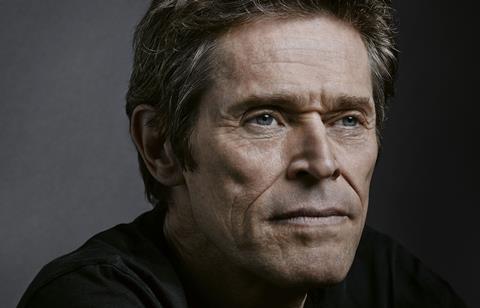 US actor Willem Dafoe and writer-director Charlie Kaufman are to be honoured at the 51st Karlovy Vary International Film Festival (KVIFF) (July 1-9) on its opening night .
Dafoe is to receive the Crystal Globe for outstanding contribution to world cinema and the festival will screen his performances in Abel Ferrara's Pasolini and Martin Scorese's The Last Temptation of Christ.
Kaufman, who won an Oscar for his script for Eternal Sunshine of the Spotless Mind, will receive the president's award and the festival will screen animation Anomalisa, which he co-directed with Duke Johnson.
As previously announced, the festival set in the Czech Republic spa town will open with the world premiere of Second World War thriller Anthropoid, with actors Jamie Dornan and Toby Jones, Aňa Geislerová, Alena Mihulová, Václav Neužil and Marcin Dorocinski in attendence alongside writer-director Sean Ellis.
Guests
Other guests expected at the festival include actresses Adriana Ugarte and Emma Suárez, who will attend the screening of Pedro Almodóvar's Julieta, in which they both play the film's title role.
Suárez will also present competition film The Next Skin (La propera pell), directed by Isaki Lacuesta and Isa Campo, alongside co-star Sergi López.
In addition, Germanactor Ulrich Tukur will present Sven Taddicken's Original Bliss (Gleißendes Glück), which is also being shown in competition at the festival.
KVIFF will also welcome back Ted Hope, head of motion picture production at Amazon Studios. Hope, previously a jury member at Karlovy Vary and exec producer of competition film The Collaborator in 2011, will offer his vision for film in the years to come at an industry event at the festival.
Frank Daniel Day
The festival will also host a Frank Daniel Day, marking 20 years since the death of the Czech filmmaker František (Frank) Daniel, who produced Oscar-winning The Shop on Main Street (1965).
KVIFF will hold an art workshop where Daniel's teaching methods will be presented by analysing the film Some Like It Hot. It will also screen Letos v září (1963), which he co-wrote and directed while still in Czechoslovakia,preceded by an introductory talk. Guests include Daniel's long-time friend, the director Ivan Passer, his sons Martin (who is also a film teacher) and Michal (a photographer), and Ted Braun.
Juries
The grand jury at this year's KVIFF comprises Italian novelist and screenwriter Maurizio Braucci; Soda Pictures MD Eve Gabereau; Czech actress Martha Issová; Georgian director George Ovashvili; and US producer Jay Van Hoy.
The East of the West jury include film critic Carmen Gray; Turkish writer-director Tolga Karaçelik; Czech producer Mikuláš Novotný; Polish director Agnieszka Smoczyńska; and Japanese festival organiser Yoshi Yatabe.
The Documentary Film Jury is made up of Danish producer Sigrid Jonsson Dyekjær; festival organiser Hana Kulhánková; and French director-producer Laurent Bécue-Renard.