The films set to get audiences talking in both the Piazza Grande and International Competition sections at the 67th Locarno Film Festival are profiled here.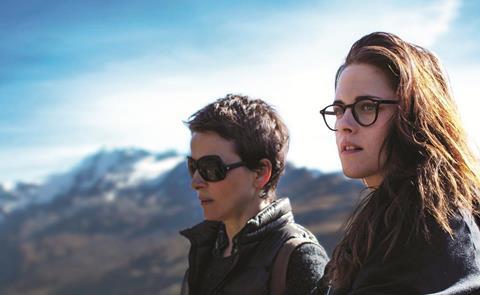 Piazza Grande
A HITMAN'S SOLITUDE BEFORE THE SHOT (Ger)
Dir Florian Mischa Böder
World premiere
This black comedy from the director of The Austrian Method stars Benno Fürmann as a hitman who gets his first job at the worst possible moment.
Contact Picture Tree International www.picturetree-international.com
A LA VIE (Fr)
Dir Jean-Jacques Zilbermann
World premiere
Julie Depardieu, Suzanne Clément and Johanna Ter Steege star as former deportees from Auschwitz who are reunited 15 years after the end of the war in this film by French writer-director Zilbermann (Bad Spelling).
Contact Le Pacte www.le-pacte.com
CLOUDS OF SILS MARIA (Fr-Ger-Switz)
Dir Olivier Assayas
French director Assayas's Cannes Competition title stars Juliette Binoche as a fading actress alongside Kristen Stewart as her assistant and Chloe Grace Moretz (pictured) as an up-and-coming young star.
Contact MK2 International www.mk2.com
THE BEACHES OF AGNES (Fr)
Dir Agnes Varda
This autobiographical 2008 documentary sees French director Agnes Varda, a recipient of Locarno's Pardo d'onore Swisscom this year, revisiting places from her past.
Contact Ciné-Tamaris www.cine-tamaris.fr
DANCING ARABS (Isr-Fr-Ger)
Dir Eran Riklis
Riklis, whose acclaimed work includes The Human Resources Manager, returns with this adaptation of Sayed Kashua's novel about an Arab boy whose parents send him to a prestigious Jewish boarding school in Jerusalem.
Contact The Match Factory www.the-match-factory.com
GERONIMO (Fr)
Dir Tony Gatlif
This update of West Side Story follows a social educator trying to prevent a war between the families of an illicit couple. The film premiered as a Special Screening in Cannes.
Contact Les Films du Losange www.filmsdulosange.fr
LAND HO! (US-Ice)
Dir Aaron Katz, Martha Stephens
US indie directors Katz (Cold Weather) and Stephens (Passenger Pigeons, Pilgrim Song) team up for this buddy road movie about two former brothers-in-law who take a holiday to Iceland. It world premiered at Sundance.
Contact Sony Pictures Classics www.sonypicturesclassics.com
THE LEOPARD (It-Fr)
Dir Luchino Visconti
Italian director Visconti's classic The Leopard (Il Gattopardo) stars Burt Lancaster as an ageing aristocrat trying to protect the fortunes of his family. It won the Palme d'Or in 1963.
Contact Titanus www.titanus.it
LOVE ISLAND (Croatia-Ger-Switz-Bos Herz)
Dir Jasmila Zbani
World premiere
Berlin's Golden Bear winner in 2006 with Grbavica, Bosnian director Zbanic offers this comedy about a couple holidaying in Croatia who both fall in love with the same woman.
Contact The Match Factory www.the-match-factory.com
LUCY (Fr)
Dir Luc Besson
Opening film
Scarlett Johansson plays a drug mule who gains superhuman powers in Besson's sci-fi thriller. Morgan Freeman co-stars.
Contact Universal Pictures International www.universalpicturesinternational.com
Mary's Story Fr
Dir Jean-Pierre Améris
World premiere
The latest film from Cannes award-winning director Améris, Mary's Story (Marie Heurtin) is set in the 19th century and based on the true story of a 14-year-old deaf and blind girl who receives help in a nunnery.
Contact Indie Sales Company www.indiesales.eu
PAUSE (Switz)
Dir Mathieu Urfer
World premiere
Baptiste Gilliéron and Julia Faure star in this comedy about a country-music loving telemarketer and lawyer living together. It marks Urfer's feature debut.
Contact Picture Tree International www.picturetree-international.com
SCHWEIZER HELDEN (Switz)
Dir Peter Luisi
World premiere
Swiss director Luisi's latest film centres around a divorced housewife (Esther Gemsch) who tries to win the attention of her family by staging the story of William Tell with a group of asylum seekers.
Contact Spotlight Media Productions AG www.spotlightmedia.ch
Tour de Force (Ger)
Dir Christian Zübert
World premiere
German director Zübert's comedy drama Tour De Force (Hin Und Weg) stars Florian David Fitz as a man on a mission to reach a euthanasia clinic in Belgium while on an annual bike ride.
Contact Beta Cinema www.betacinema.com
THE HUNDRED-FOOT JOURNEY (US)
Dir Lasse Hallström
Helen Mirren stars in this cross-cultural culinary story directed by Chocolat and Salmon Fishing In The Yemen director Hallström.
Contact Mister Smith Entertainment www.mistersmithent.com
International Competition
A BLAST (Gre-Ger-Neth)
Dir Syllas Tzoumerkas
Tzoumerkas, the director of Greek thriller Homeland, returns with the story of an anti-heroine on the run, rebelling against an envious mother, a mentally challenged but demanding sister, an absent husband and a hostile country.
Contact Homemade Films homemadefilms.gr
ALIVE (S Kor)
Dir Park Jung-bum
Jung-cheol works through the bitter winter in a soybean paste factory, where he dreams of travelling to the warm Philippines.
Actor-writer-director Park stars, as he did in his well-received debut The Journals Of Musan.
Contact Finecut www.finecut.co.kr
CURE - THE LIFE OF ANOTHER (Switz-Cro-Bos Herz)
Dir Andrea Staka
Eight years after winning the Golden Leopard for drama Fräulein, Switzerland's Staka returns to directing with a thriller that sees two 14-year-old girls retreat to a secluded beach beneath the cliffs of Dubrovnik. Fraulein stars Mirjana Karanovic and Marija Skaricic also return.
Contact Okofilm Productions www.okofilm.com
Fidelio, l'odyssee d'Alice (Fr)
Dir Lucie Borleteau
Ariane Labed, Melvil Poupaud and Anders Danielsen Lie star in the story of a 30-year-old female mechanic on board a cargo ship. First-time feature film-maker Borleteau was a script collaborator on Claire Denis' White Material.
Contact Why Not Productions contact@whynotproductions.fr
The Fool (Rus)
Dir Yury Bykov
Producer Aleksey Uchitel renews his collaboration with The Major writer-director Bykov on The Fool (Durak), a drama about a man fighting to save the inhabitants of a dormitory at risk of collapse.
Contact Rock Films rockfilm.ru
From What Is Before (Phil)
Dir Lav Diaz
Diaz's Norte, The End Of History follow-up is about a boy living in a small community in the Philippines.
Contact Sine Olivia Pilipinas
sineoliviapilipinas.wix.com
GYEONGJU (S Kor)
Dir Zhang Lu
Grain In Ear and Desert Dream director Zhang returns with a comedy romance about the unexpected journeys and encounters that befall a professor who returns to his homeland of South Korea after a long absence.
Contact M-Line Distribution www.mline-distribution.com
HORSE MONEY (Port)
Dir Pedro Costa
Costa, a Golden Leopard nominee for In Vanda's Room (2000) and Memories (2007), returns with Horse Money (Cavalo Dinheiro), his first feature since 2009 music-documentary Change Nothing.
Contact OPTEC Sociedade Optica Tecnica www.optec.pt
THE IRON MINISTRY (China-US)
Dir JP Sniadecki
World premiere
US-born, China-based film-maker Sniadecki's latest documentary, following Yumen in 2013, centres around the history of China's train system. Sniadecki's Foreign Parts (2010) won the best first feature and special jury prizes at Locarno.
Contact Jianghu Productions www.jianghuproductions.com
LISTEN UP PHILIP (US)
Dir Alex Ross Perry
This dark US comedy about a self-destructive writer world premiered at Sundance Film Festival and stars Jason Schwartzman, Elisabeth Moss, Jonathan Pryce and Krysten Ritter.
Contact The Match Factory www.the-match-factory.com
PERFIDIA (It)
Dir Bonifacio Angius
Perfidia revolves around the complicated relationship between a father and his son, and stars Stefano Deffenu and Mario Olivieri. This is Angius's second feature following Sa Grascia.
Contact Movie Factory SRL www.moviefactorysrl.com
THE PRINCESS OF FRANCE (Arg)
Dir Matias Pineiro
World premiere
The third film in Argentinean director Pineiro's on-going take on Shakespeare's comedies is a re-imagining of Love's Labour's Lost.
Contact Universidad Del Cine ucine.edu.ar
LA SAPIENZA (Fr-It)
Dir Eugene Green
World premiere
Fabrizio Rongione stars as a disillusioned architect who sets out to rediscover the motivations that first pushed him to join the profession.
Green's films Le Nom Du Feu and
Les Ponts Des Arts screened at Locarno in 2002 and 2004 respectively.
Contact La Sarraz Pictures www.lasarraz.com
THE SHELTER (Switz)
Dir Fernand Melgar
World premiere
The latest documentary from Swiss director Melgar (Special Flight), The Shelter (l'Abri) is set in an emergency shelter for the homeless in Lausanne.
Contact CAT&Docs www.catndocs.com
TWO GUN SHOTS (Arg-Chile-Ger-Neth)
Dir Martin Rejtman
16-year-old Mariano finds a gun in his house and, in a thoughtless impulse, shoots himself twice. But he survives. Two Gun Shots (Dos Disparos) director Rejtman, from Argentina, is a two-time Golden Leopard nominee for Rapado (1992) and The Magic Gloves (2003).
Contact Ruda Cine www.rudacine.com.ar
VENTOS DE AGOSTO (Bra)
Dir Gabriel Mascaro
World premiere
Brazilian director Mascaro's feature follows a young girl who has left the
big city to live in a small seaside village.
Contact FiGa Films figafilms.com
WHITE NIGHTS ON THE PIER (Fr)
Dir Paul Vecchiali
World premiere
Pascal Cervo stars in White Nights On The Pier (Nuits Blanches Sur La Jetée), the latest feature from prolific French film-maker Vecchiali.
Contact Shellac www.shellac-altern.org