The prize offers editorial coverage during the winning film's life-cycle.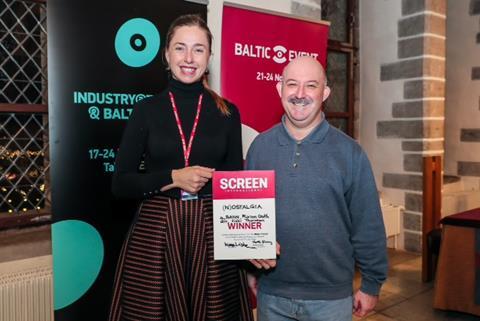 The 15th edition of Tallinn's Baltic Event Co-Production Market saw Screen International's Best Pitch award being presented to Luxembourg-based producer Marion Guth of a_BAHN for UK artist filmmaker Vicki Thornton's hybrid docu-fiction (N)Ostalgia.
a_BAHN currently has the UK's Roastbeef Production and Norway's Oya Films supporting the project about a remote Soviet ghost town on the edge of the Arctic Circle and its transformation into a tourist spectacle.
The Best Pitch Award - which is decided on by the co-production market's participants and offers editorial coverage during the film's life-cycle - was presented in the past to such projects as Finnish filmmaker Petri Kotwica's suspense drama Rat King; Russian director Alexei German Jr.'s Under Electric Clouds; and the first pan-Baltic fiction co-production Seneca's Day by Kristijonas Vildziunas.
Guth had also been in Tallinn to present the €1.2m transmedia project Zero Impunity as part of the Baltic Event's Works in Progress showcase earlier in the week, and she was part of a delegation coming from Luxembourg for this year's special regional focus, including Film Fund Luxembourg's managing director Guy Daleiden, producers Jani Thiltges (Samsa Film), Jesus Gonzalez (Calach Films), sales agent Paul Thiltges (PTD), Alexander Dumreicher-Ivanceanu (Amour Fou Luxembourg), and Carole Kremer of Luxembourg's Creative Europe Desk MEDIA.
Eurimages award for Georgia
Meanwhile, a three-person jury of German producer Titus Kreyenberg, Swedish broadcaster Suzanne Glansborg and Uldis Dimisevskis, Head of Production and Development at the National Film Centre of Latvia, selected the black comedy Citizen Saint by Georgian filmmaker Tinatin Kajrishvili for the €20,000 Eurimages Co-Production Development Award based on the project's artistic quality and potential for theatrical release.
The award, which takes the form of a non-reimbursable subsidy, must be used exclusively to cover project development costs.
A graduate from the State Theatre and Film University of Georgia in Tbilisi, Kajrishvili made her feature debut two years ago with the drama Brides which had its world premiere at the Berlinale's Panorama where it won the third place in the Panorama Audience Award. The Georgian-French co-production has since won more than 30 prizes at international festivals around the world.
The jury also awarded two free passes to next year's Producers' Network in Cannes to the Swedish producer Emma Akesdotter Ronge and Poland's Kuba Kosma.
Ronge had been at the Baltic Event with the director Maria Eriksson to pitch the drama Fear Eats The Soul, a new interpretation of the Fassbinder 1974 classic for a contemporary audience, while Kosma presented Dariusz Gajewski's Trust, which the director describes as ¨a cinematic mirror walking along a highway¨ reflecting the world stylised in documentary truth.
NEWS FROM TALLINN
This year's line-up of 16 projects at the co-production market in Tallinn included the second feature, psychological drama Scandinavian Silence starring Rea Lest and Reimo Sagor, by the Estonian writer-director Martti Helde who came to international prominence two years ago with his debut In The Crosswind.
Helde's latest project was co-written with the UK NFTS graduate Nathaniel Price (producer Elena Litvinova had met Price during her MA studies at the film school in Beaconsfield) and sees Helde collaborating again with the DoP (Erik Pöllumaa) and production designer (Anneli Anisaar) from In The Crosswind.
Litvinova and Helde's company Three Brothers are co-producing Scandinavian Silence with France's ARP Selection who had successfully released In The Crosswind in French cinemas.
Meanwhile, Leipzig-based sales agent Stelios Ziannis revealed to Screen Daily during the Baltic Event that production on Bulgarian filmmaker Stephan Komandarev's third fiction feature project, the social drama Compatibility, began in Sofia on November 12.
The co-production between Komandarev's Argo Film, Ziannis' production arm Aktis Film Production and the Macedonian production house Sektor Film was presented at the Tallinn co-production market last year.
Local Estonian producer Kristian Taska of Taska Film announced during the Baltic Event's Works in Progress showcase that the Swedish-based sales agent Michael Werner of Eyewell will handle international sales for Jaak Kilmi's €1.2m crime-comedy The Dissidents, about three boys who escape from Soviet Estonia to Sweden via Finland in the 1980s, only to become bank robbers.
One of the ¨buzz¨ projects among buyers and festival programmers in Tallinn this year, Kilmi's third feature is a co-production between Taska Film, Finland's MRP Matila Röhr Productions and Latvia's Film Angels Productions.
Taska broke box office and admission records earlier this year with the Estonian remake of the Danish feature Class Reunion, posting 200,000 admissions from its release in Estonian cinemas from February 16. It became the third domestic film since Estonia regained independence from the Soviet Union in 1991 to reach over 100,000 admissions, joining the historical epic 1944 and Names in Marble, both also produced by Kristian Taska's company.