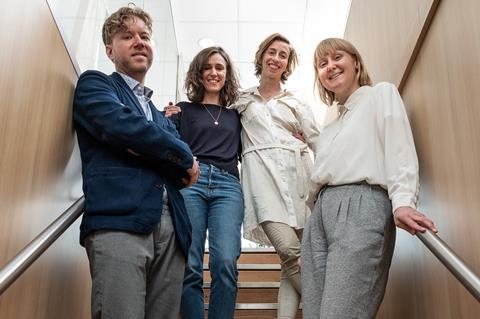 Finnish director Mikko Myllylahti, who co-wrote Un Certain Regard winner The Happiest Day In The Life Of Olli Mäki, has won the inaugural €5,000 Critics' Week Step Prize, for his debut feature project The Woodcutter Story.
Produced by Aamu Film Company, the black comedy will explore the power of hope against obscurantism through the tale of a village blighted by the opening of a mine.
Critics' Week launched The Next Step initiative in 2014 to help directors of shorts that premiere in its selection to progress to their first feature, primarily through a five-day development workshop in Normandy and Paris.
The inaugural Next Step Prize jury comprised Rosa Attab, development director at Why Not Productions; Mathilde Henrot, co-founder of FestivalScope and programmer of the Locarno Festival, and Gaëlle Mareschi, director of International sales at Kinology and co-founder of Fluxus Films.
Over its first five editions, Next Step has supported 46 filmmakers from 23 countries and a growing number of completed titles, including Cannes 2019 titles Erwan Le Duc's The Bare Necessity, which debuts in Directors' Fortnight, and Critics' Week selection Sofia Quiros Ubeda's Ceniza Negra, the first Costa Rican title to play in the festival.
Myllylahti was among eight directors participating in the fifth edition of Next Step after his short film Tiikeri debuted at Cannes' Week in 2018, which received 1,700 short film submissions.
Aside from the €5,000 cash prize awarded at Cannes, Next Step also awarded two prizes consisting of a month-long writing residency at the Moulin d'Andé-Céci screenwriting centre in Normandy. These went to French filmmaker Charline Bourgeois-Tacquet's love triangle tale Un Amour d'Aliénor and German-Polish director Oliver Adam Kusio's political drama Pax Europa.
Other projects participating in this edition of Next Step include French director Elias Belkeddar with Requiem Pour Un Fou, revolving around a jaded gangster who tries to conquer the Algiers underworld; Chilean director Felipe Gálvez with The Settlers, exploring 19th-century massacre of the native Ona people in the Tierra del Fuego islands.
As well as Switzerland's Flurin Giger, who is developing the complex drama Fasten about a couple who decide to stop caring for their special needs son; child custody-divorce drama George by Greek filmmaker Jacqueline Lentzou, and French filmmaker Camille Lugan's Fun, Fun, Fun, about the wildlife of a female, Paris-based bicycle courier.