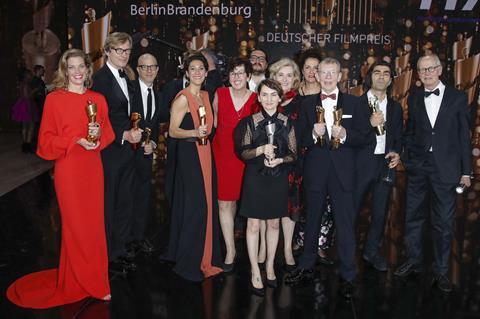 Emily Atef's 3 Days in Quiberon was the big winner at this year's German Film Awards in Berlin at the weekend, taking home seven Lolas from ten nominations.
The Rohfilm Factory production received the Golden Lola for best film – with a cash prize of €500,000 - as well as statuettes for director Atef, lead actress Marie Bäumer, supporting actors Birgit Minichmayr and Robert Gwisdek, DoP Thomas W. Kiennast, and composers Christoph M. Kaiser and Julian Maas.
The chamber piece - about German-French star Romy Schneider granting her last interview to two journalists in a small village on the Brittany coast in 1981 - had its world premiere in the Competition of this year's Berlinale and is handled internationally by Beta Cinema.
German distributor Stephan Hutter of Prokino told Screen that the film is currently released on 200 prints and he expected it to reach at least 300,000 admissions.
Fatih Akin's Cannes 2017 and Golden Globe winner In The Fade picked up the Silver Lola for best film and a Golden Lola for best screenplay for Akin and his co-author Hark Bohm, who also received the German Film Academy's honorary award for his services to German cinema.
Another film from last year's Cannes - Valeska Grisebach's Un Certain Regard title Western – was presented with the bronze Lola for best film from the hands of the German State Minister for Culture and the Media Monika Grütters.
Tobias Wiemann's Mountain Miracle – An Unexpected Adventure received the best children's film, while Andres Veiel's Berlinale Competition title Beuys won the best documentary prize.
Other awards included best actor to Franz Rogowski, one of this year's European Shooting Stars at the Berlinale, for his performance in Thomas Stuber's In The Aisles; and three statuettes for Julian Rosenfeldt's experimental film Manifesto, starring Cate Blanchett in 13 different roles, in the technical categories of best production design, best costume design and best makeup.
The third part of German cinema's most successful ever franchise, Fack Ju Goehte 3, received the Lola for the most popular film after posting 6m admissions at the local box-office in 2017 to become the year's No. 1 release.
In total, the high school comedy trilogy has been seen by over 21m cinema-goers in Germany, with the first two installments licensed to more than 40 international territories by sales agent Picture Tree International.
The full line-up of this year's Lola award winners can be found at HERE.