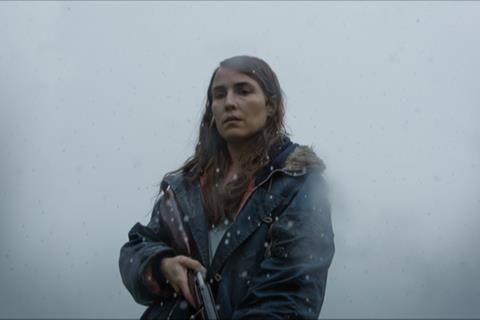 A24's Noomi Rapace starrer Lamb opened at the weekend on 583 US screens and grossed more than $1m for the all-time highest debut by an Icelandic film.
Vladimir Johannsson's directorial debut premiered in Cannes and centres on a childless couple that discover a strange newborn on their farm and adopt is as their own. Hilmir Snaer Gudnasson also stars.
Lamb arrived in seventh place in the North American box office charts and grossed $415,079 on Friday, $325,000 on Saturday and $260,000 on Sunday. It is projected to bring in a further $130,000 on Monday for a four-day $1.13m tally over the Indigenous Peoples Day holiday weekend.
Meanwhile Neon's Palme d'Or winner Titane from Julia Ducournau fell 62% after last weekend's strong pandemic opening weekend for a French arthouse release. An estimated $200,836 from 474 screens was enough to push the release past $1m in less than two weeks.
Bleecker Street released its Sundance acquisition Mass starring Jason Isaacs, Ann Dowd, Martha Plimpton and Reed Birney. Fran Kranz's acclaimed directorial debut about two sets of parents dealing with the aftermath of a school tragedy opened at number 19 and grossed $14,457 from four cinemas.
German Oscar submission I'm Your Man directed by Maria Schrader and also released by Bleecker Street climbed six places to number 15 and added $50,470 from 122 sites for $169,165 in its third weekend. The rom-com earned Maren Eggert the best actor Silver Bear when it premiered at the Berlinale this year and marks the distributor's first foreign-language acquisition.