EXCLUSIVE: Production underway on thriller sold by Bankside, distributed by Madman.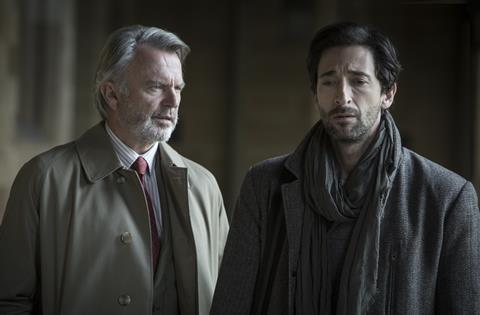 Principal photography is underway in Australia on writer-director Michael Petroni's sophomore thriller Backtrack, starring Adrien Brody and Sam Neill (seen in this exclusive first image from the feature).
Shooting commenced in Sydney on Jan 6 and is scheduled to wrap in mid-Feb. Filming will take place in Sydney as well as the Central West region of New South Wales.
The film follows a psychologist whose life is thrown into chaos when he discovers his patients are all ghosts of people who died in an accident 20 years prior.
Jamie Hilton (The Waiting City, Sleeping Beauty) is producing for See Pictures alongside Antonia Barnard (The Painted Veil, The Quiet American) and Petroni.
UK outfit Bankside will commence sales on the thriller at the EFM in Berlin next month. Madman Entertainment will distribute in Australia and New Zealand.
The film is financed by Screen Australia, Head Gear Films, Star Gate, Screen NSW, Deluxe Australia, Bankside Films and Madman Entertainment.
The cast is rounded out by local actors Bruce Spence, Robin McLeavy, Jenni Baird and Anna Lise Phillips.
Australian Petroni is best known for his screenwriting credits on The Book Thief, The Rite and The Chronicles of Narnia: The Voyage of the Dawn Treader.
His 2002 directorial debut Till Human Voices Wake Us starred Guy Pearce and Helena Bonham Carter.
Discussing filming in Australia with Petroni, Oscar winner Brody said: "The complexity and attention to detail in Michael's storytelling greatly appeals to me.
"Backtrack is suspenseful and meaningful. The drama plays out in a nuanced manner as we explore the things that could easily haunt any man: childhood memories, loss. Guilt or ghost, our past has a way of keeping us from being present."
Petroni added: "I'm very excited to be directing again and to be working back in Australia with such a great line-up of talent. It's an honour to be working with such gifted people as Adrien and Sam.
"I can't wait for audiences to see this film. I hope they get a real thrill out of it - I wanted to write something that kept one step ahead of the audience."