The Time Of Their Lives is written and directed by Roger Goldby.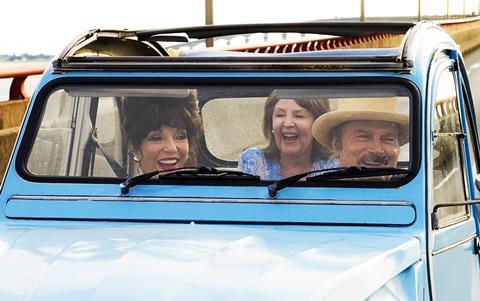 Independent has boarded Bright Pictures and Daryl Prince Productions' The Time Of Their Lives ahead of the AFM.
The company will represent available territories on the comedy written and directed by Roger Goldby and starring Dame Joan Collins, Pauline Collins and Franco Nero.
It follows former Hollywood siren Helen (Joan Collins) who, determined to gate-crash her ex-lover's funeral, escapes her London retirement home with the help of repressed English housewife Priscilla (Pauline Collins). In a race to get to the funeral on time, they become involved in a romantic triangle with a reclusive Italian painter (Nero).
Produced by Sarah Sulick and Azim Bolkiah, the film is executive produced by Sir Tim Rice, who will also be writing a song for the film. Stephen Warbeck will be composing the music for the film.
Independent will be holding a screening to show first footage of the film at the AFM. Fortissimo previously handled sales.
"There is a consistent loyal audience for independent films which speak to the baby boomer generation and we're looking forward to seeing this film connect with commercial audiences around the world," commented Independent's MD Andrew Orr.
Sulick added: "We're delighted to have Independent seeling The Time Of Their Lives. They are a brilliant team who truly get the film, how it makes you laugh out loud and is also incredibly moving and ultimately life-affirming."
At the AFM, Independent will also be representing Dominic Savage's The Escape, Michael Winterbottom's On The Road and Thomas Napper's Jawbone. They have also recently boarded Noel Clarke's trilogy closer Brotherhood and Toby Jones' Kaleidoscope.