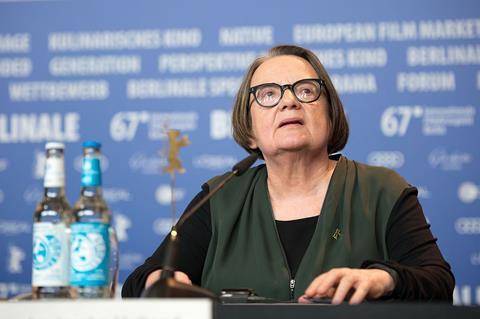 Agnieszka Holland has signed on to direct Charlatan, a Czech-Ireland-Slovak co-production written by Marek Epstein.
Šárka Cimbalová and Svatka Peschková's Czech production company Marlene Film leads the project, which will be co-produced by Film & Music Entertainment (F&ME)'s Irish outpost and Slovakia's Furia Film.
The story is about a man with exceptional abilities – inspired by the real-life healer Jan Mikolášek – living in totalitarian 1950s Czechoslovakia.
Films Boutique will handle international sales, with Falcon on board for Czech distribution (and Czech Television for local TV rights). Itafilm will release in Slovakia.
The film aims for a late 2018 or mid 2019 shoot for a spring 2020 premiere.
Holland's many credits include films such as Spoor, In Darkness and Europa Europa and TV hits such as House of Cards and Treme; she is also directing Netflix's first Polish-language original series.
"Charlatan is a fabulous screenplay and a great project," said co-producer Mike Downey of F&ME. "Sarka and Marlene Film are leaders in their field in the Czech Republic. We look forward very much to working with them and with Agnieszka Holland on this story that looks deep into the heart of human nature, of good and evil."
Holland said: "The history of the world and of Europe is a never-ending story of constant struggle between culture and human nature. Humankind doesn't change much in this aspect. It is like waves - when culture prevails over our nature, we can live together and grow as people. But then a moment comes when culture subsides to the existential element of evil. And that's exactly what the story of Charlatan is about. This is embodied in both the story of Jan Mikolášek, who lives his whole life on the fine line between good and evil, and the stormy history of Czechoslovakia in the 20th century. The motif of faith-healing is also provocative and alluring to me."
The crew will include editor Pavel Hrdlička, DoP Martin Štrba and production designer Milan Býček.
Ivan Trojan will play the lead role, with the supporting cast including Vladimír Polívka and Jarka Pokorná.
Marlene Film's credits include Storyteller and Angel Of The Lord 2, both Czech box-office hits also written by Epstein.
F&ME's Irish company is now readying a March 16 start of shoot on How To Sell A War, Rudolph Herzog's feature that will star Katherine Parkinson and Lily Newmark. Bankside Films handles sales.