Alcon Entertainment has launched Alcon Interactive and announced an initial venture with Oculus to make and distribute VR experiences based on the upcoming – and newly titled – Blade Runner 2049.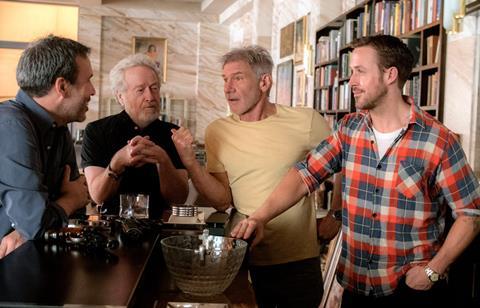 Alcon Entertainment co-founders Broderick Johnson and Andrew Kosove announced the new division on Thursday and said the VR experiences will be distributed around the October 6 2017 release of the sci-fi feature that Denis Villeneuve is directing.
Blade Runner 2049 – Alcon and Warner Bros announced the title and release date on Thursday along with a first-look photograph from the set (pictured) – stars Harrison Ford and Ryan Gosling and is being produced by Alcon, Ridley Scott and Bud Yorkin.
Veteran corporate and entertainment lawyer Dan Offner will serve as interim head of Alcon Interactive and closed the Oculus deal alongside Alcon Entertainment COO Scott Parish.
Offner has represented interactive entertainment companies such as THQ, Ubisoft and Sony's PlayStation Group. He has also worked with Johnson and Kosove on past interactive entertainment projects.
Most recently he was an early stage investor in and general counsel of Oculus through its sale to Facebook before returning to private practice and angel investing.
Johnson and Kosove said: "The formation of Alcon Interactive is the logical next step in Alcon's continued growth. It is our goal to integrate and streamline as many aspects of our movie and television production process as is manageable, and we are eager to begin this journey with Oculus.

"The first Blade Runner created a new standard for science fiction films, world building and visual effects and we believe that our sequel will continue that tradition, pushing new boundaries in entertainment. We are excited for Oculus's involvement and the opportunity to utilise VR to enhance the overall experience of our innovative film."
"We are so excited to be working with Alcon Interactive to bring the Blade Runner universe to the Oculus platform next year," said Colum Slevin, head of experiences at Oculus.
"Blade Runner has always pushed the boundaries of cinema, visionary art, design and story and bringing the sequel to this beloved sci-fi property to VR gives us an opportunity to push those boundaries further. We look forward to giving audiences a new way to experience this iconic title in an entirely new and reimagined way."