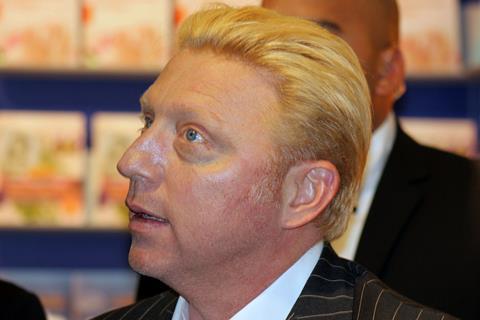 Alex Gibney, the Oscar-winning filmmaker behind Taxi To The Dark Side and Going Clear: Scientology & The Prison Of Belief, is making a documentary about former tennis star Boris Becker.
Lorton Entertainment, the London-based company which financed 2019 Cannes title Diego Maradona, is executive producing and fully-financing Becker (working title). The company also holds the project's global rights and will be introducing it to potential partners in Cannes.
John Battsek of Passion Pictures is producing the documentary with Gibney's Jigsaw Productions.
The film will explore the life of Becker, who became a tennis sensation when he won the first of his six majors at the age of just 17 and went on to have a glittering career, including 49 major career titles and an Olympic Gold. He is also famous for his turbulent personal life.
Becker has allowed the filmmakers access to his personal archive and will appear in the film in new interviews, alongside other figures from the world of tennis. The project is already in production and those interviews are now underway.
Gibney has previously directed sports docs including The Armstrong Lie, about disgraced cyclist Lance Armstrong, and executive produced ESPN series Enhanced, about how athletes are utilising modern technology and science. Battsek's sports doc credits include The Fall, about a controversial incident at the 1984 Olympics, and football films George Best: All By Himselfand Forever Pure.
Financier, producer and distributor Lorton Entertainment, founded by Julian Bird in 2014, has Diego Maradona premiering in Cannes Out Of Competition on Sunday (May 13). The film is from Amy and Senna director Asif Kapadia and tells the story of the controversial Argentinian football legend; Altitude is handling sales in Cannes.
Lorton is also partnering with producer Battsek on another sports documentary, Australian Dreams, a film about race, identity and belonging told through the story of Australian rules footballer Adam Goodes. The film is a co-production with Good Thing, Madman, Screen Australia, and Film Victoria Production. Lorton is introducing that project alongside Becker in Cannes.
Last year, Lorton fully-financed music doc Bros: After The Screening Stopped, about the titular band, and handled the film's UK release. The company also released Steven Gerrard documentary Make Us Dream last year.
Upcoming, Lorton is partnering with Altitude Film Distribution on the UK event-style release of Liam Gallagher documentary As It Was in June, and family feature Horrible Histories, which will be put into 500+ cinemas in July.