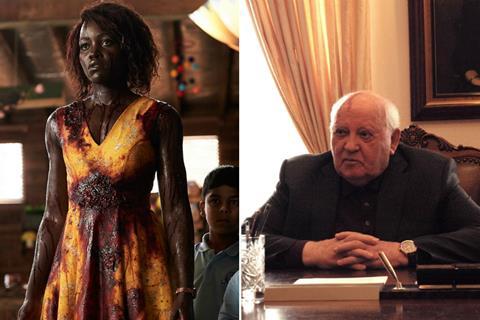 Altitude Film Distribution, the releasing arm of UK mini-studio Altitude Film Entertainment, has added four titles to its UK release slate.
The company has picked up rights to Andre Singer and Werner Herzog's documentary Meeting Gorbachev. The film, which premiered at Telluride last year, sees Herzog interview the former general secretary of the Communist Party of the Soviet Union to get an insight into his life and career. Altitude picked up the title from History Films and will release in November.
Altitude has also bought Little Monsters, the Australian comedy horror starring Lupita Nyong'o as a teacher battling a zombie outbreak which premiered at Sundance this year. Abe Forsythe directed the project and Protagonist Pictures handles international sales. Altitude will release in the UK in autumn.
The distributor has also boarded Asterix: The Secret Of The Magic Potion, Alexandre Astier and Louis Clichy's French animated family feature that has been a hit in France, grossing $31.5m to date. The film was picked up from SND Films and will be dubbed into English (voice cast yet to be confirmed) and released in early September.
Finally, the company has taken UK rights to Michael Nunn and William Trevitt's Romeo And Juliet, a film version of their stage ballet starring Francesca Hayward. The feature was produced by the Royal Opera House and the BBC and will be released theatrically later this year.
Plans for Maradona, Horrible Histories
Screen caught up with Altitude's head of distribution Hamish Moseley to chat about the company's future plans.
"We've settled down to 20 releases per year. That's a lot for a small company with 10 employees [working in distribution]," said Moseley. "It's really hard out there, it's completely perilous and the world is changing rapidly. It's an extremely expensive game, you have to spend money to get the exposure and compete with the studios, but the art of film distribution is keeping costs down. We survive by being extremely careful and keeping overheads very low."
The company's summer slate includes Brian Welsh's 90s rave comedy Beats and Asif Kapadia's Maradona, following the film's world premiere at the Cannes Film Festival and UK premiere at Sheffield Doc/Fest. Altitude previously handled Kapadia's Amy, taking £3.8m, and the plan is to deliver a similar 'breakout' style release by opening the film in 100 cinemas (June 14) and then expanding throughout the month. The company is also releasing documentary Armstrong, about the astronaut Neil Armstrong, on July 20 to coincide with the 50th anniversary of the moon landings.
Later that month will see one of Altitude's most ambitious releases to date. Horrible Histories: The Movie – Rotten Romans, which was produced in house by Altitude founder Will Clarke, will be placed into more than 500 cinemas on July 26. "We're really going for it on this one," says Moseley.
The executive also said the company is "on the lookout for more event cinema" style releases. Altitude has handled 12 to-date including Loving Vincent and music doc Clapton, seeing particular success with fighter plan documentary Spitfire last summer, which grossed £280,242 after a day-and-date rollout and also became the company's best-performing home entertainment title of all time, selling more than 50,000 physical copies and clocking more than 16,000 digital transactions. Next up in the event space is the release of feature doc As It Was, about Oasis frontman Liam Gallagher, which is out in June and will be accompanied by an event at London's Alexandria Palace.
Altitude continues to work with Sky Cinema on the UK broadcaster's day-and-date distribution efforts, including the recent release of Zac Efron-starring Ted Bundy film Extremely Wicked, Shockingly Evil And Vile. Altitude works as a servicing company on the releases, for a fee, and the rights are controlled by Sky. The films cannot play in any UK multiplexes or the Picturehouse chain due to those exhibitor's adherence to traditional 16-week theatrical windows (before home entertainment releases). The broadcaster initially published figures for its releases but has since stopped doing so, which Screen understands has caused some disgruntlement among distributors.
"There's no one size fits all answer to releasing films, everyone is different," said Moseley on theatrical windows. "The industry is in a constant state of flux, as it always has been. We're all just trying to run sustainable businesses."