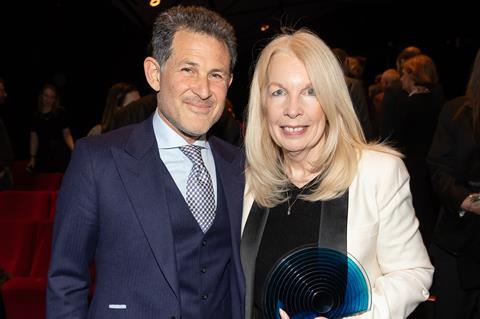 Amanda Nevill, outgoing chief executive of the British Film Institute (BFI), has been awarded the organisation's Fellowship on her final day in the role.
Nevill steps down today (February 13) after 17 years as CEO. She will be replaced by Ben Roberts, who steps up from deputy CEO.
The Fellowship was presented by BFI Chair Josh Berger at an event marking Nevill's departure this evening. Berger said the board's decision to award Nevill the Fellowship was 'unanimous'.
"Never in my wildest dreams had I imagined being gifted a BFI Fellowship," said Nevill. "I am still in a state of mild but pleasurable shock. I hope that everyone I have worked with at the BFI will know they own a tiny bit of this award. I have always stood on giants shoulders, working for an art form and industry that is the zenith of humankind's artistic endeavour. It also joyously means I can, with no excuse, stay close to and applaud an organisation and the people I respect and love so much."
On stage tributes to Nevill at BFI Southbank last night were also made by the likes of filmmaker Paul Greengrass while actors Tom Hiddleston, Zawe Ashton and David Walliams, Working Title's Eric Fellner, filmmakers Carol Morley and Gurinder Chadha, and more contributed to a film that honoured the outgoing chief executive.
Previous BFI Fellows include Martin Scorsese, Greg Dyke, Cate Blanchett, Vanessa Redgrave, Akira Kurosawa, David Lean, Judi Dench, Maggie Smith, Jeanne Moreau, Stephen Frears, Steve McQueen, Peter Morgan, John Hurt and Jeanne Moreau.