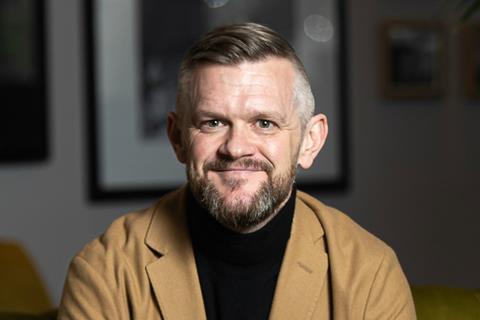 Ben Roberts has been named CEO of the British Film Institute (BFI), replacing Amanda Nevill who is stepping down after 16 years at the helm.
Roberts had long been considered the frontrunner. Hired as director of the BFI Film Fund in 2012, the former Protagonist Pictures CEO was promoted to the newly-created role of deputy CEO in October 2018, giving him an expanded remit closer to Nevill while also retaining his stewardship of the Film Fund.
He will take on the top job from mid-February 2020, when Nevill steps down to "pursue other interests".
"I'm eternally grateful to Amanda for bringing me into the BFI, and to Josh and the board for supporting my vision for its future," said Roberts. "Film is egalitarian, and I want everyone to see the BFI as their home, to see themselves in our programmes, and feel welcome in our industry.
"We need all the diversity of voice, thought and talent to maximise the potential of the UK's growing screen industries. My 22-year-old self used the BFI library to help me find my first job in film, and so my 44-year-old self is immensely proud to lead our brilliant teams through this next chapter."
It is understood the move means a prime position will become vacant at the BFI Film Fund, a key role overseeing a significant pot of UK public film funding.
Roberts' appointment was chosen via a process steered by Josh Berger, who is chair of the BFI board as well as president and managing director for Warner Bros Entertainment across UK, Ireland and Spain. Berger was due set to step down in February, marking the end of a four-year fixed term, but that has been extended for the foreseeable future, according to the BFI.
"Ben is a rare talent, with broad experience and understanding of the complexities of our screen industries; from the cultural landscape and developing new voices to growing UK independent film; from the challenges facing the UK film industry to what drives the UK's success as a global destination for filmmakers," said Berger.
"Ben is a passionate advocate for inclusion and has already done much to steer our industry towards better representation and accessibility. Going forward, the BFI has an important role in shaping the exciting cultural and commercial opportunities presented by the broader screen industries and Ben is the person to lead this."
During his tenure, Roberts has been responsible for overseeing the BFI's Lottery investments in film development, production and distribution, along with the organisation's international activities.
He has 15 years' experience in the film industry, across international sales, studio acquisitions, UK distribution and film finance, gained during his time as CEO of Protagonist Pictures, and before that at Universal Pictures International and now-defunct independent UK distributor Metrodome. His first job in film was as a part-time usher at Showcase Cinemas in Coventry,
Nevill was appointed BFI CEO by board chair Anthony Minghella in 2003. Her tenure has seen the organisation awarded an expanded remit as the UK's National Lottery distributor for film in 2012.
She also oversaw the creation of BFI2022, the five-year strategy to boost the UK's national film industry, and the introduction of the BFI's Diversity Standards, which now apply to all of its funding decisions and have since been adopted by BBC Films, Film4 and BAFTA.
The newly-reappointed culture secretary Nicky Morgan said: "Ben Roberts will do an incredible job as the BFI's new Chief Executive, building on the fantastic achievements of Amanda Nevill, and will continue to take the organisation from strength to strength. I look forward to working with him to ensure the ongoing success of the British film industry, with a renewed focus on skills, diversity and inclusion."