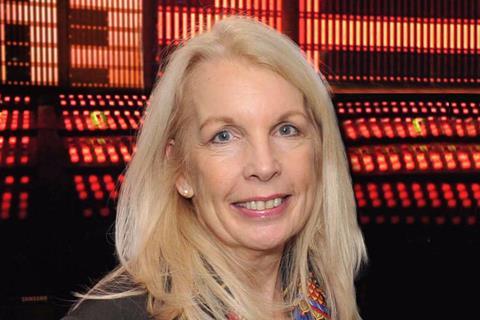 Amanda Nevill hands over the mantle of CEO of the British Film Institute (BFI) to Ben Roberts at midnight tonight (Feb 13).
Here she reflects on what has given her the most joy during 17 years at the helm, talks about the importance of setting the right tone, and reveals who would direct the film of her life.
What do you consider your greatest achievement to be as CEO of the BFI?

At a macro level, when I think back to the organisation that I joined, it wasn't a very happy organisation. I was really awed by the BFI. It was an extraordinary big cultural organisation. But the external chit chat about it wasn't positive. I arrived in an organisation full of amazing people but actually not happy because the value of the organisation wasn't understood.
I always say a happy organisation can achieve anything and be confident without being arrogant. And I know I am leaving a BFI which I have firmly entrenched with values of who we are and why we are. I was recruited by Anthony Minghella [chair of the BFI from 2003 until 2007]. He was passionate to modernise the BFI and he wanted everybody to love it because he loved it. I wish he were here today as I think it's the sort of BFI he would like.
On a slightly more personal level, I am proud of all the work we have done in nurturing talent. If you've got even a whisper of an idea you want to go into the industry, we are there for you. Our job is to make it possible for people to achieve things.
What has been your biggest regret or frustration?
That we never managed to achieve a proper home for film in London. It was never a vanity project. The way the market is going, cinemas are getting smaller. More luxurious, but smaller. We have to build pop-up cinemas for the BFI London Film Festival and Bafta has to go down to the Royal Albert Hall [for the film awards]. The notion that in London there should be a purpose-built, 2,000 seater cinema for the great art of film is a complete no-brainer. I regret that didn't happen.
But if the whole economic environment had been different, I think it would have happened. The BFI got a lift in its grant this year which is the first time since 2004. My career at the BFI has been one of guiding an organisation and helping it to thrive through an ever-toughening era of austerity. But I think we're out of it now and I'm thrilled for Ben.
Will a Film Centre still happen? Look, I'm standing down today. And I'm choosing to stand down. I told Josh [Berger, chair of the BFI since 2016] two years ago what my life plan was going to be, and I'm handing over the baton to Ben and the chairs and the board and it's absolutely for them to decide what they want to do and what their priorities will be.
What is your abiding memory of the years following the rolling of the UK Film Council into the BFI?
The first thing is that it made so much sense that the two organisations came together in one way or another. To be honest, my whole feeling at that time was one of joy. I knew it was right for filmmakers, I knew it was right for audiences in the UK.
[But] I knew the relationship between the UK Film Council and the BFI had always been edgym shall we say, and I didn't want people coming in from the Film Council to feel uncomfortable. I thought we were very lucky to get them. We inherited some amazing people and a lot of them are still with us to this day. We absolutely decided we were going to create a new organisation and everybody within the existing BFI was put on notice: We were all going to change.
Who did you turn to for advice at that time?
Everything I've learned about leadership I've learned from Greg Dyke [chair of the BFI between 2008 to 2016]. Leadership is about unleashing the potential of other people, not necessarily doing it yourself.
And I didn't take advice from one, two, or three people. We went on a massive consultation all around the country and we really listened. People were pregnant with a desire to talk about what they wanted the next era to be like and we needed to listen and respond to that.
What do you know now you wish you had known when you started in the role?
The first thing is that nobody told me about the financial situation at the BFI [when I joined]. When I look back now, it's quite shocking. There wasn't a finance director and it took eight months to get an opening balance where you actually know if you've got any money and actually we didn't have any at all.
It always made me laugh, well actually it didn't make me laugh at all, that when Anthony Minghella's papers were passed on to us at the BFI [after his death in 2008], among those papers was a letter saying, 'When we appoint the new CEO it is imperative that before that person signs any contract they are made aware of the parlous financial situation'. Which of course they didn't do.
Having said that, it absolutely wouldn't have changed my mind for one second about taking the job. I might have just… oh I don't know what I would have done.
The first couple of years were pretty tough but the two rocks were the permanent secretary [at the Department for Culture, Media and Sport} at the time Sue Street and the [culture] minister Tessa Jowell.
From a personal point of view if I had a bit more of the confidence I have now I think I could have got things achieved a bit faster. The BFI Library is acknowledged as one of the world's great resources for everything you want to know about film and television and it's staffed by the most amazing people. I was desperate to get it out of Stephen Street as it was in the wrong place. But I met resistance there and I listened but that's one of the things I would have done quicker.
What advice do you have for working mothers at any level in the industry and specifically those aspiring to lead an organisation as big as the BFI?
I don't think it's just a mother issue, it's a parent issue. You're right for me I was a single parent so it was more acute. Every parent does it their way. You know your kids and what's right for them. But for me, the golden line right from the beginning, before I came to the BFI when the girls were little, was if I didn't earn enough that I couldn't afford a proper nanny then I was not going to work.
If you are going to work in a senior role, and I was a CEO in my earlier job, you need a bit more help than you can get from a child going to nursery, other stuff needs to be done at home.
So get good childcare. I can tell you in the first years of my career the nanny took home more than I did. I don't regret it as they were all amazing.
The other thing is, it doesn't matter at what level you are as a woman working in the workplace, we all have a responsibility to set the tone. I am constantly astonished when we have people joining into the BFI who have worked at other organisations and it does sadly tend to be mothers who talk about this, who can't believe how empathetic we are at the BFI. If your kid's sick at the BFI you are not going to get any a brownie point if you choose not to [put them first] and attend an important meeting.
I don't want anybody I'm working with to ever feel they have to make a choice between work and their kids. They must always put their kids first. It absolutely wasn't like that at the beginning of my career.
Did you meet any resistance to that attitude when you joined the BFI?
I didn't do it as a conscious thing. It was subconscious. It was setting the tone. It was the way you behave. That's one of the privileges of being a CEO. You set the tone. Even if people disagree with you they'll always pause and think about it. And it changes the way people behave.
The CEO of the BFI is such a high-profile, visible role. Who have you turned to over the years for advice or mentorship over the years?
All my chairs, genuinely. I've been so lucky, Anthony, Greg and Josh and they've all been very different. And have been so generous and lovely.
My colleagues are who I'm going to miss the most, the camaraderie, the support, often your colleagues are the only ones who are going to have the guts and tell you that the thing you are about to do is not very good.
The two people who have always been a rock are my daughters and I don't say that lightly. They've been part of my career since they were very tiny. As a single working parent there have been compromises they have had to put up with.
What is the single biggest piece of advice you will give to Ben Roberts?
Make great things happen. The job of CEO is to make great things happen. Then everybody gets excited. Because everybody's very busy telling you that the great thing you want to do isn't possible. Actually when you are the CEO it is possible.
What do you believe to be the biggest challenge facing the BFI going forward?
It is something I know Ben is acutely aware of, it's the whole environment for independent film. I don't mean independent, box-set television making, as I think that's going to fine. I mean independent film. The problem is the combination of the whole economic model for film, the drop in international sales, combined with what I think is going to be quite a complex navigation out of Brexit, it's very hard.
I do worry about British independent film because culturally it's so important. I think there's going to be a lot of pressure on the BFI to find ways to make it easier to get good films made.
The second one which is really close to my heart and as I leave today I've run out of runway to make it happen completely, are the Diversity Standards. We did say we thought it would be 2022 before we got every active producer in the UK to adopt the standards, but what has got to happen is the bigger companies have got to come on board. This is too important an issue. We have to join up on this. There has to be one system and one way.
Ben was an absolute activist behind the design of the Diversity Standards and I know he's going to take that flag and he's going to really run with it.
What will you miss the most about your day to day working life at the BFI?
I love taking the BFI forward. I always felt my job was to be looking over the horizon. It's that strategising to achieve things which gives people great pleasure.
Probably the biggest thing to happen over the last 17 years was the transformation of the National Film and Television Archive. We have taken that from being something that nobody knew where it was and you couldn't get at it and now we've had 70m views of Britain On Film. We are the only cultural organisation in the world that built and designed and has its own platform, the BFI Player. And it's not some little cultural thing in the shadows, it's a serious player. It's on Amazon. You can get it in the States. It makes sure that British independent and global cinema is the hero of the piece. I will miss making things like that happen.
What do you plan to do next?
I've got two or three things coming up. One of them is very much globally within the film industry. I won't retire until I die, as it's not in my nature but I want some more time for myself. I can do whatever I want which is extraordinary given I've worked since I was 20.
Finally, who would play you in the film of your life? And who would direct the film?
It would be the biggest flop of all time! I have no idea who would play me but I was thinking it would be someone who has had so many hits they wouldn't mind a flop.
The obvious director is Anthony Minghella as if I managed to bring him back from the dead, the whole of the film industry would love me forever.